AHA BHA Exfoliating Scalp Serum - 1% Salicylic acid + 1% Lactic acid + 2% Zinc complex
AHA BHA Exfoliating scalp serum acts as a scalp scrub & is a water based lightweight quick absorbing serum which exfoliates the scalp and controls oil production. This Scalp exfoliation serum consists of a powerful trio of Salicylic Acid, Lactic acid and Zinc complex that helps remove excess oil and dead skin cells, balances pH level and exfoliates scalp. It also helps treat scalp acne and works best on oily scalp as it gently exfoliates the scalp.
Get a Hair Scalp Massager worth INR 250 FREE
MRP (Inclusive of all taxes)
Active Offers
FLAT 250 OFF ON WINTER SPECIAL RANGE orders above ₹699+ (Use code: WINTER250)
FREE BODY CREAM ON ₹999+
FLAT 15% OFF ON SERUMS
FIRST TIME? GET FLAT 150 OFF (Use code: WELCOME150)
pH: 3.5 - 4.5

Paraben Free

Silicone Free

SLS Free

Fragrance Free

Vegan

Phthalate free

Cruelty Free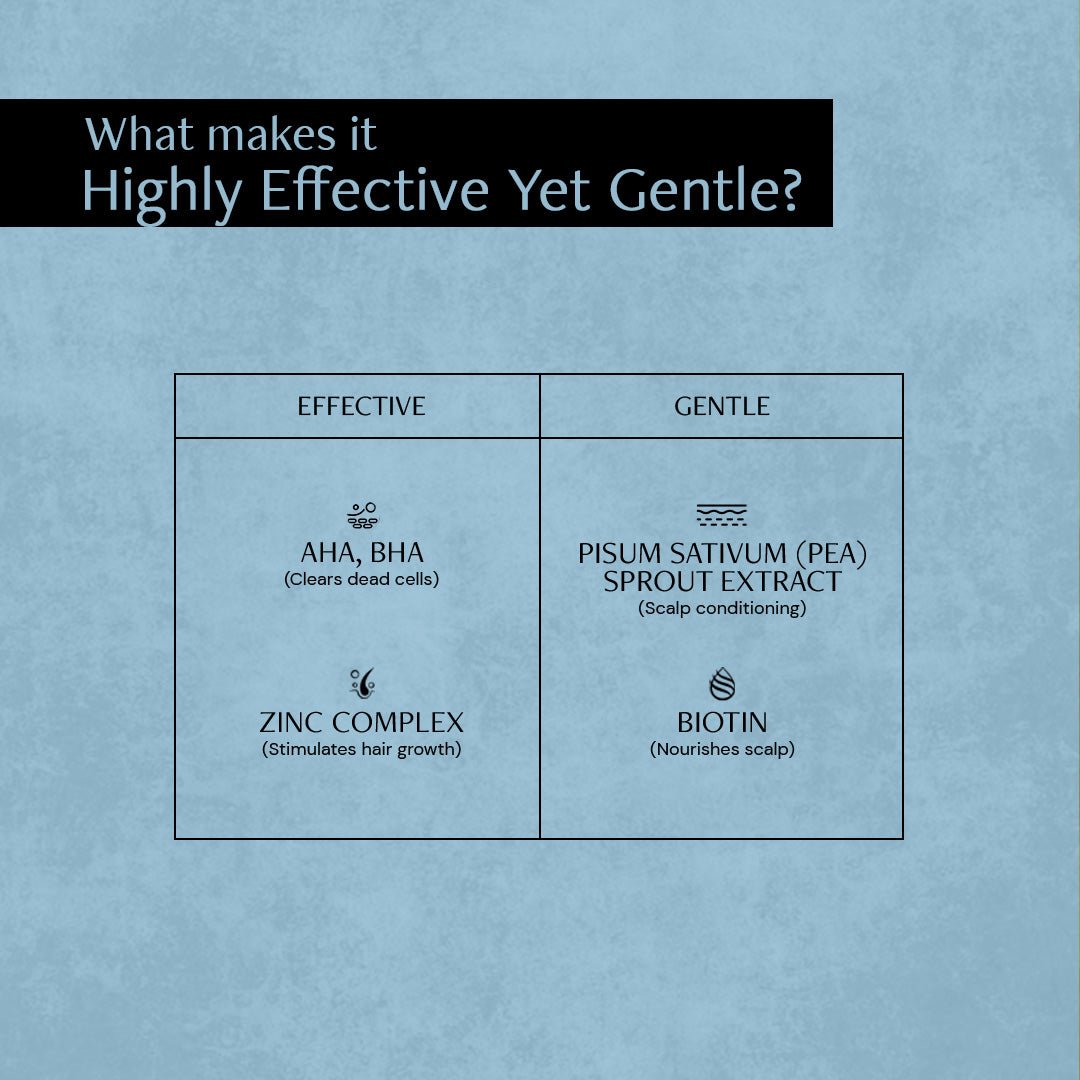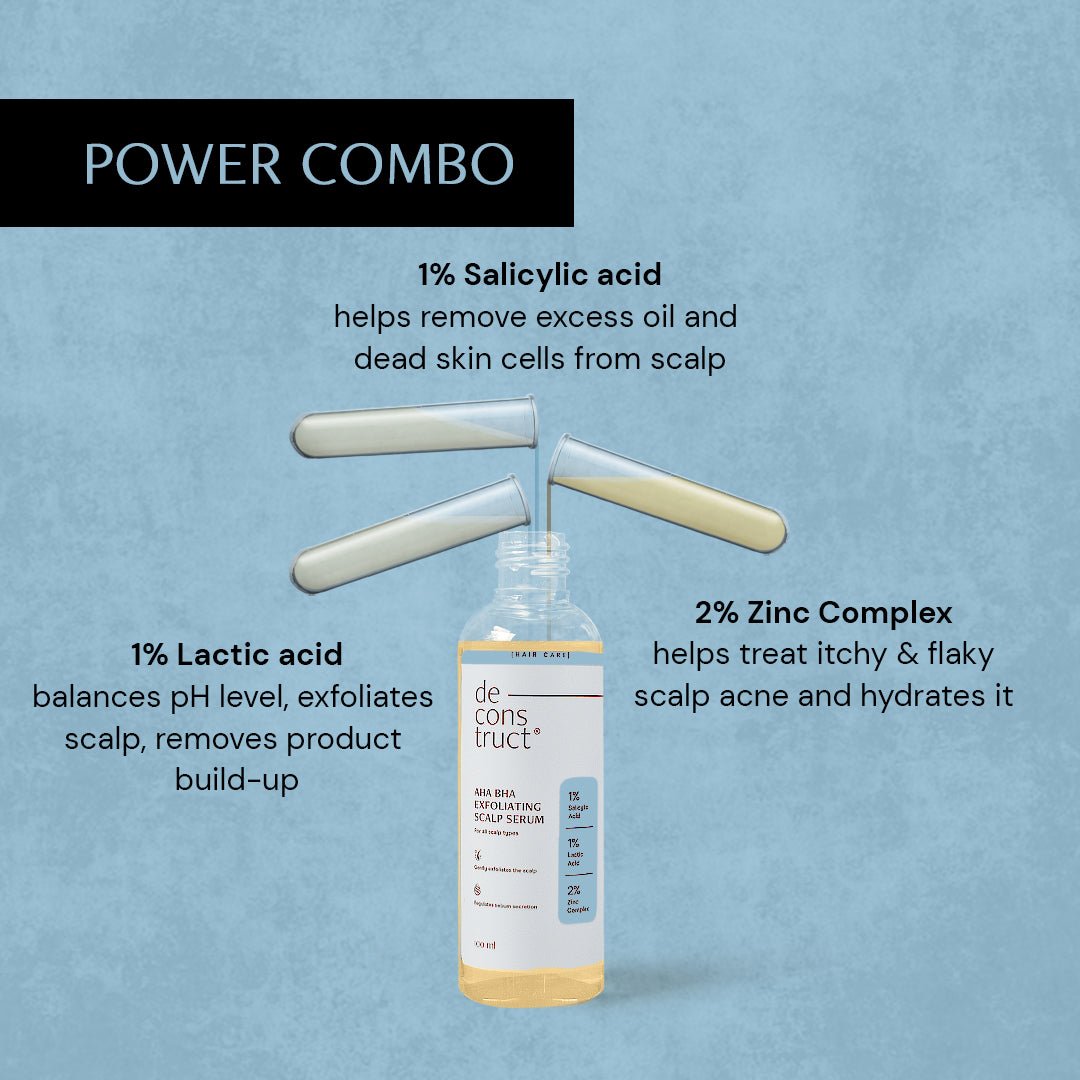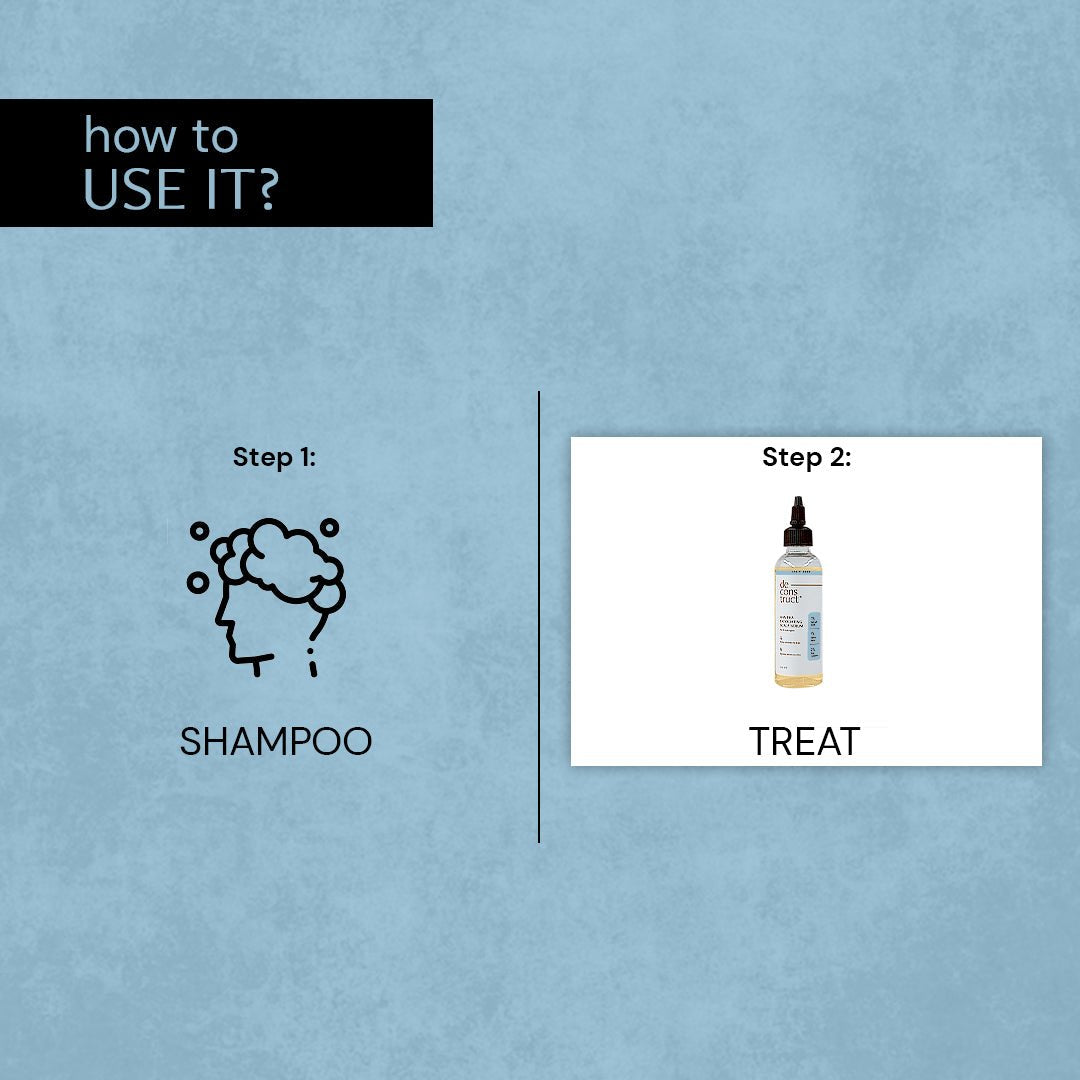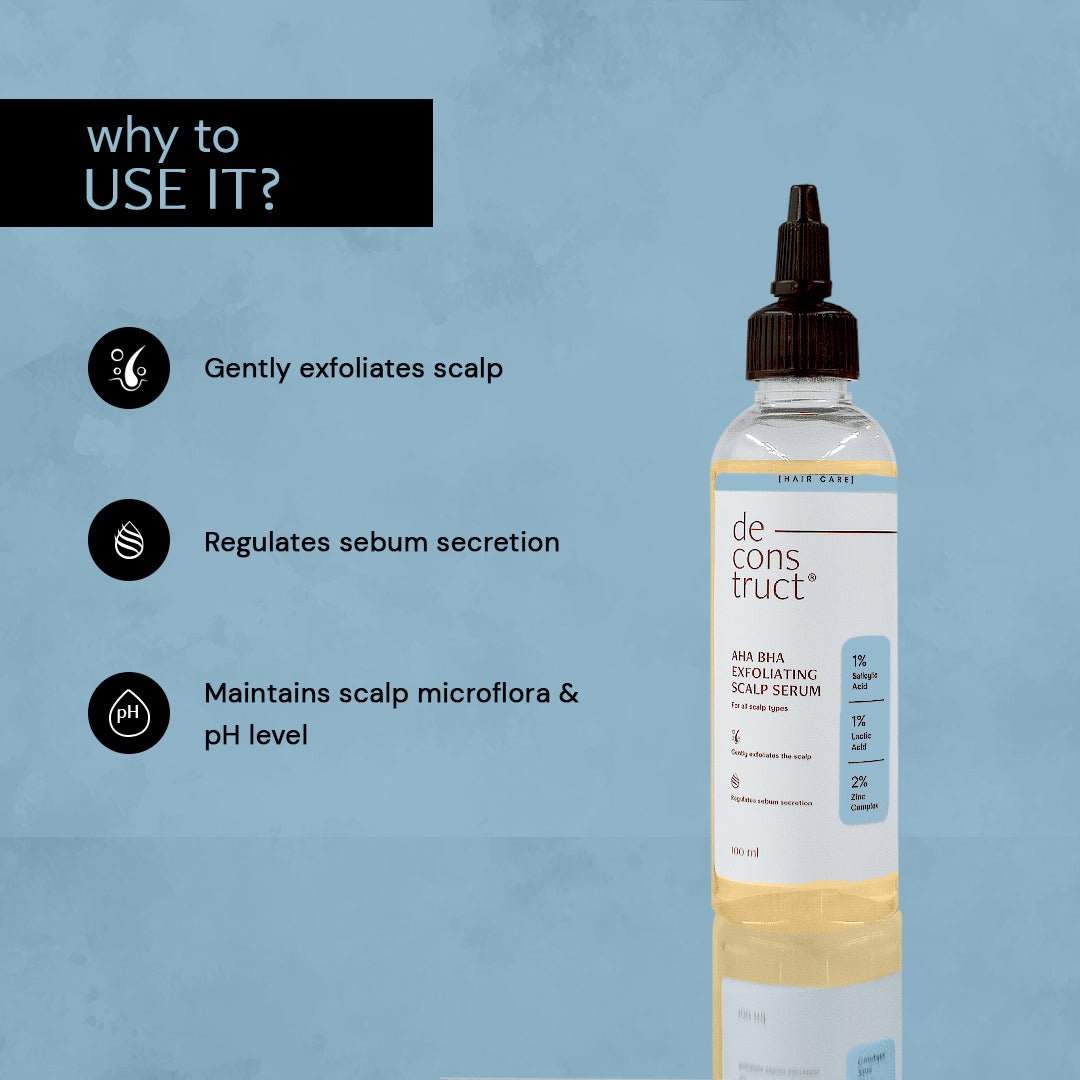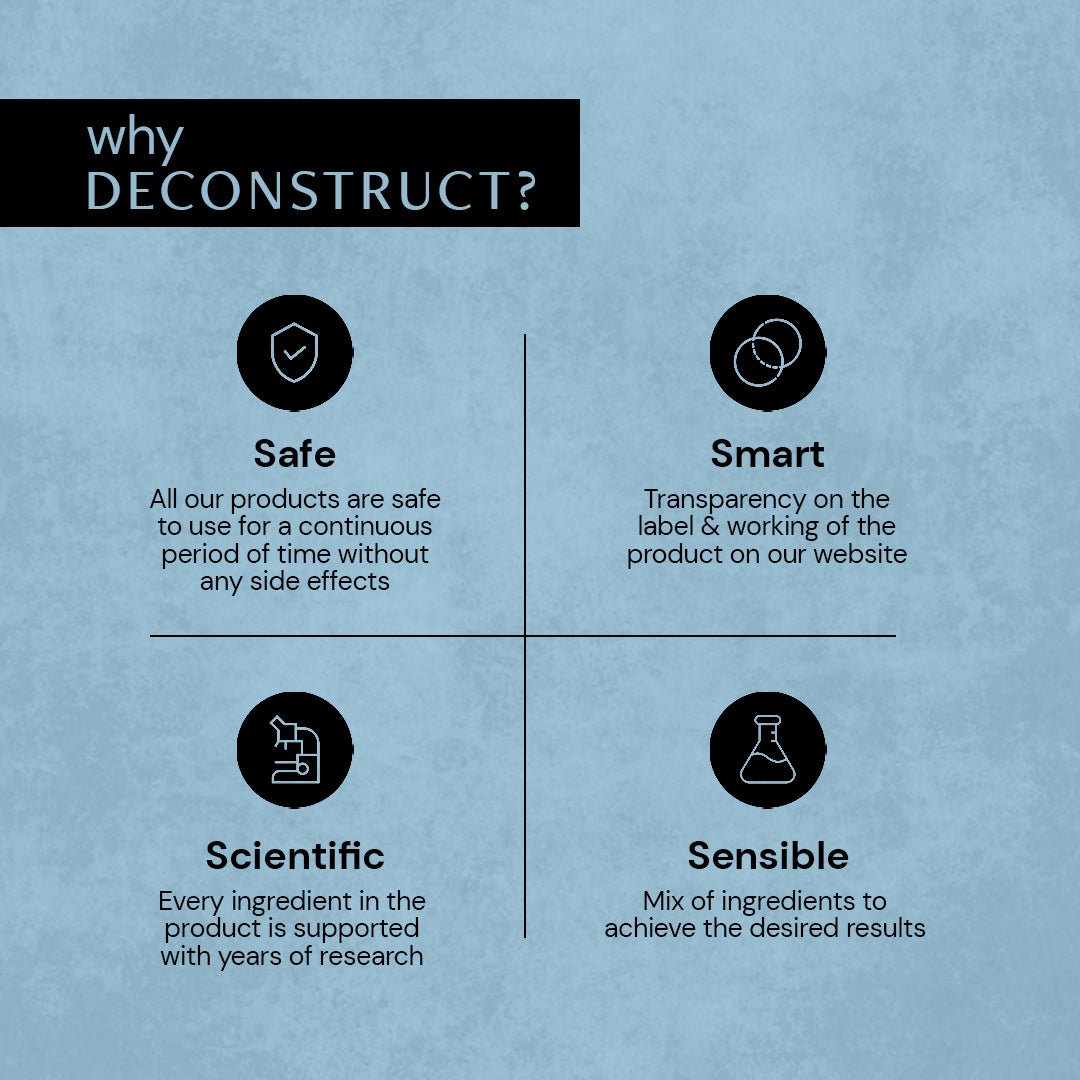 DETAILS

Why is this different?

Salicylic Acid helps remove excess oil and dead skin cells while Lactic Acid balances pH level, exfoliates scalp, removes product build-up and Zinc complex helps treat scalp acne and hydrates the scalp.  This hair scrub aka scalp exfoliation serum contains ingredients that work in collaboration to help reduce and control oil secretion from sebaceous glands. If you have itchy bumps on scalp then you should definitely try a hair scalp serum with zinc complex so that your scalp is hydrated & healthy.  This can be easily incorporated into any routine and can be used on all scalp types, especially the ones with oily scalp. For dry scalp people, it is recommended to be used as and when exfoliation is needed.

How Does it Work on the Hair?

1% Salicylic Acid ​​

is a lipophilic acid that

helps remove excess oil and dead skin cells from scalp 

1% Lactic Acid helps in Balancing the pH level, exfoliates scalp and removes product build-up. 

The 2% Zinc complex helps treat scalp acne and hydrates the scalp.

It does not dry the scalp excessively rather keeps it hydrated and nourished.

How to use?

Wash your hair and scalp with a shampoo

Apply the scalp serum onto the cleansed scalp, massage it thoroughly, and leave it on without rinsing.
Use twice a week for best results.

Scalp Massager

This complimentary, easy to use Scalp Massager worth INR 250, is good to massage & calm your scalp, it also stimulates hair follicles promoting healthy hair growth & improves overall scalp health.

Take advantage of this great deal and get your free Scalp Massager. Your hair will thank you for it!

How to use Scalp Massager:

Apply the scalp serum on the scalp using the fingertips and massage the scalp well in circular motion for 2-3 minutes with a scalp massager.

Note: Do not massage vigorously while using the massager.
DECONSTRUCTING AHA BHA Exfoliating Scalp Serum - 1% Salicylic acid + 1% Lactic acid + 2% Zinc complex

Salicylic acid: It is a beta hydroxy acid that aids controlling the sebum secretion by  exfoliating the scalp skin gently.
https://www.researchgate.net/publication/283024456_Therapeutic_effectiveness_against_oily_or_dry_dandruff_of_compounds_based_on_terpineol_salicylic_acid_and_climbazole

Lactic acid: It is an alpha hydroxy acid that balances the pH of scalp and exfoliates it and helps remove product build up.
https://www.researchgate.net/publication/51688743_Treatment_of_seborrhoeic_dermatitis_of_the_scalp_with_a_topical_solution_of_urea_lactic_acid_and_propylene_glycol_K301_Results_of_two_double-blind_randomised_placebo-controlled_studies

Zinc Chloride: An active useful in maintaining the overall scalp health by keeping it hydrated and well nourished.
https://d-nb.info/1176610392/34 

Cinnamomum Zeylanicum Bark Extract, Thymus Vulgaris (Thyme) Extract, Malva Sylvestris (Mallow) Flower/Leaf/Stem Extract : A combination of extracts with antioxidant and antimicrobial properties that prevent scalp infections and also improve the scalp health.
https://www.ncbi.nlm.nih.gov/pmc/articles/PMC4003790/ 

Hamamelis virginiana (Witch Hazel extract), Hamamelis Virginiana (Witch Hazel) Leaf Extract : This extract is a specialised astringent that works very well on sensitive scalp conditions and addresses redness of the scalp and ensures protection from the same.
https://www.ncbi.nlm.nih.gov/pmc/articles/PMC4158622/

Vitis Vinifera (Grapeseed) Extract: Grapeseed extract is a rich antioxidant that hydrates the scalp and nourishes it. It is also an antiinflammatory agent that helps soothe the scalp. 

Propylene glycol : A humectant that helps to replenish the scalp by attracting moisture from the environment and helps reduce irritation by keeping the scalp instantly moisturised.
Critical Reviews in Toxicology, April 2013, issue 4, pages 363-390

Sodium Gluconate: An active ingredient booster and has a radical scavenging effect to inhibit cellular free radical formation.
PubChem Compound Summary for CID 517056, Gluconate sodium

Pisum Sativum (Pea) Sprout Extract : Concentrated peptide that keeps the scalp hydrated and nourished by supplying essential nutrients to the scalp.
Antioxidant Activity of Pea (Pisum sativum L.) Seed Coat Acetone Extract, LWT – Food Science and Technology


Phenoxyethanol (and) Ethylhexylglycerin : A combination of skin-softening, antimicrobial and a preservative required to keep the serum fresh and free from any microbial growth
Contact Dermatitis. 2016 May;74(5):281-8

Sodium Benzoate, Disodium Phosphate:  Preservatives that protect the serum from microbial contamination that could impact the product efficacy.
https://www.researchgate.net/publication/329279817_Sodium_Benzoate_and_Benzoic_Acid

Phosphatidylcholine: This phospholipid aids in nourishing the hair and scalp and maining the overall hair health.
https://www.sciencedirect.com/science/article/pii/S0022202X15303936

Biotin: Also known as vitamin B7, this ingredient nourishes the scalp deeply, especially the hair follicles giving a healthy scalp.
https://www.ncbi.nlm.nih.gov/pmc/articles/PMC5582478/

Potassium Phosphate: Works as a pH adjuster in the serum so as to maintain the shelf of the product.

Tocopherol,Tocopheryl acetate: Antioxidants that protects skin from free radicals.
Keen, M. A., & Hassan, I. (2016). Vitamin E in dermatology. Indian dermatology online journal, 7(4), 311–315. https://doi.org/10.4103/2229-5178.185494

Cetrimonium Chloride: A scalp and hair conditioning agent that also works as an anti-static agent and a preservative.
https://journals.sagepub.com/doi/pdf/10.1080/109158197227152

Disodium EDTA: Prevents deposition of metal ions and removes debris from the scalp skin
https://www.cir-safety.org/sites/default/files/EDTA.pdf

Sophorolipid: A biodegradable, non-toxic surfactant, with antibacterial and antifungal properties that help keep the scalp clean and safe.
https://pubs.acs.org/doi/10.1021/acsomega.0c04683

Hydrolysed Soy Protein, Hydrolysed Corn Protein, Hydrolysed Wheat Protein: A special protein complex that strengthens your hair and nourishes your scalp and hair follicles to maintain scalp health

Xanthan Gum:  Moisturising and thickening agent, also texture enhancers and are extremely safe to use
Int J Toxicol. 2016, Vol. 35(Supplement 1) 5S-49S

Triethanolamine: A pH balancer and emulsion stabiliser which is completely safe to use.
Int J Toxicol. 2013 May-Jun;32(3 Suppl):59S-83S
PRODUCT INGREDIENTS

Aqua, Hamamelis, Virginian (Witch Hazel extract),Propylene Glycol, Zinc Chloride, Hydrolyzed Wheat Protein,Cinnamomum Zeylanicum Bark Extract,Thymus Vulgaris (Thyme) Extract, Malva Sylvestris (Mallow) Flower/Leaf/Stem Extract, Hamamelis Virginian (Witch Hazel) Leaf Extract,Triethanolamine, Vitis Vinifera (Grapeseed) Extract, Lactic Acid, Salicylic Acid, Phenoxyethanol, Ethylhexylglycerin, Hydrolysed Soy Protein, Hydrolysed Corn Protein, Hydrolysed Wheat Protein, Xanthan Gum, Sodium Gluconate, Sophorolipid, Pisum Sativum, Sprout Extract, Phenoxyethanol, Sodium Benzoate, Glycerin, Phosphatidylcholine, Disodium Phosphate, Biotin, Potassium Phosphate, Cetrimonium Chloride, Tocopherol, Disodium EDTA,Tocopheryl Acetate
WHICH INGREDIENTS CAN I MIX?

Do not use any actives with this serum
THINGS TO KEEP IN MIND

Patch testing prior to use is advised

All products are gender-neutral

Best suited for individuals above 18 years of age.
DECONSTRUCT'S -  RECOMMENDED SKIN CONCERNS & SKIN TYPES

This scalp serum best suits people with

Oily scalp

Sensitive scalp

Use this scalp serum, if your concerns are

Extreme oiliness 

Itchy bumps on scalp

White flakes on scalp

Getting rid of dirt and impurities
SHIPPING & RETURNS

Shipping

Where do we ship to?

We ship to almost every city in India. We do not offer an international shipping option currently, but we hope to offer it in the future.

How long does an order take to process?

We try to process the orders within 24 working hours, in most cases we try to fulfil the order within 3 working days, but please allow us 7 working days to fulfil the order. Order delivery time may vary during peak periods(after/during product launches, holidays and special promotions)

How long does it take to ship?

We ship all confirmed orders within 24 working hours. You will receive an email once your order is shipped with your tracking number. We work as hard as we can to try to meet your expectations, but sometimes there may be delays – e.g. because of postal/carrier delays, logistics, bad weather, or things out of our control.

How can you track your order?

Once your order has been dispatched from our warehouse, you will receive an email with your tracking information.

Cancellations

You can cancel your orders by writing to us on our Email ID – wecare@thedeconstruct.in or please call us on 080-471-05772 (Monday to Friday, 10AM to 7PM & Saturday 10AM to 4PM)and we will help you in cancelling the order.

How will I receive the refund for my cancelled order?

For prepaid orders, money will be returned to the bank account/credit/debit card or where the payment was made within 7 business working days.We will be able to credit to the original method of payment,we cannot refund to another alternative card.

Please Note: Orders can only be cancelled before they are shipped.

Returns and Refund

Thank you for shopping at The Deconstruct. We have made all our products with utmost care and deep scientific knowledge with an understanding of most skin types. If you are still not completely satisfied with a purchase, please reach out to us and we will put all our efforts to help you.

We offer refund / replacement only in following cases:

Wrong product delivered
Expired product delivered
Damaged product delivered – Physical damage/ tampered product or packaging.
Missing product

Step 1 – Raise a request within 2 days from the date of delivery through Email –
wecare@thedeconstruct.in or on Whatsapp at +919398249040 with the pictures of the issue
you are facing and your order ID.

Step 2 – Allow us 48 working hours to review your request.

Step 3 – On reviewing your request, we will send our courier partner to collect the product delivered to you.

Step 4 – After your product(s) is received, we will verify it and initiate the replacement or refund accordingly.

Under what conditions return/ replacement requests will not be accepted?

Opened/used/altered products.
Original packaging (mono cartons, labels, etc.) missing.
The return/replacement request is generated after 2 days from the date of delivery.
The damaged/ missing product is reported after 2 days from the date of delivery.
Update received as product delivered but product not received and if reported after 24 hours from the time of delivery.
FAQS

Can we apply hair serum on the scalp?


Hair serums should never be applied on the scalp rather should be applied on the length of the hair. This is because they are formulated to keep the hair strands smooth and manageable, giving the added shine and extra protection from heat and sun. Applying hair serum on roots or scalp can weigh it down unnecessarily by causing product build up.

How to exfoliate scalp?


Scalp can be exfoliated using chemical exfoliation on a clean scalp or shampooed scalp for maximum benefits. Massage the serum well for better exfoliation. Follow the process twice a week for a clean healthy scalp.



How to get rid of flaky scalp?


Use scalp serum with ingredients such as salicylic acid, lactic acid to get rid of flaky scalp. Use the serum twice a week for best results.



Which dry flaky scalp treatment should one try?


For reducing flakes use exfoliating scalp treatment to get rid of flaky skin and improve the scalp health by keeping the scalp hydrated.
Manufacturer Details

Sprivil Healthcare Pvt . Ltd, L-1/4, Addl MIDC, Satara 415004.

Country of origin: India
AHA BHA Exfoliating Scalp Serum - 1% Salicylic acid + 1% Lactic acid + 2% Zinc complex
Go product i recommend to use it
Improving scalp health
It promote hair growth, reducing dandruff, improving scalp health, and enhancing the overall appearance of the hair. By removing dead skin cells and buildup from the scalp, hair follicles are unclogged, allowing hair to grow more freely. Additionally, a healthy scalp leads to healthier hair, as it provides the necessary nutrients and moisture for hair growth and strength.
Great Choice
I Love This. So Easy To Apply & Gives Best Results ❤️
Works effectively !
It is highly effective for those having oily scalp. If you are experiencing scalp build up and itchiness I would recommend you to give it a try.

It does what the product claims , reduced sebum production and exfoliation without making the scalp dry !

Effective product to get a healthy scalp .