Gel Sunscreen - SPF 55+ and PA+++ | Water Resistant Sunscreen
The Gel Sunscreen with broad spectrum SPF 55+ and PA+++ is a lightweight water resistant formula that absorbs quickly into the skin leaving no white cast. It is blended with the unique formulation of Benzophenone-3, Butyl Methoxydibenzoylmethane and other chemical filters, along with hydrating agents such as phospholipids & glycerin that provides overall protection from harmful UV Rays, prevents sun related skin ageing & tan, while keeping the skin hydrated.
MRP (Inclusive of all taxes)
Active Offers
Free Gift With Every Order
BIGGEST SALE OF THE YEAR IS LIVE
₹1 FLASH DEAL @11AM DAILY: ADD PRODUCT @₹1 ON ₹999+
5 Lucky Winners Win Cwc 2023 Tickets
Money Back Guarantee On All Products | 100% Refund If You Face Any Irritation
pH: 5.9 - 6.9

Paraben Free

Silicone Free

SLS Free

Fragrance Free

Vegan

Phthalate free

Cruelty Free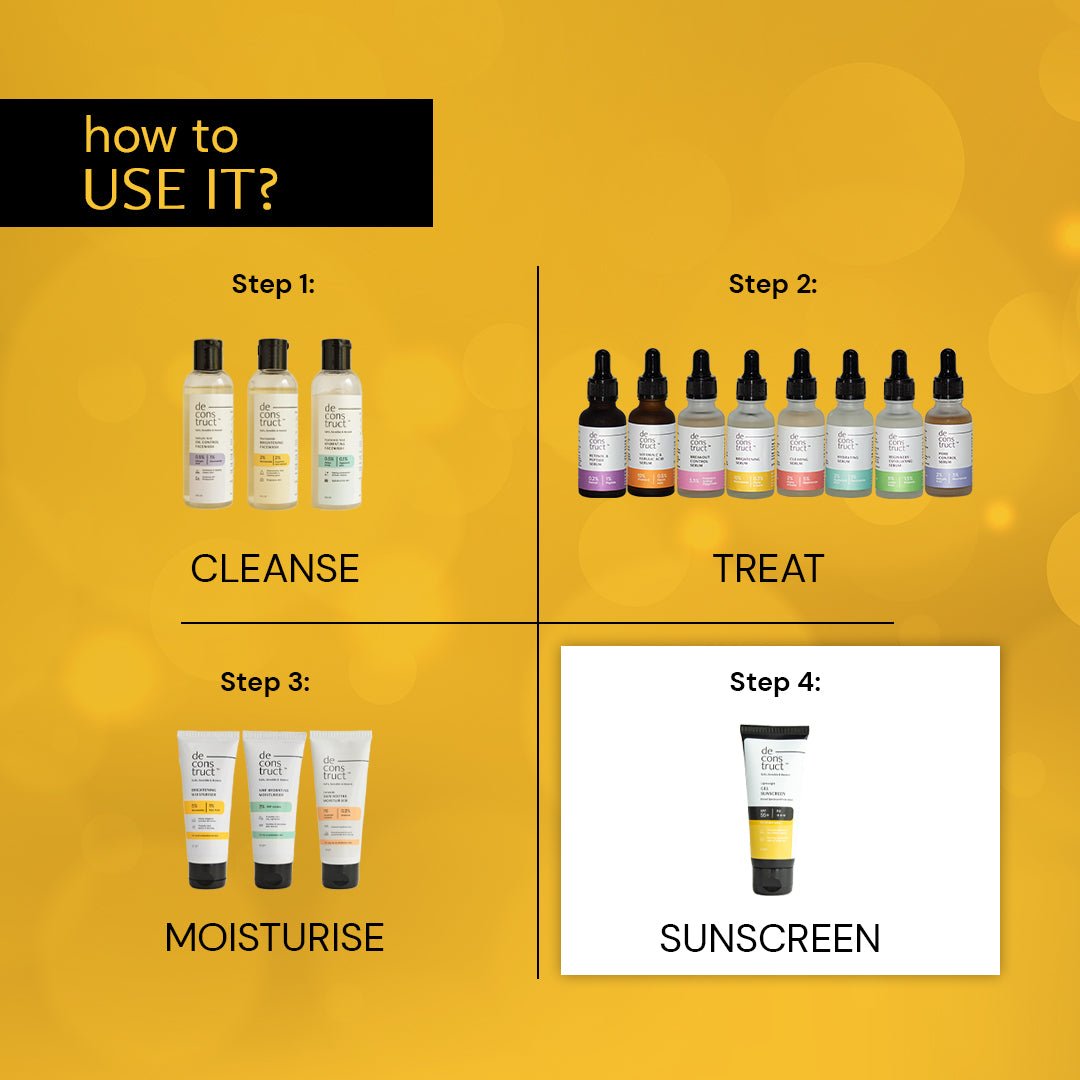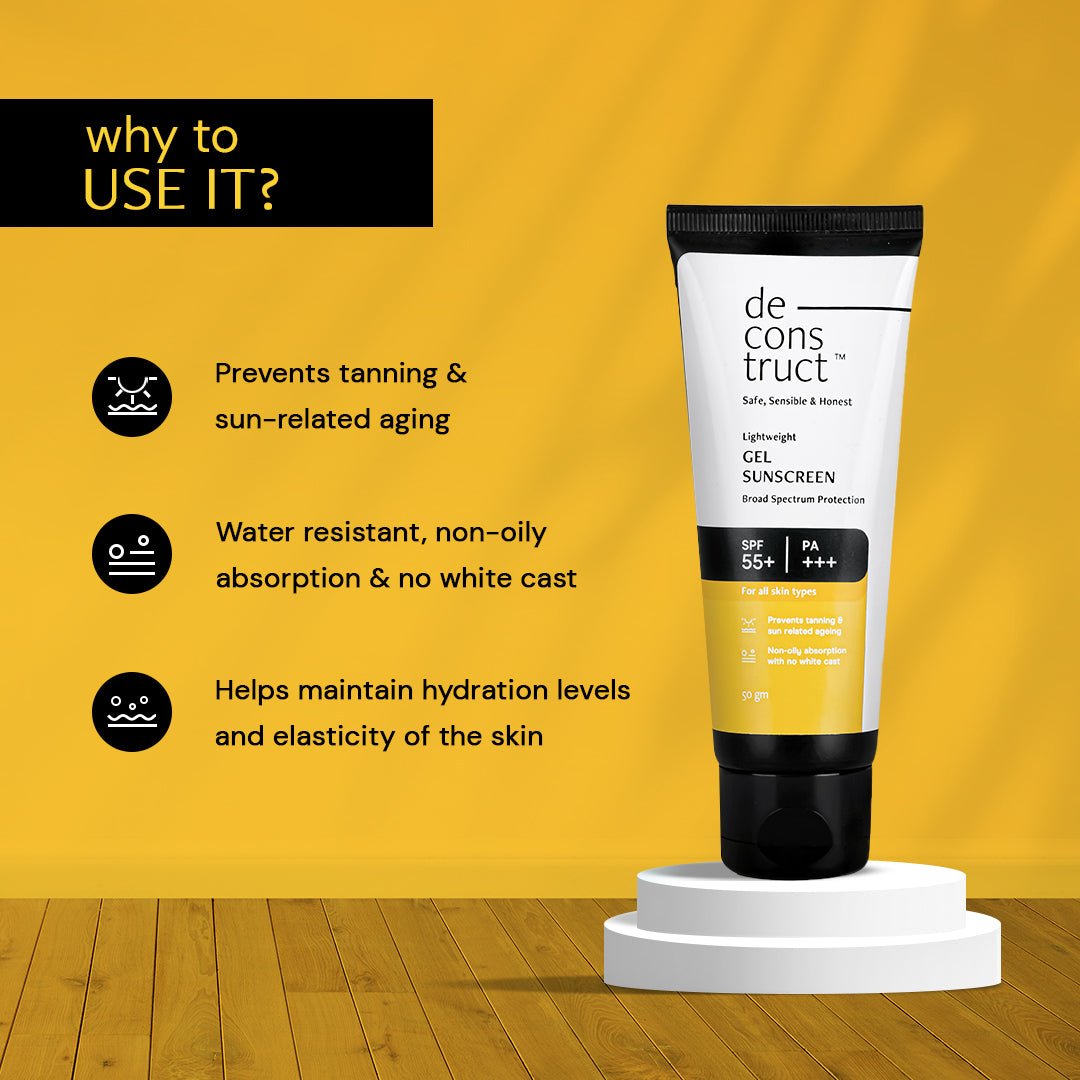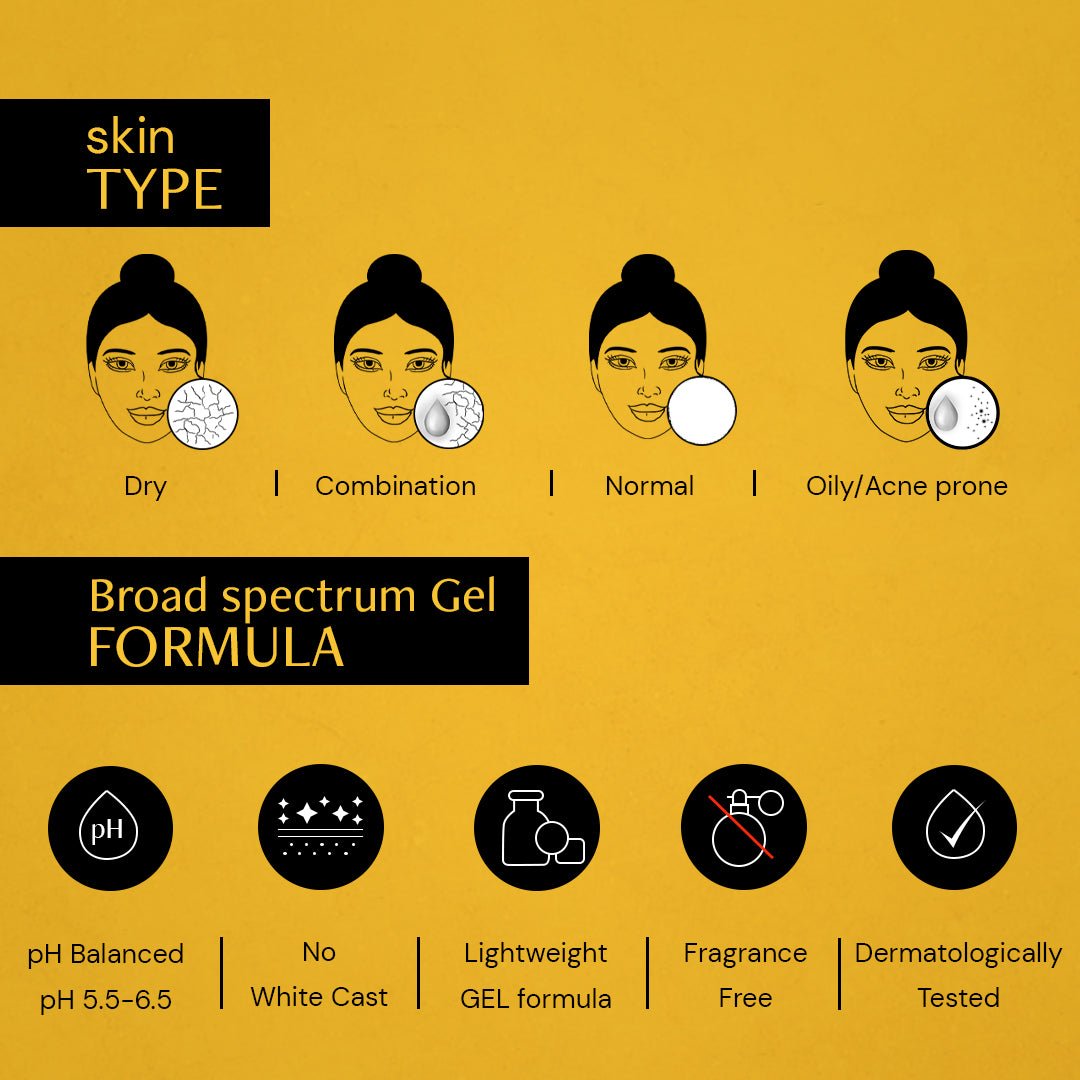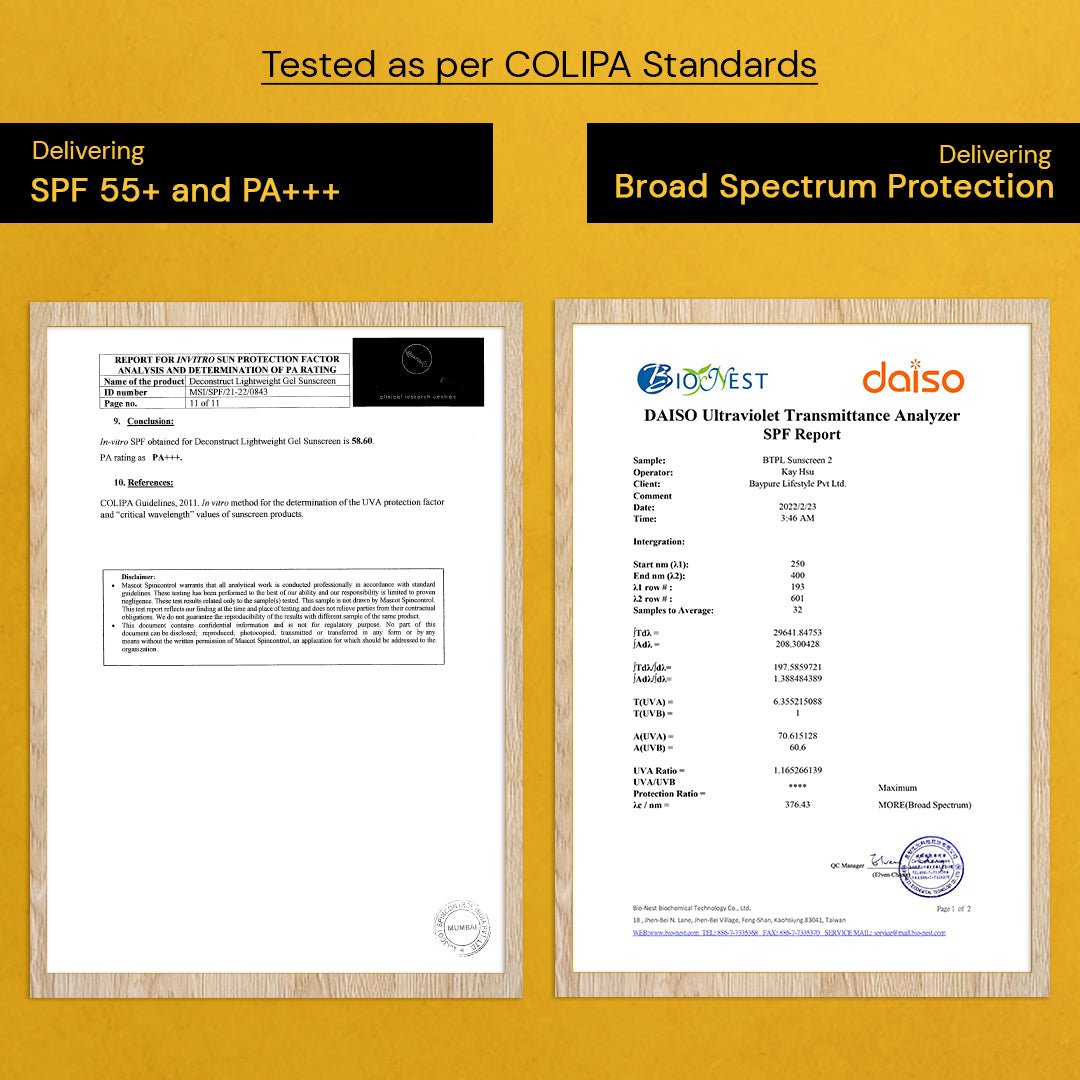 DETAILS

Why is this different?

The Gel sunscreen has a very lightweight texture that absorbs quickly into the skin leaving no white cast. This broad spectrum sunscreen has a high SPF 55+ and PA+++ rating to provide the necessary Sun protection. Apart from the chemical filters, it is filled with hydrating agents such as phospholipids & glycerin to provide the necessary hydration to the skin.

How Does it Work on the Skin?

Benzophenone-3

absorbs and scatters the sun's harmful ultraviolet rays giving broad-spectrum protection in combination with other UV filters.

Butyl Methoxydibenzoylmethane

is a potent sunscreen agent that protects against photoaging and tanning. 

Ethylhexyl methoxycinnamate

boosts sun protection factor by protecting against UVB rays

Phospholipids & glycerin enhances the penetration of actives and also help maintain hydration levels and elasticity of the skin.

How to use?

Apply on the face & neck in the morning routine & at least 15 minutes before stepping out in the sun. 

Use after a moisturiser & before using makeup

Reapply when needed for continued protection.
DECONSTRUCTING Gel Sunscreen - SPF 55+ and PA+++ | Water Resistant Sunscreen

Benzophenone-3: Absorbs and scatters sun's harmful ultraviolet rays giving a broad spectrum protection in combination with other UV filters.
https://ec.europa.eu/health/system/files/2021-04/sccs_o_247_0.pdf 

Butyl Methoxydibenzoylmethane: It protects against photoaging and tanning of the skin.
https://pubs.acs.org/doi/10.1021/acssuschemeng.0c02735 

Ethylhexyl Methoxycinnamate: It is a potent sunscreening agent that protects the skin from harsh and burning UVB radiations of sun.
https://www.researchgate.net/publication/308150122_Analysis_of_octyl_methoxycinnamate_in_sunscreen_products_by_a_validated_UV-spectrophotometric_method
https://www.accessdata.fda.gov/scripts/cdrh/cfdocs/cfcfr/CFRSearch.cfm?fr=352.50
U.S. Food and Drug Administration; Over-the-Counter Monograph M020: Sunscreen Drug Products for Over-the-Counter Human Use

Phospholipids: They enhance the penetration of actives and also help maintain hydration levels of the skin and  elasticity.
https://www.researchgate.net/publication/26523667_Lipids_in_pharmaceutical_and_cosmetic_preparations 

Glycerin: A humectant that attracts moisture from the environment to lock it in the skin, providing hours of hydration and facilitating the repair of skin's barrier
Glycerol And The_skin_holistic_approach_20160817-5518-61mq0a.pdf

Cetearyl Olivate & Sorbitan Olivate: Excellent PEG free emulsifiers that also function as moisturising agents thus preventing loss of moisture from the skin.
https://pubchem.ncbi.nlm.nih.gov/compound/Cetearyl_alcohol#section=3D-Status  

1,3-Butylene Glycol: It is a humectant and a conditioning agent that keeps the moisture locked in the skin
Final Report on the Safety Assessment of Butylene Glycol, Hexylene Glycol, Ethoxydiglycol, and Dipropylene Glycol.
Journal of the American College of Toxicology Volume 4, Number 5, 1985

Butyloctyl Salicylate: An ingredient that functions as an emollient keeping the skin softer and plump.
https://pubmed.ncbi.nlm.nih.gov/14617432/ 

Glyceryl Behenate: A special ingredient that aids in the absorption of actives into the skin making it more smoother. It also functions as an emulsifier. 

Acrylates/C10-30 Alkyl Acrylate Crosspolymer: This ingredient works on enhancing the sensorial aspects of the sunscreen.
https://www.cir-safety.org/sites/default/files/crossl092011final_for%20posting.pdf 

Sodium Polyacrylate Starch: It functions as a thickening agent and also enhances the texture of the product.
https://www.researchgate.net/publication/269763715_Rheology_of_Sodium_Polyacrylate_as_an_Emulsifier_Employed_in_Cosmetic_Emulsions 

Phenoxyethanol and Ethylhexylglycerin: A combination of skin-softening, antimicrobial and a preservative required to keep the serum fresh and free from any microbial growth
Contact Dermatitis. 2016 May;74(5):281-8

Sodium Gluconate: Functions as a chelating agent and humectant.
PubChem Compound Summary for CID 517056, Gluconate sodium

Triethanolamine: A pH balancer and emulsion stabiliser and is completely safe to use
Int J Toxicol. 2013 May-Jun;32(3 Suppl):59S-83S
PRODUCT INGREDIENTS

Aqua, Glycerin, Cetearyl Olivate, Sorbitan Olivate, Ethylhexyl Methoxycinnamate, Glyceryl Behenate, Butyl Methoxydibenzoylmethane, Sodium Polyacrylate Starch, Benzophenone-3, 1,3-Butylene Glycol, Phenoxyethanol, Ethylhexylglycerin, Butyloctyl Salicylate, Phospholipids, Sodium gluconate, Triethanolamine, Acrylates/C10-30 Alkyl Acrylate Crosspolymer
WHICH INGREDIENTS CAN I MIX?

For extra sun protection

Use with Deconstruct's Vitamin C Serum- 10% Vitamin C + 0.5% Ferulic Acid for extra sun protection and preventing sun tan. Apply Vitamin C Serum on clean and damp skin. Wait until the product is completely absorbed. Follow up with moisturizer and Deconstruct's Gel Sunscreen.

For moisturized and even toned skin

Use with Deconstruct's Brightening Moisturizer for intense hydration and even toned skin. Apply a coin size amount of Deconstruct's Brightening Moisturizer on clean and dry face and gently spread it all over the face, neck and jawline. Follow up with Deconstruct's Gel Sunscreen.
THINGS TO KEEP IN MIND

Patch testing prior to use is advised

All products are gender-neutral

Best suited for individuals above 18 years of age.
DECONSTRUCT'S Protects From Harmful UV rays, prevents sun related skin ageing & tan-  RECOMMENDED SKIN CONCERNS & SKIN TYPES

This gel sunscreen best suits people with

Dry skin

Combination skin

Oily skin

Normal skin

Use gel sunscreen, if your concerns are

Sun Protection

Sun related ageing

Hyperpigmentation & dark spots & marks
SHIPPING & RETURNS

Shipping

Where do we ship to?

We ship to almost every city in India. We do not offer an international shipping option currently, but we hope to offer it in the future.

How long does an order take to process?

We try to process the orders within 24 working hours, in most cases we try to fulfil the order within 3 working days, but please allow us 7 working days to fulfil the order. Order delivery time may vary during peak periods(after/during product launches, holidays and special promotions)

How long does it take to ship?

We ship all confirmed orders within 24 working hours. You will receive an email once your order is shipped with your tracking number. We work as hard as we can to try to meet your expectations, but sometimes there may be delays – e.g. because of postal/carrier delays, logistics, bad weather, or things out of our control.

How can you track your order?

Once your order has been dispatched from our warehouse, you will receive an email with your tracking information.

Cancellations

You can cancel your orders by writing to us on our Email ID – wecare@thedeconstruct.in or please call us on 080-471-05772 (Monday to Friday, 10AM to 7PM & Saturday 10AM to 4PM)and we will help you in cancelling the order.

How will I receive the refund for my cancelled order?

For prepaid orders, money will be returned to the bank account/credit/debit card or where the payment was made within 7 business working days.We will be able to credit to the original method of payment,we cannot refund to another alternative card.

Please Note: Orders can only be cancelled before they are shipped.

Returns and Refund

Thank you for shopping at The Deconstruct. We have made all our products with utmost care and deep scientific knowledge with an understanding of most skin types. If you are still not completely satisfied with a purchase, please reach out to us and we will put all our efforts to help you.

We offer refund / replacement only in following cases:

Wrong product delivered
Expired product delivered
Damaged product delivered – Physical damage/ tampered product or packaging.
Missing product

Step 1 – Raise a request within 2 days from the date of delivery through Email –
wecare@thedeconstruct.in or on Whatsapp at +919398249040 with the pictures of the issue
you are facing and your order ID.

Step 2 – Allow us 48 working hours to review your request.

Step 3 – On reviewing your request, we will send our courier partner to collect the product delivered to you.

Step 4 – After your product(s) is received, we will verify it and initiate the replacement or refund accordingly.

Under what conditions return/ replacement requests will not be accepted?

Opened/used/altered products.
Original packaging (mono cartons, labels, etc.) missing.
The return/replacement request is generated after 2 days from the date of delivery.
The damaged/ missing product is reported after 2 days from the date of delivery.
Update received as product delivered but product not received and if reported after 24 hours from the time of delivery.
FAQS

Is gel sunscreen physical or chemical based?
Gel sunscreen is a chemical sunscreen that contains chemical UV filters which work by absorbing UV rays, converting them into heat and release from the skin surface.
What skin types can use chemical sunscreen?
Although suitable for all skin types, chemical sunscreens should be carefully used by people with sensitive skin conditions since it may cause certain light reactions such as inflammation or redness.
How is chemical sunscreen better over physical sunscreen?
Chemical sunscreen is designed to get absorbed and hence spreads and works smoothly on the skin without the skin feeling greasy or sticky. Also it does not leave any white cast when applied.
Should I use sunscreen only in the summer?
Sunscreen should  be used everyday and should be a part of your daily skincare regimen, not just in summer. You are exposed to UV radiations everyday when you step out. Hence, applying sunscreen is mandatory despite the season.
How long should a 50gm sunscreen last?
If you use sunscreen generously everyday on your face and neck  it will last for around 1-1.5 month.
Can I apply makeup over sunscreen? Will it cause any pilling?
Yes, you can put on make up after applying sunscreen on your face. Applying makeup above sunscreen will not cause any pilling. Just make sure that  the sunscreen sits well on your skin for about 5 minutes and then apply make-up.
Is it safe to use methoxycinnamate?
Methoxycinnamate is generally considered safe to be used in sunscreens but should be avoided by pregnant and lactating mothers.
Manufacturer Details

Intigree Biomed Private Limited, Plot no 62, Genesis Industrial Complex, Kolgaon, Tal. Dist. Palghar 401404, Maharashtra, India

Country of Origin: India
Alert Alert Alert...!!!!
No Money Back 200%
Please read thier terms and conditions before buying, they will never give money back if products doesnot work for you. Its a TRAP...!!
Check your skin type and buy wisely...
I actually wanted a sunscreen which would be smooth on my skin and not at all dewy finish. It is perfect on my oily skin also the finish of the sunscreen far more better than any other brands.
Amazing consistency and good coverage
Really good sunscreen, one of my
favourite
Please deliver my package as soon as possible.
I have ordered on 08 August 23. But courier agent didn't deliver my package. Nobody attended to deliver the shipment and even nobody contact me. Please check courier agent's call details.
I again request you kindly deliver my package as early as possible.