Smoothing Body Cream - 0.8% Dioic Acid + 4% AHA + 5% Cocoa Butter
A daily nourishing body butter cream with a creamy, cushiony texture that helps in deeply moisturizing and nourishing the skin. Infused with Dioic Acid, AHA & Cocoa Butter, this body brightening cream targets dark patches, pigmentation, and uneven skin tone, leaving it supple and hydrated.
MRP (Inclusive of all taxes)
Active Offers
Free Gift With Every Order
BIGGEST SALE OF THE YEAR IS LIVE
₹1 FLASH DEAL @11AM DAILY: ADD PRODUCT @₹1 ON ₹999+
5 Lucky Winners Win Cwc 2023 Tickets
Money Back Guarantee On All Products | 100% Refund If You Face Any Irritation
pH: 3.5 - 4.5

Paraben Free

Silicone Free

SLS Free

Fragrance Free

Vegan

Phthalate free

Cruelty Free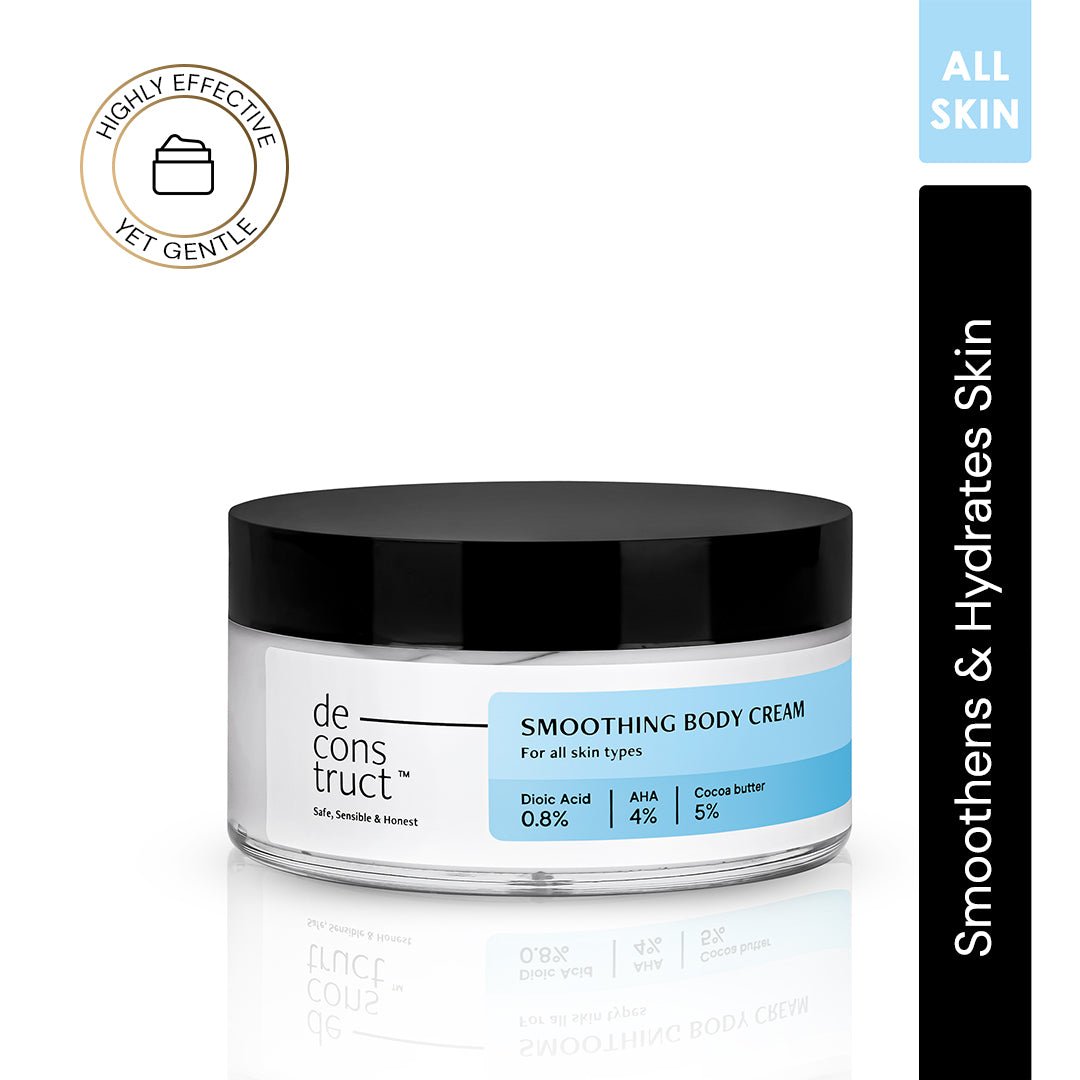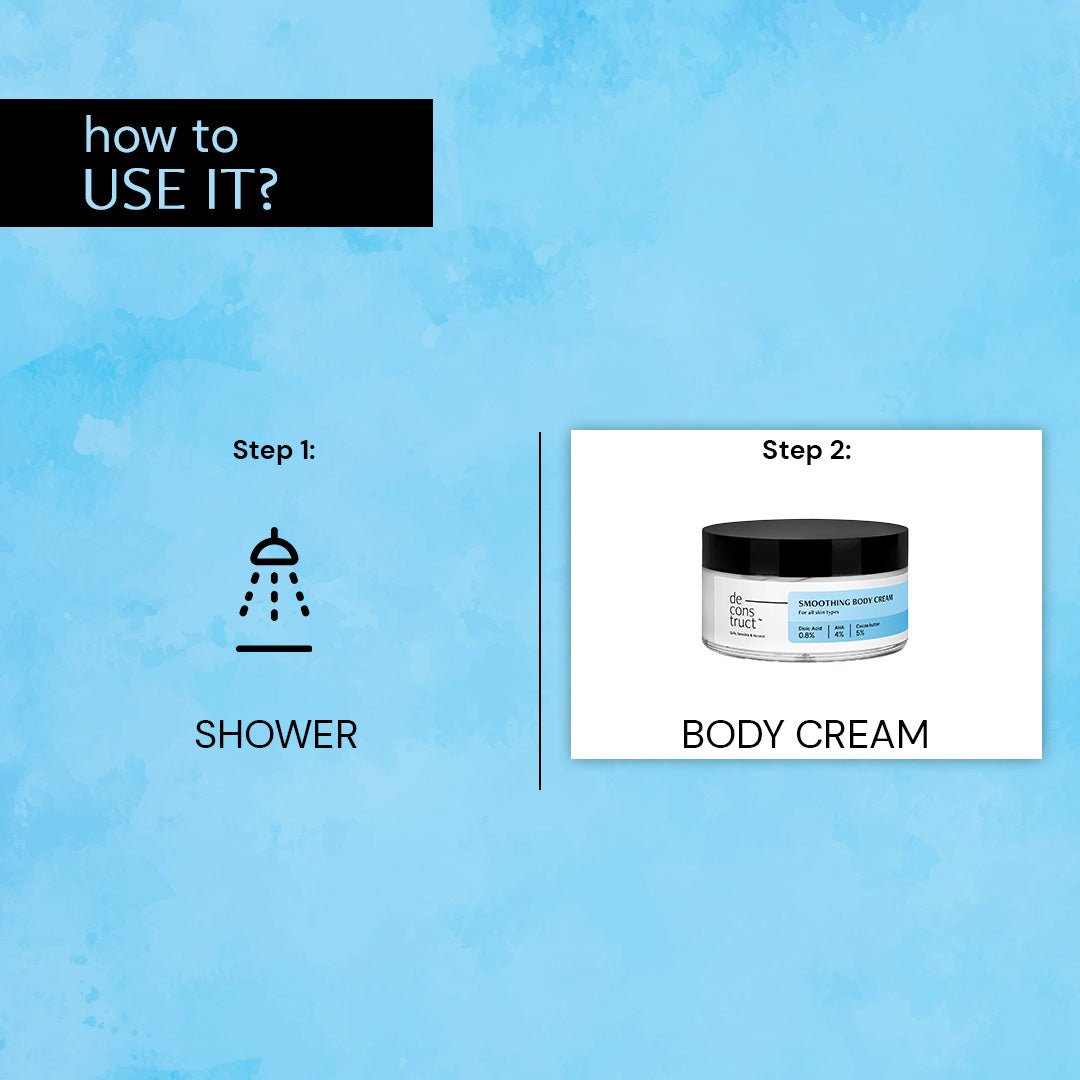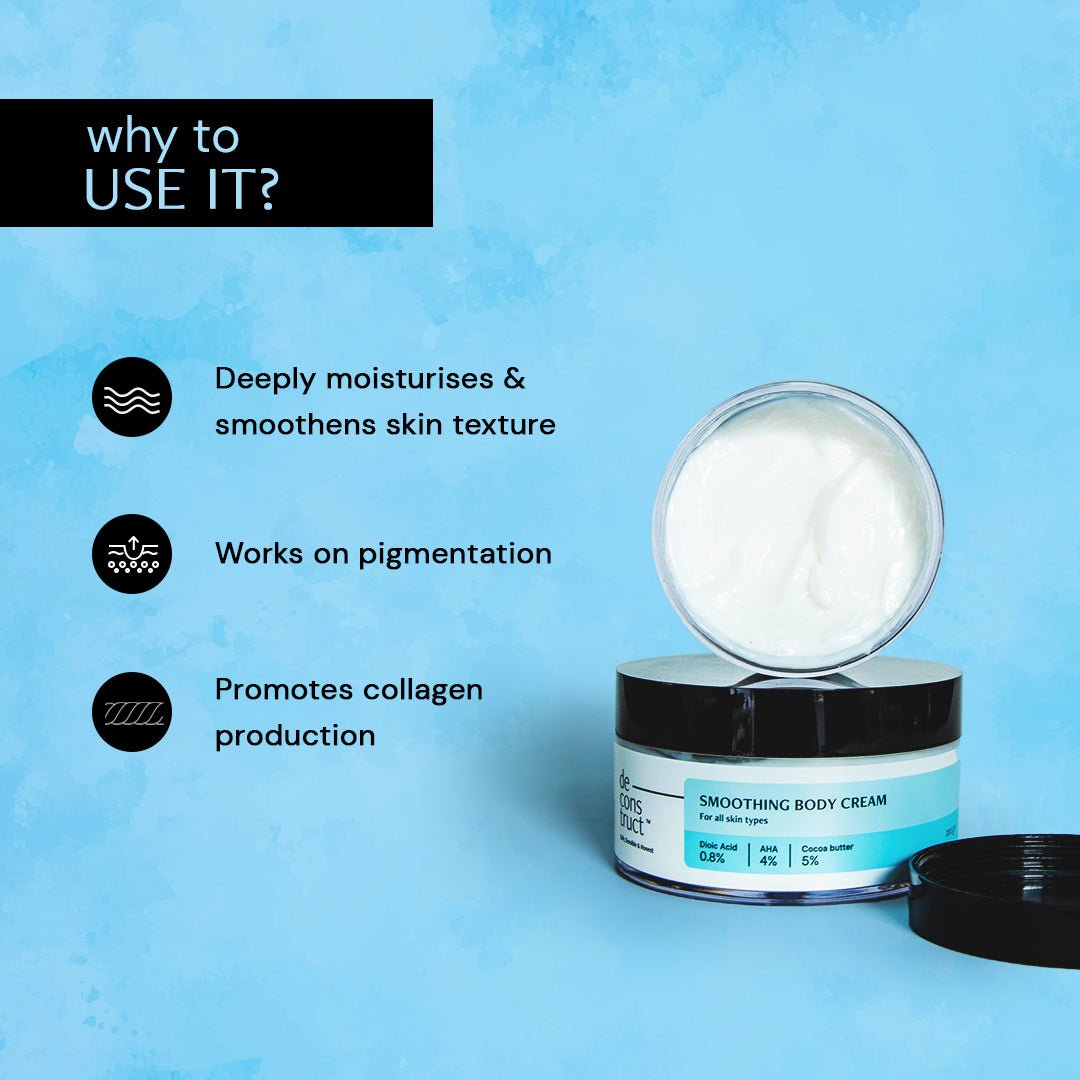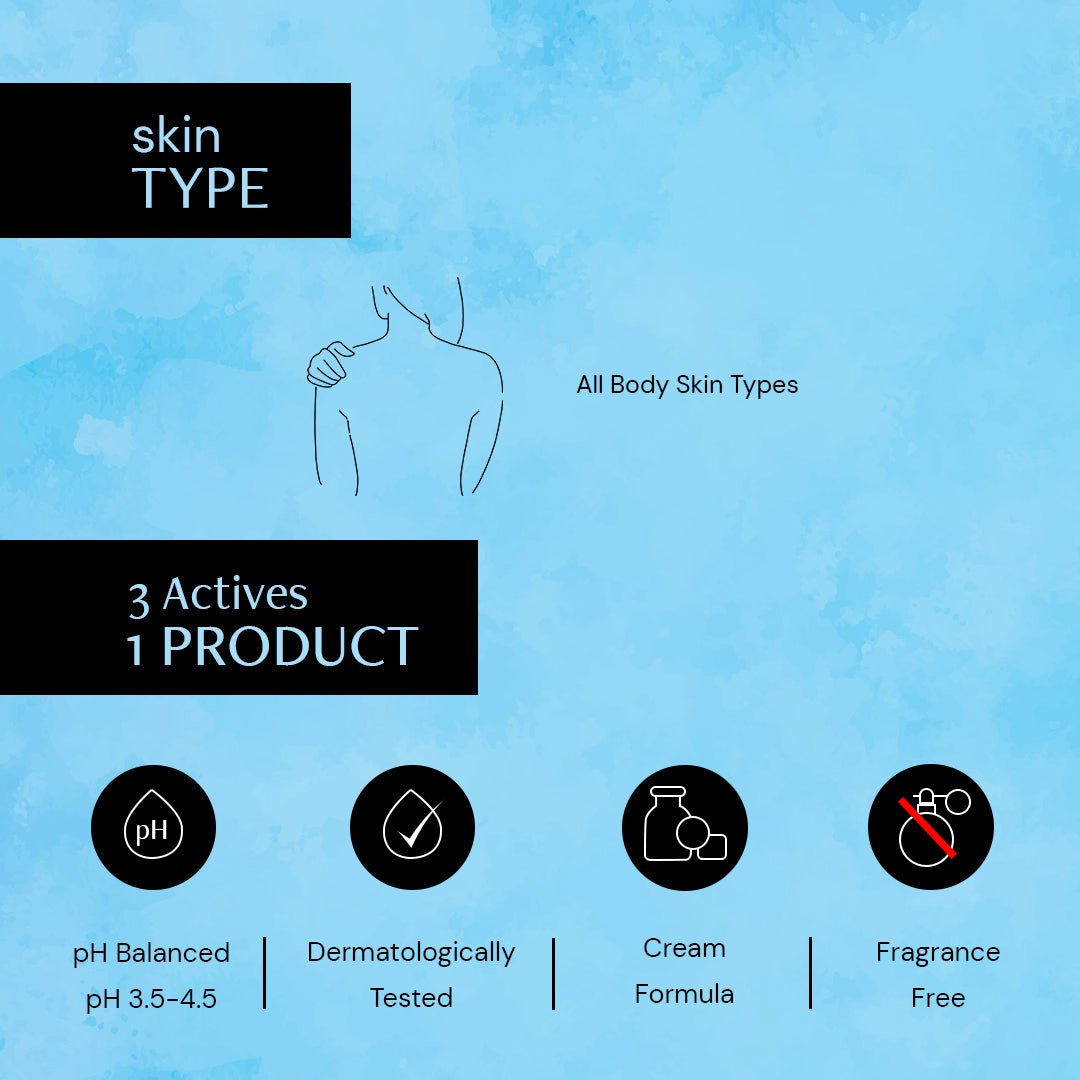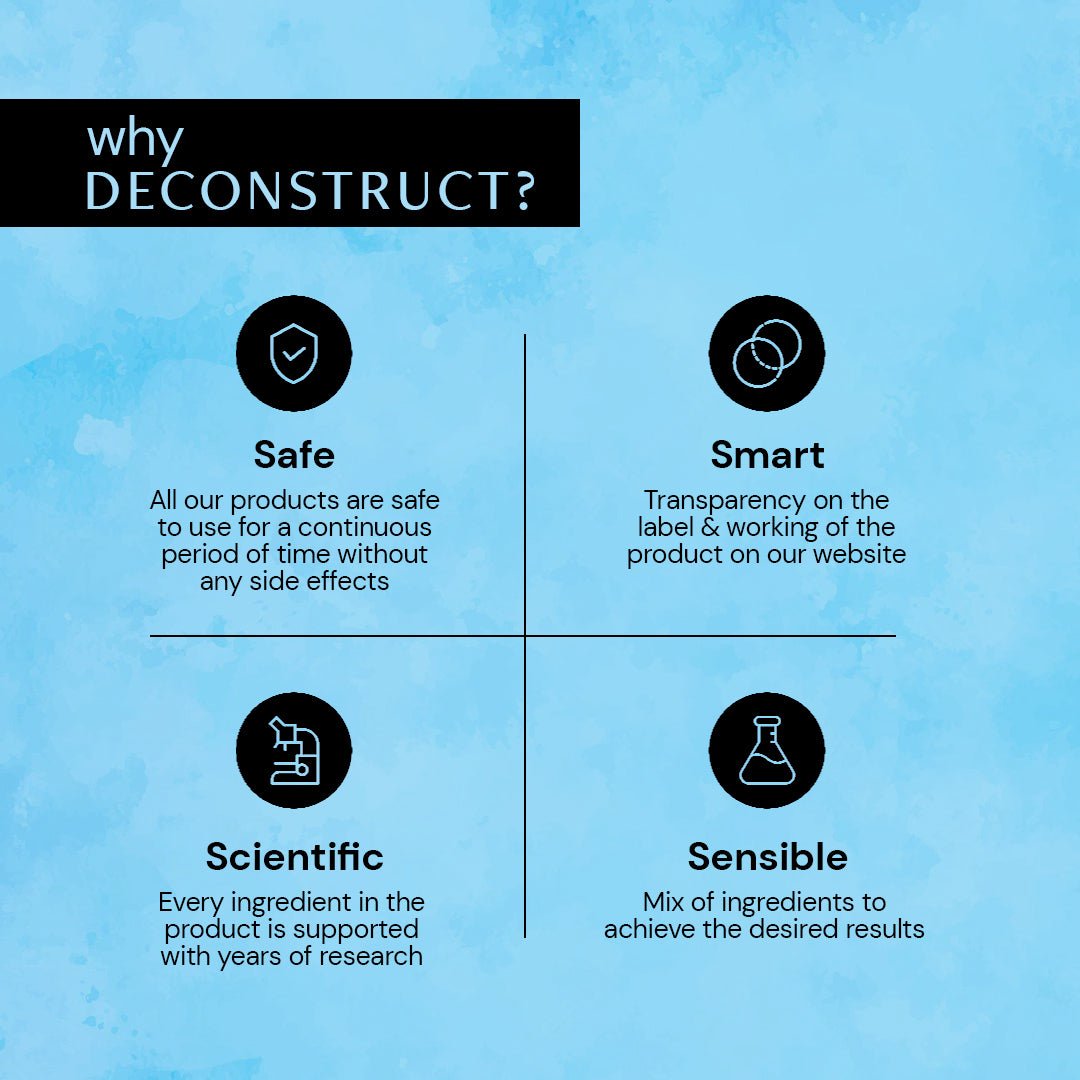 DETAILS

Why is this different?

Formulated with impactful actives such as Dioic Acid, Cocoa Butter, and 2 types of AHAs- Lactic Acid and Glycolic Acid, this skin-smoothing body glow cream helps in deeply moisturizing and nourishing the skin. Dioic Acid helps target dark patches and pigmentation, and AHAs help in smoothing the skin, evening out the skin tone, and promoting collagen production. It acts as a hyperpigmentation cream for the body. Added Cocoa Butter acts as an emollient to keep the dry skin supple and hydrated.

How Does it Work on the Skin?

0.8% Dioic acid works on dark patches and pigmentation.

4% AHA (Lactic acid and Glycolic acid) helps in smoothing the skin, evens out the skin tone, and promotes collagen production.

5% Cocoa butter deeply nourishes and moisturizes the skin.

How to use?

Apply this body butter cream onto clean and damp skin.

Massage until completely absorbed into the skin.

Use up to once a day.

Note: If you are a first time user to the actives in the product, it is recommended to incorporate it slowly into your routine and gradually increase the frequency to everyday usage. For more details check the FAQs.
DECONSTRUCTING Smoothing Body Cream - 0.8% Dioic Acid + 4% AHA + 5% Cocoa Butter

Theobroma cacao (Cacao) butter Protects from oxidative stress caused by UV radiations and deeply moisturizes the skin, keeping it soft and plump.
Nutrients 2014, 6(8), 3202-3213

Glycerin: A humectant that attracts moisture from the environment to lock it in the skin, providing hours of hydration and facilitating the repair of the skin barrier.
Glycerol And The_skin_holistic_approach_20160817-5518-61mq0a.pdf

Lactic acid: Gently exfoliates the skin and helps in the removal of skin discoloration and brightens up the skin. https://www.researchgate.net/publication/292990722_Lactic_acid_applications_in_pharmaceutical_and_cosmeceutical_industries

Glycolic acid: This AHA helps inhibit melanin production and thereby also works on hyperpigmentation and dark patches. https://pubmed.ncbi.nlm.nih.gov/24399880/

Octadecenedioic Acid: This special chemical ingredient helps in depigmenting dark patches and pigmented areas on the skin. https://onlinelibrary.wiley.com/doi/pdfdirect/10.1111/j.1468-2494.2010.00616.x

C6/C12 Triglycerides: Used as a sensorial enhancer that contributes to the texture and feel of the product. https://pubmed.ncbi.nlm.nih.gov/1739406/

Phenoxyethanol and Ethylhexylglycerin: A combination of skin-softening, antimicrobial and a preservative required to keep the serum fresh and free from any microbial growth
Contact Dermatitis. 2016 May;74(5):281-8

Sodium Gluconate: Functions as a chelating agent and humectant.
PubChem Compound Summary for CID 517056, Gluconate sodium

Cetyl alcohol: Works as an occlusive that forms a protective layer on the skin and prevents transepidermal water loss, thus keeping the skin hydrated and plump.

Triethanolamine: A pH balancer and emulsion stabilizer which is completely safe to use
Int J Toxicol. 2013 May-Jun;32(3 Suppl):59S-83S

Glyceryl stearate: An occlusive which when applied onto the skin forms a film that helps retain moisture and also functions as an emulsifier
https://journals.sagepub.com/doi/pdf/10.3109/10915818209021268

PEG-75 Stearate: Acts as an emulsifier and also as a humectant.
https://www.cir-safety.org/sites/default/files/peg_diesters.pdf

Ceteth-20: It functions as an emulsifier as well as an emollient that helps keep the skin moisturized. https://journals.sagepub.com/doi/pdf/10.1177/109158189901800203

Steareth-20: Also an emulsifier that additionally aids in improving the sensorial properties of the product. https://journals.sagepub.com/doi/10.3109/10915818809078712
PRODUCT INGREDIENTS

Aqua, Theobroma cacao (Cacao) butter, Glycerin, Triethanolamine, Cetyl Alcohol, Glyceryl Stearate, PEG-75 Stearate, Ceteth-20, Steareth-20, Lactic acid, Glycolic acid, Hydroxyethyl Acrylate/Sodium Acryloyldimethyl Taurate Copolymer, C6/C12 Triglycerides, Octadecenedioic Acid, Phenoxyethanol, Ethylhexylglycerin, Sodium Gluconate
WHICH INGREDIENTS CAN I MIX?

Use an exfoliating Salicylic Acid Body Wash first to cleanse dead cells.

Layer it up with smoothing body cream to keep your skin moisturized. Follow up with a body sunscreen.
THINGS TO KEEP IN MIND

Patch testing prior to use is advised

All products are gender-neutral

Best suited for individuals above 18 years of age.
DECONSTRUCT'S -  RECOMMENDED SKIN CONCERNS & SKIN TYPES

This body cream best suits people with

Dry skin

Combination skin

Oily skin

Normal skin

Sensitive skin

Use body cream, if your concerns are

Uneven skin tone

Textured skin

Pigmented skin

Dry and dull skin
SHIPPING & RETURNS

Shipping

Where do we ship to?

We ship to almost every city in India. We do not offer an international shipping option currently, but we hope to offer it in the future.

How long does an order take to process?

We try to process the orders within 24 working hours, in most cases we try to fulfil the order within 3 working days, but please allow us 7 working days to fulfil the order. Order delivery time may vary during peak periods(after/during product launches, holidays and special promotions)

How long does it take to ship?

We ship all confirmed orders within 24 working hours. You will receive an email once your order is shipped with your tracking number. We work as hard as we can to try to meet your expectations, but sometimes there may be delays – e.g. because of postal/carrier delays, logistics, bad weather, or things out of our control.

How can you track your order?

Once your order has been dispatched from our warehouse, you will receive an email with your tracking information.

Cancellations

You can cancel your orders by writing to us on our Email ID – wecare@thedeconstruct.in or please call us on 080-471-05772 (Monday to Friday, 10AM to 7PM & Saturday 10AM to 4PM)and we will help you in cancelling the order.

How will I receive the refund for my cancelled order?

For prepaid orders, money will be returned to the bank account/credit/debit card or where the payment was made within 7 business working days.We will be able to credit to the original method of payment,we cannot refund to another alternative card.

Please Note: Orders can only be cancelled before they are shipped.

Returns and Refund

Thank you for shopping at The Deconstruct. We have made all our products with utmost care and deep scientific knowledge with an understanding of most skin types. If you are still not completely satisfied with a purchase, please reach out to us and we will put all our efforts to help you.

We offer refund / replacement only in following cases:

Wrong product delivered
Expired product delivered
Damaged product delivered – Physical damage/ tampered product or packaging.
Missing product

Step 1 – Raise a request within 2 days from the date of delivery through Email –
wecare@thedeconstruct.in or on Whatsapp at +919398249040 with the pictures of the issue
you are facing and your order ID.

Step 2 – Allow us 48 working hours to review your request.

Step 3 – On reviewing your request, we will send our courier partner to collect the product delivered to you.

Step 4 – After your product(s) is received, we will verify it and initiate the replacement or refund accordingly.

Under what conditions return/ replacement requests will not be accepted?

Opened/used/altered products.
Original packaging (mono cartons, labels, etc.) missing.
The return/replacement request is generated after 2 days from the date of delivery.
The damaged/ missing product is reported after 2 days from the date of delivery.
Update received as product delivered but product not received and if reported after 24 hours from the time of delivery.
FAQS

Will using AHAs every day on the body be harsh on the skin?


It contains up to 4% AHA (lactic acid and glycolic acid) making it a dead skin remover cream for the body, helps fortify the skin and make it plumper. It also contains cocoa butter which will keep your skin moisturized and protected.

How to use this product if I am a beginner / first time user?


For people with sensitive skin type/ who have never used any actives before, start by using it alternate days for the first few weeks and if everything seems fine move on to using it everyday. Follow up with a body sunscreen.

What are the benefits of this body cream?


One of the major benefits of body cream for dry skin is that it provides deep moisturization leaving the skin smooth, it calms irritated skin improving overall skin health. Additionally, it acts as a body tan removal cream, Dioic acid in it regulates excess melanin & its transfer across skin cells - helping fade hyperpigmentation. The cream works on both upper layers of the skin & the deeper layers.

Body cream vs body lotion?


Cream and lotion are two different categories of formulation working towards providing the same benefit as that of deeply moisturizing skin, nourishing it, and improving the skin texture. The major difference between the two is that of thickness. The body cream has thick buttery consistency whereas the body lotion is lightweight as compared to the cream. A daily moisturizing Lotion has more water content & less oil. Being thicker body cream adds more protection to the skin as it seeps into the deeper layers of the body skin whereas lotion isn't able to go into the deeper layers & hence takes a little longer to work.

Can this Smoothing Body Cream be used along with other serums/products?


Yes, the Smoothing Body Cream can be used with other products. However, a patch test is always recommended.

Is the Smoothing Body Cream safe to use for a pregnant and/or a lactating/nursing mother?


It is recommended to consult a doctor before using any product during pregnancy or lactation period.

Can Smoothing body cream be used everyday?


Yes, you can use this Body Brightening Cream every day

to form a protective barrier to lock in moisture.

People with oily skin can use it twice a day, but people with dry to normal skin should use it once a day to get supple skin.

Regular application of body butter cream helps in keeping dryness at bay.

Does this body cream darken skin?


It does not darken the skin rather the Dioic acid content in it helps reduce the appearance of dark patches and pigmented skin by inhibiting tyrosinase activity and acting as a de-tan cream for the body.

When should body cream be applied?


This rich cocoa butter body cream for women & men should be applied on clean and damp skin post-shower to get smooth skin.

Can I use body cream on my face?


This moisturizing cream is specifically meant to be used on the body. It soothes & calms dry & itchy skin & prevents loss of elasticity thus also reducing the

appearance of stretch marks on the body.

We have a range of facial care products targeting different skin concerns and skin types that we would advise you to use.

Do you use body cream during or after showering?


The body cream is supposed to be used after showering on damp skin to form a protective layer over the skin that locks in moisture.

Where do you apply body cream?


Body cream should be applied to hands, legs, and other body parts.

How often should you cream your body?


For regular dead skin cell removal, improving skin elasticity & keeping skin healthy overall, it should be used once a day after showering, include it in your daily care routine.

What happens if you don't cream your body?


You might face concerns like dehydrated & dry skin if it is not layered with a rich body cream. So to avoid body skin damage, and prevent dark spots & glowing skin use a body cream & other skincare products that has key ingredients like cocoa butter, Dioic acid, Lactic acid & glycolic acid.

What is the difference between face cream and body cream?


The face cream is formulated especially for the face considering that the skin on the face is sensitive compared to the body as it is exposed to external factors. The face cream is usually lightweight as compared to the body cream.

The rich consistency of body butter cream help in nourishment & deep moisturization of the body.

Why is it important to regularly apply Body Cream?


Moisturizing skin with body butter cream can help in keeping your body skin soft, smooth, and moisturized and avoid premature aging.
Manufacturer Details

Intigree Biomed Private Limited, Plot no 62, Genesis Industrial Complex, Kolgaon, Tal. Dist. Palghar 401404, Maharashtra, India

Country of Origin: India
Smoothing Body Cream - 0.8% Dioic Acid + 4% AHA + 5% Cocoa Butter
Willing to try again if good.
I came here via https://cashk.app.link/r29XLllDzAb a cashback and coupons app.
Packaging -
The packaging was done pretty well, wrapped in the bubble wrapper and the plastic over the box. I have shared photos for reference. The box also looks premium enough.
Smell and look -
It has a mild fragrance, sort of like an ointment but not in a bad way. Looks pretty good.
Downside -
I received a one year old product, I had complained but this is what they have, they said.
Ingredients -
I had looked up the ingredients and they all seem to be good and trustworthy. Good for the skin.
Price -
Pretty glad to get it at this price.
Quantity and pricing -
100gm priced at 459INR. I got it at 110.5INR :D
Got this at an offer value, one was for logging in as a new user and another was cashback from the app. Overall I bought 3 products, this and two other body washes. Overall, after the cashback in the app this costed me 661 Indian rupees of billing amount - 331.5rs refund in the app.
Brightened my face and body
My main motive behind buying your products were that they have the right ingredients and help with depigmentation. But would love more products like

https://permanenceskin.com/. Would love to see more prouducts on brightening in an advanced level from you in Indian market. Thanks thedeconstruct
Love the product
Totally worth the price 🖤