Oil Control Duo - Pore Control Serum + Brightening Serum
This combo brings to you the goodness of Pore Control Serum & Brightening Serum to remove all the excess sebum and controls the further production giving radiant glowing, fresh & smooth skin
₹0

₹1,498.00

₹0

₹1,049.00
MRP (Inclusive of all taxes)
Active Offers
Free Gift With Every Order
BIGGEST SALE OF THE YEAR IS LIVE
₹1 FLASH DEAL @11AM DAILY: ADD PRODUCT @₹1 ON ₹999+
5 Lucky Winners Win Cwc 2023 Tickets
Money Back Guarantee On All Products | 100% Refund If You Face Any Irritation
pH: 5 - 6

Paraben Free

Silicone Free

SLS Free

Fragrance Free

Vegan

Phthalate free

Cruelty Free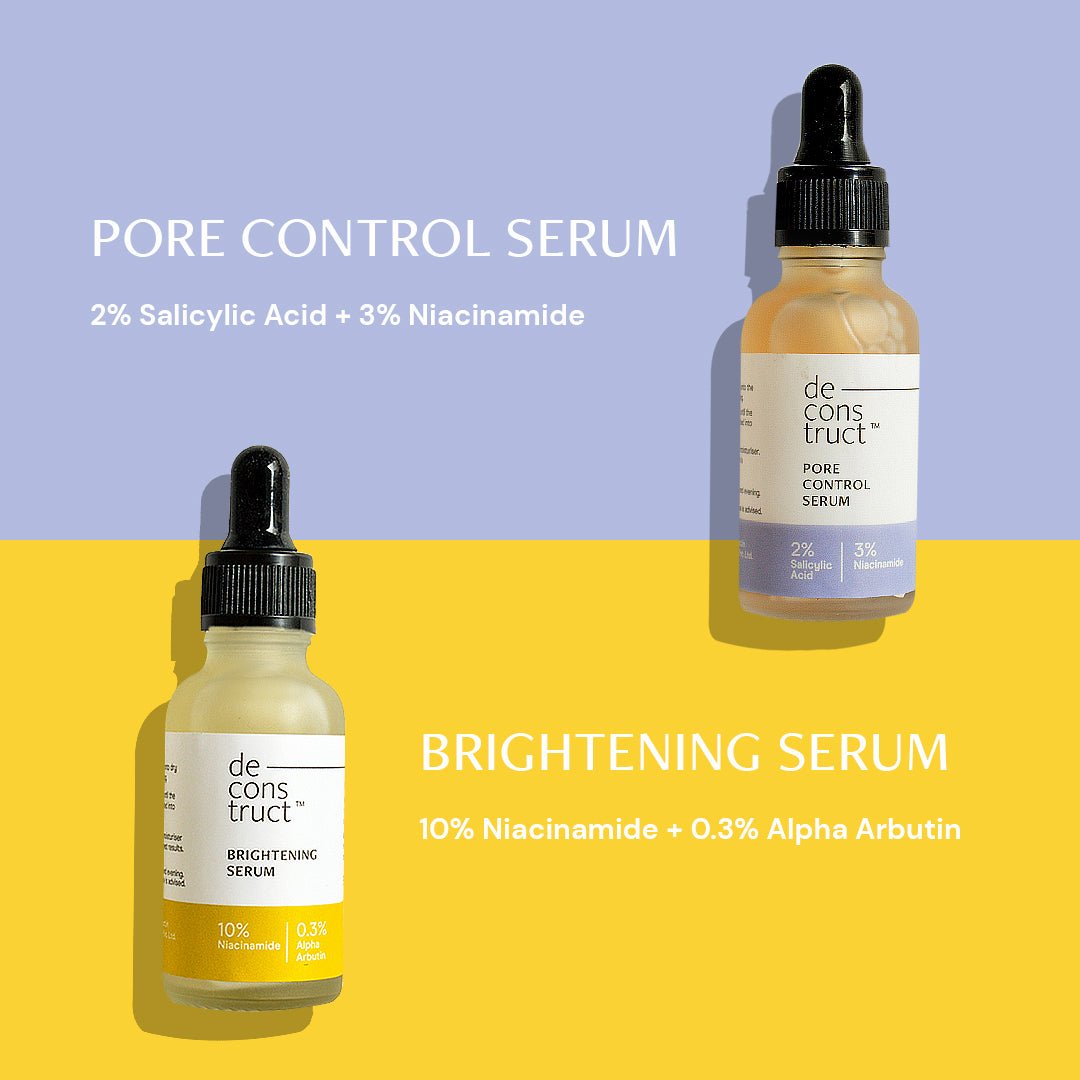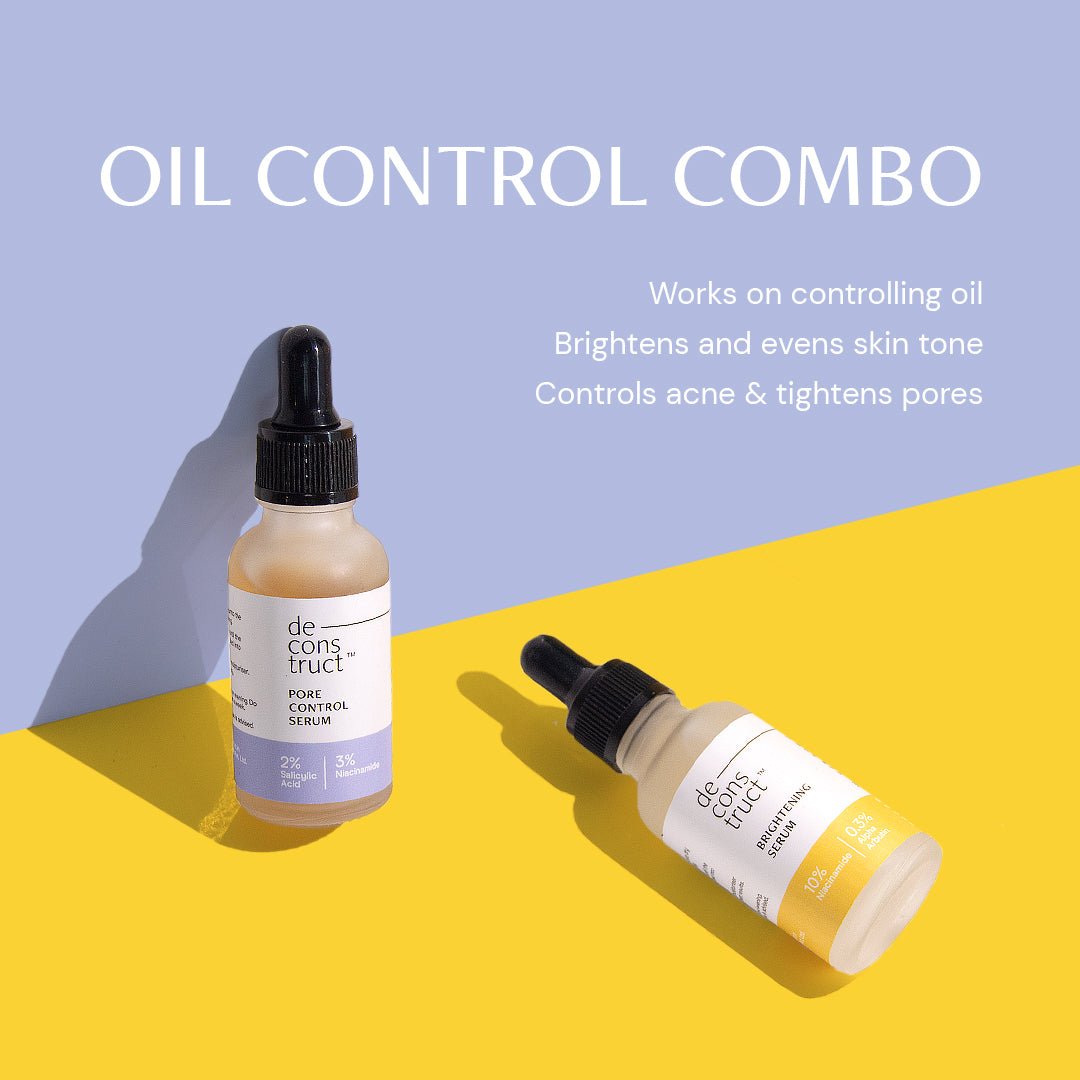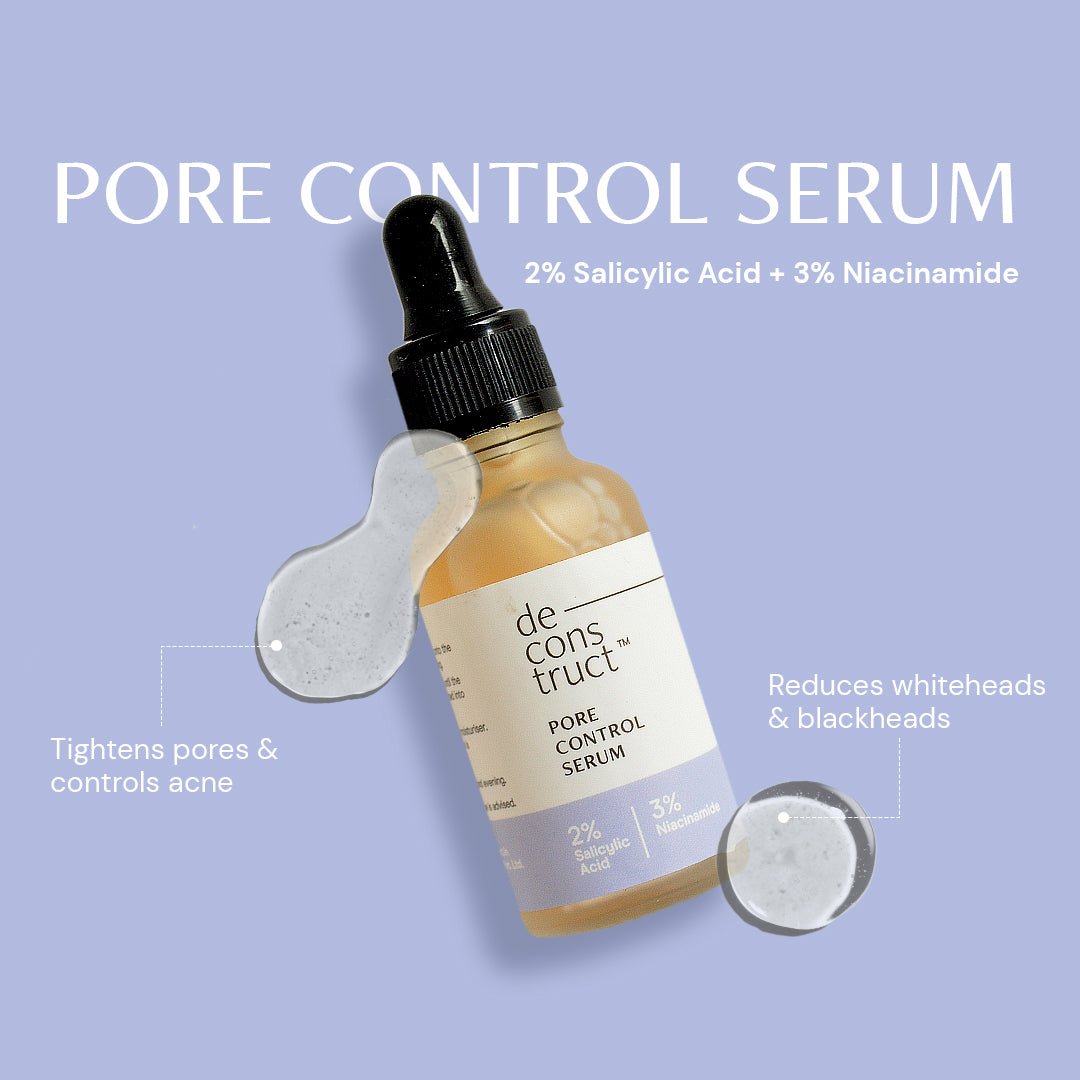 DETAILS

Why is this different?

The duo of Deconstruct Pore Control Serum & Brightening Serum for the face helps in removing the extra sebum and further controls the production. It is best suited for oily acne-prone skin and helps in pore tightening, whiteheads, and blackheads removal and also reduces hyperpigmentation & tanning, improving skin texture, even out the skin tone.

How Does it Work on the Skin?

The Pore Control Serum with 2% salicylic acid will act as a mild exfoliant that dries the sebum and controls acne.

10% niacinamide in Brightening serum is to control the excess sebum production. 

Beneficial for oily acne-prone skin

How to use?

After cleansing the face, apply 2-3 drops of Brightening Serum(every morning)

Apply Pore Control Serum on alternate nights.

Always follow up with a moisturizer
DECONSTRUCTING Oil Control Duo - Pore Control Serum + Brightening Serum

Brightening Serum - 10% Niacinamide + 0.3% Alpha Arbutin

Niacinamide: Water-soluble antioxidant sourced from Vitamin B3, when used at lower concentrations inhibits sebum production & reduce skin oiliness
Journal of Cosmetic and Laser Therapy, 2006 Jun;8(2):96-101

Salicylic Acid/ BHA: This is a Beta Hydroxy Acid (BHA) that exfoliates the deeper pores to remove dirt, oil and dead cells.
Journal of Dermatological Treatment (1996)7, 93-96

Sophorolipid: Sophorolipid inhibits the growth of a variety of clinically relevant organisms and works as an excellent antimicrobial
Frontiers in Microbiology, 6 (2015), 1324

Camellia Sinensis Leaf (Green Tea) Extract: An excellent anti oxidant and also an excellent astringent. It has soothing & moisturising properties that calm skin irritation and reduce redness
Dermatol Ther. 2013 May-Jun;26(3):267-71


Glycerin: A humectant that attracts moisture from the environment to lock it in the skin, providing hours of hydration and facilitating the repair of skin's barrier
Glycerol And The_skin_holistic_approach_20160817-5518-61mq0a.pdf

Propylene Glycol: A humectant that helps to replenish dry/dehydrated skin by attracting moisture from the environment
Critical Reviews in Toxicology, April 2013, issue 4, pages 363-390

Xylitylglucoside, Anhydroxylitol and Xylitol:  Reinforces the barrier function  by stimulating ceramide synthesis and optimised water reserves by boosting natural moisturising factor and hyaluronic acid
Journal of Cosmetic Dermatology, 8(1), 32-39

Palmaria Palmata extract: This brown algae inhibits melanin synthesis and thus reduces the area of dark spots
Bioresource Technology, Volume 184, 2015, Pages 355-362

Phyllanthus Emblica (Amla) Fruit Extract: It is known to exhibit potent antioxidant properties and provide protect skin against oxidative stress
Tropical Journal of Pharmaceutical Research June 2011; 10 (3): 351-360

Piper nigrum (Black pepper) Seed  Extract: Naturally derived anti-oxidant with various multi-fold benefits. It also increases  the bioavailability of the product to the skin
Nutrition Research, Volume 19, Issue 3, 1999, Pages 381-388

Capryloyl Glycine and Sarcosine and Cinnamomum Zeylanicum bark Extract: This combination is a skin purifier and an astringent. At very low concentration, this balances skin lipids and is extremely safe to use
BMC complementary and alternative medicine, 17(1), 550

Phenoxyethanol and Ethylhexylglycerin: A combination of skin-softening, antimicrobial and a preservative required to keep the serum fresh and free from any microbial growth
Contact Dermatitis. 2016 May;74(5):281-8


Xanthan gum:  Moisturising and thickening agent, and a texture enhancer
Int J Toxicol. 2016, Vol. 35(Supplement 1) 5S-49S


EDTA: A chelating agent that binds with unwanted trace elements in the and also other ingredients from causing unwanted changes to a product's texture, odour, and/or consistency
Int J Toxicol. 2002;21 Suppl 2:95-142

2% Salicylic Acid + 3% Niacinamide - Pore Control Serum

Triethanolamine: A pH balancer and emulsion stabiliser and is completely safe to use
Int J Toxicol. 2013 May-Jun;32(3 Suppl):59S-83S

Niacinamide: Water-soluble antioxidant sourced from Vitamin B3 that nourishes the skin, improves overall texture and inhibits excess melanin production on the skin to tackle hyperpigmentation
J Dermatol. 2002 Jul;147(1):20-31


Alpha Arbutin: A derivative of hydroquinone that lightens skin, treating pigmentation, tanning and even freckles
PloS one vol. 12,5 e0177330. 11 May. 2017


Palmaria Palmata extract: This brown algae inhibits melanin synthesis and thus reduces the area of dark spots
Bioresource Technology, Volume 184, 2015, Pages 355-362


Brassica Campestris (Rapeseed) Seed Oil: An emollient with potential antioxidant properties for skin and is a rich source of omega-3 and omega-6 fatty acids
Int J Cosmet Sci. 2015 Oct;37(5):496-505


Glycyrrhiza Glabra (Licorice)Root Extract: a potent antioxidant and a skin-soothing ingredient
Fitoterapia, Volume 106, 2015, Pages 55-61


Glycerin: A humectant that attracts moisture from the environment to lock it in the skin, providing hours of hydration and facilitating the repair of skin's barrier
Glycerol And The_skin_holistic_approach_20160817-5518-61mq0a.pdf


Xylitylglucoside, Anhydroxylitol and Xylitol:  Reinforces the barrier function  by stimulating ceramide synthesis and optimised water reserves by boosting natural moisturising factor and hyaluronic acid
Journal of Cosmetic Dermatology, 8(1), 32-39

Oryza Sativa (Rice) Bran Extract: A skin conditioning agent that softens the skin
Int J Toxicol. 2006;25(2_suppl):91-120

Bellis Perennis (Daisy) Flower Extract: Derived from organic daisy flowers, this does a multifaceted reduction in the activity of melanocytes and even out pigmentation and make spots less visible. This is extremely safe to use!
International Journal of Phytotherapy. 5. 63-69


Althaea Officinalis Root Extract: Skin soothing agent
International Journal of PharmTech Research, Vol.5, No.3, 1378-1385

Polyglyceryl-3 Diisostearate: This is an emollient that conditions skin and also an emulsifier
SOFW-Journal | 136 | 9-2010 | 36-44

Phenoxyethanol and Ethylhexylglycerin: A combination of skin-softening, antimicrobial and a preservative required to keep the serum fresh and free from any microbial growth
Contact Dermatitis. 2016 May;74(5):281-8


Xanthan gum, Guar gum: Moisturising and thickening agent, also texture enhancers and are extremely safe to use
Int J Toxicol. 2016, Vol. 35(Supplement 1) 5S-49S


EDTA: A chelating agent that binds with unwanted trace elements in the and also other ingredients from causing unwanted changes to a product's texture, odour, and/or consistency
Int J Toxicol. 2002;21 Suppl 2:95-142
PRODUCT INGREDIENTS

Brightening Serum - 10% Niacinamide + 0.3% Alpha Arbutin

Aqua, Propylene Glycol, Niacinamide, Camellia Sinensis (Green Tea) Leaf Extract, Salicylic Acid, Xylitylglucoside (and) anhydroxylitol (and) xylitol, Piper nigrum (Black pepper) Seed  extract, Triethanolamine, Phenoxyethanol (and) Ethylhexylglycerin, Xanthan gum, Phyllanthus Emblica (Amla) Fruit Extract, Capryloyl Glycine and Sarcosine and Cinnamomum Zeylanicum bark Extract, Glycerine, Palmaria Palmata extract, EDTA, Sophorolipid

2% Salicylic Acid + 3% Niacinamide - Pore Control Serum

Aqua, Niacinamide, Glycerin, Xylitylglucoside (and) anhydroxylitol (and) xylitol, Phenoxyethanol (and) Ethylhexylglycerin, Xanthan gum, Guar gum, Alpha Arbutin, EDTA, Brassica Campestris (Rapeseed) Seed Oil, Glycyrrhiza Glabra (Licorice)Root Extract, Polyglyceryl-3 Diisostearate, Althaea Officinalis Root Extract, Oryza Sativa (Rice) Bran Extract, Palmaria Palmata extract, Bellis Perennis (Daisy) Flower Extract
WHICH INGREDIENTS CAN I MIX?
THINGS TO KEEP IN MIND

Patch testing prior to use is advised

All products are gender-neutral

Best suited for individuals above 18 years of age. 

Discretionary use during pregnancy
DECONSTRUCT'S -  RECOMMENDED SKIN CONCERNS & SKIN TYPES
SHIPPING & RETURNS

Shipping

Where do we ship to?

We ship to almost every city in India. We do not offer an international shipping option currently, but we hope to offer it in the future.

How long does an order take to process?

We try to process the orders within 24 working hours, in most cases we try to fulfil the order within 3 working days, but please allow us 7 working days to fulfil the order. Order delivery time may vary during peak periods(after/during product launches, holidays and special promotions)

How long does it take to ship?

We ship all confirmed orders within 24 working hours. You will receive an email once your order is shipped with your tracking number. We work as hard as we can to try to meet your expectations, but sometimes there may be delays – e.g. because of postal/carrier delays, logistics, bad weather, or things out of our control.

How can you track your order?

Once your order has been dispatched from our warehouse, you will receive an email with your tracking information.

Cancellations

You can cancel your orders by writing to us on our Email ID – wecare@thedeconstruct.in or please call us on 080-471-05772 (Monday to Friday, 10AM to 7PM & Saturday 10AM to 4PM)and we will help you in cancelling the order.

How will I receive the refund for my cancelled order?

For prepaid orders, money will be returned to the bank account/credit/debit card or where the payment was made within 7 business working days.We will be able to credit to the original method of payment,we cannot refund to another alternative card.

Please Note: Orders can only be cancelled before they are shipped.

Returns and Refund

Thank you for shopping at The Deconstruct. We have made all our products with utmost care and deep scientific knowledge with an understanding of most skin types. If you are still not completely satisfied with a purchase, please reach out to us and we will put all our efforts to help you.

We offer refund / replacement only in following cases:

Wrong product delivered
Expired product delivered
Damaged product delivered – Physical damage/ tampered product or packaging.
Missing product

Step 1 – Raise a request within 2 days from the date of delivery through Email –
wecare@thedeconstruct.in or on Whatsapp at +919398249040 with the pictures of the issue
you are facing and your order ID.

Step 2 – Allow us 48 working hours to review your request.

Step 3 – On reviewing your request, we will send our courier partner to collect the product delivered to you.

Step 4 – After your product(s) is received, we will verify it and initiate the replacement or refund accordingly.

Under what conditions return/ replacement requests will not be accepted?

Opened/used/altered products.
Original packaging (mono cartons, labels, etc.) missing.
The return/replacement request is generated after 2 days from the date of delivery.
The damaged/ missing product is reported after 2 days from the date of delivery.
Update received as product delivered but product not received and if reported after 24 hours from the time of delivery.
FAQS

How to layer Brightening serum and Pore control serum together?


Use Brightening serum in the morning and Pore control serum in the evening (up to 3-4 times a week).





Start with a patch test first.





Brightening serum (AM routine);




-After cleansing, apply 2-3 drops onto dry skin and use your fingertips to spread it evenly across your face until absorbed.




-Follow up with a moisturizer and sunscreen for best results.

Pore control serum (PM routine);-Apply 2-3 drops onto the skin after cleansing.
-Massage until the entire product is absorbed into the skin.
-Make sure to use a moisturizer after using this product.
-Do not use it more than 3-4 times a week.
What are the benefits of using Brightening serum and Pore control serum together?
Brightening serum and Pore control serum will work effectively for people with acne-prone skin. Using these two products together will inhibit sebum production without drying out the skin, reduce breakouts on skin and fade away acne marks and spots giving the skin a brightening effect.
I have never used Niacinamide, can I use 10% and how to use it?


Our recommendation is to always start with a patch test and then slowly include it in the routine.

Does Brightening serum cause purging?


Brightening serum usually does not cause purging.

Would using Pore control serum daily cause over-exfoliation?


It is not recommended to use everyday. Over use of this product may lead to dryness and skin peeling.

Is Pore control serum safe to use for a pregnant and/ or a lactating/ nursing mother?


The pore control serum is safe to use during pregnancy. Advisable to consult a doctor first.
Manufacturer Details

Intigree Biomed Private Limited, Plot no 62, Genesis Industrial Complex, Kolgaon, Tal. Dist. Palghar 401404, Maharashtra, India

Country of Origin: India
It works and its effective!!
Well am writing this review after using these serums for about 2 months. Both the serum are effective, especially the pore control serum is great as it has salicylic acid in it.