2% Hyaluronic Acid Serum with 1% Niacinamide | Oil Free Hydrating Face serum
This Hyaluronic acid face serum is a one-of-a-kind hydrating serum that doesn't make the skin feel sticky. With 3-molecular weights of hyaluronic acid, it hydrates all the layers of the skin & is supported by niacinamide to soothe & keep skin oil-free. This Hyaluronic acid serum for face comes with a potent dose of hero active ingredients, hyaluronic acid, and niacinamide that together take care of your skin's hydration from deep within without the extra oiliness.
MRP (Inclusive of all taxes)
Active Offers
Free Gift With Every Order
BIGGEST SALE OF THE YEAR IS LIVE
₹1 FLASH DEAL @11AM DAILY: ADD PRODUCT @₹1 ON ₹999+
5 Lucky Winners Win Cwc 2023 Tickets
Money Back Guarantee On All Products | 100% Refund If You Face Any Irritation
pH: 5 - 6

Paraben Free

Silicone Free

SLS Free

Fragrance Free

Vegan

Phthalate free

Cruelty Free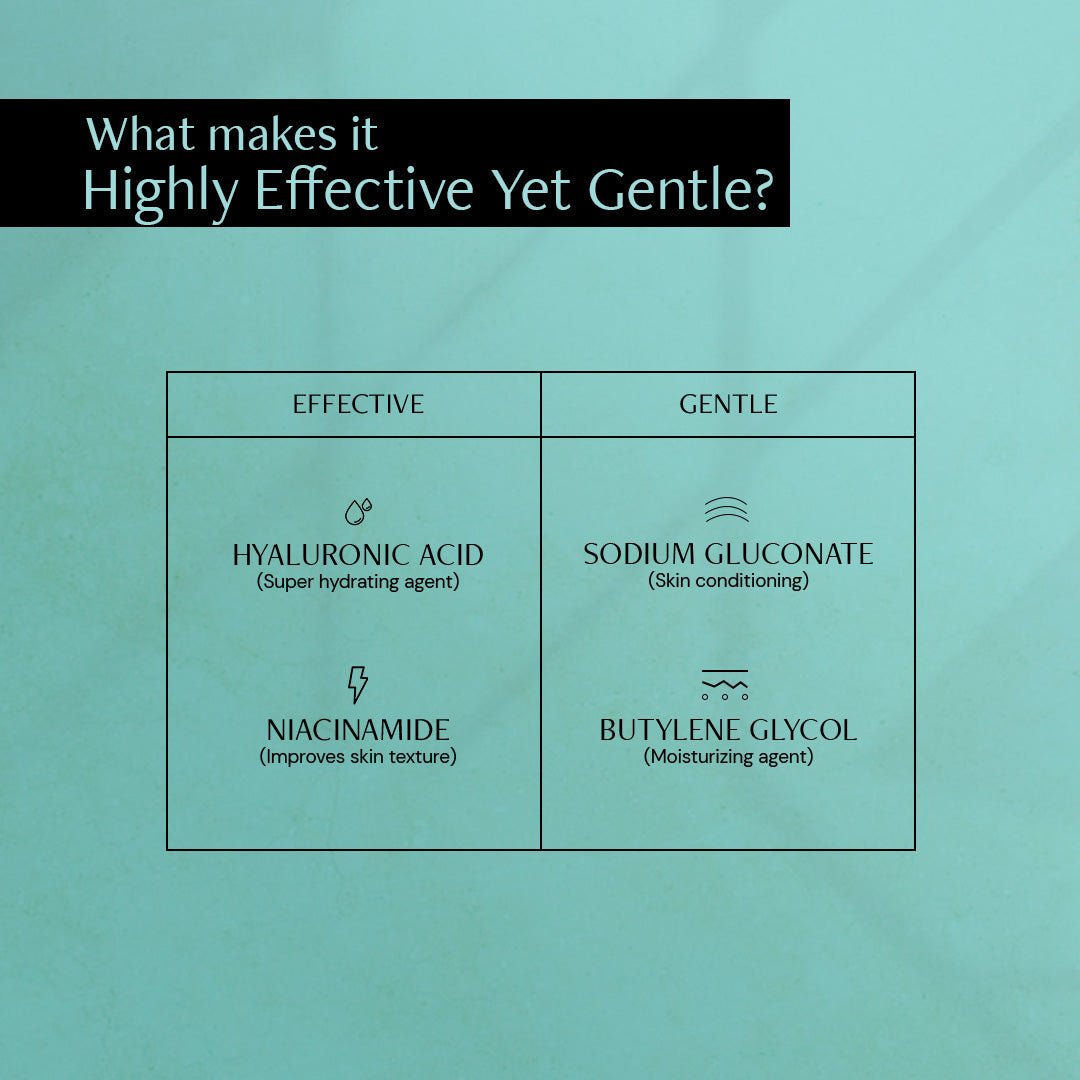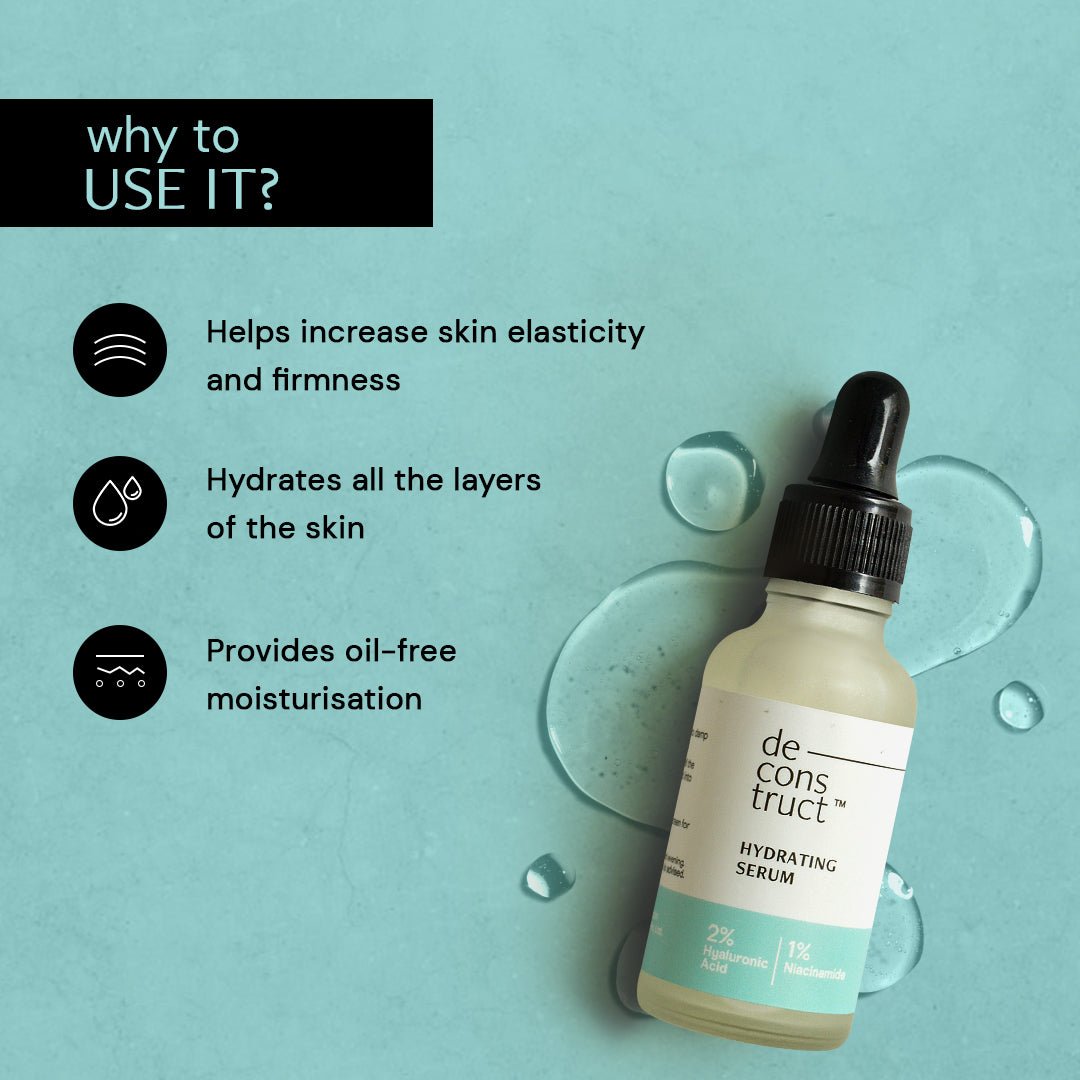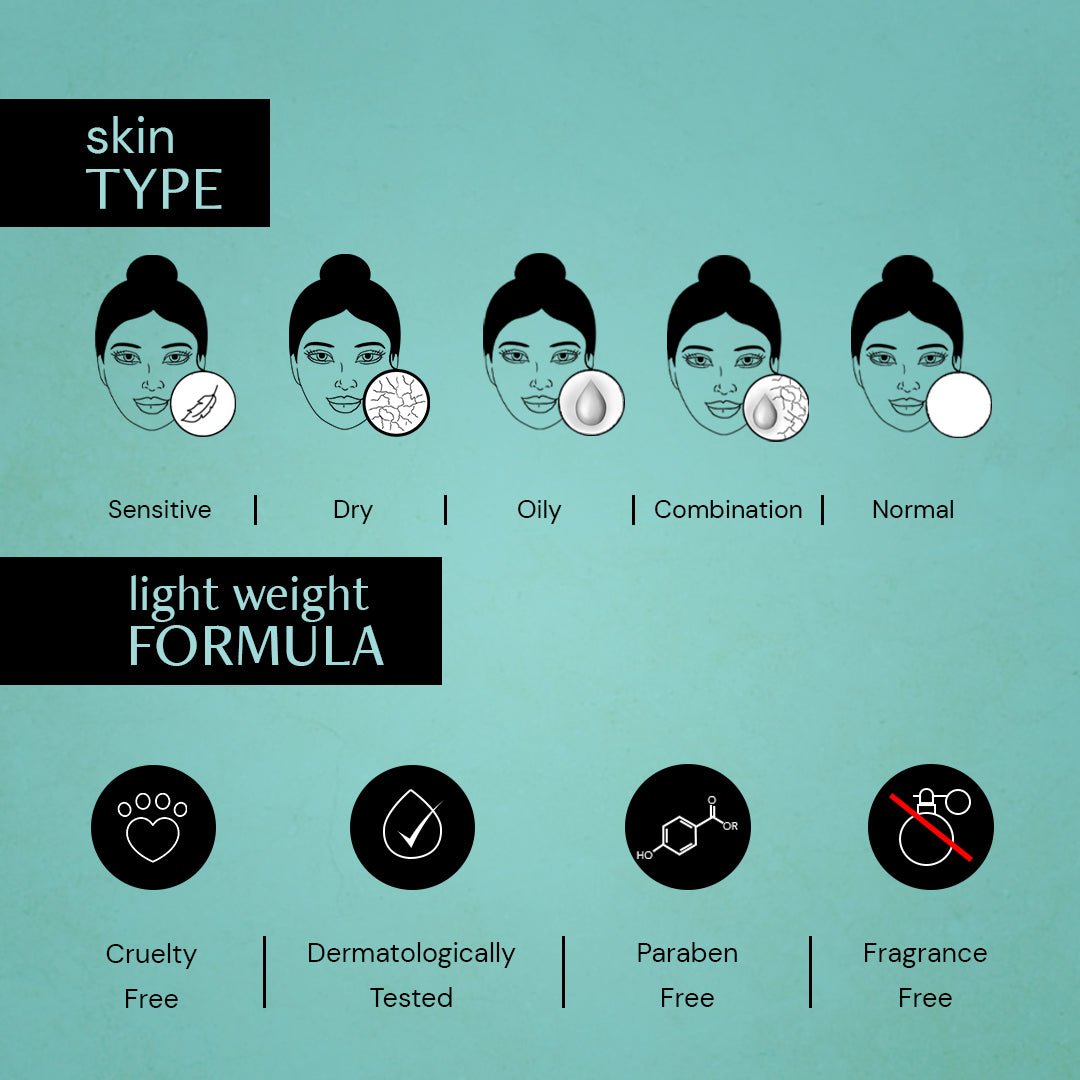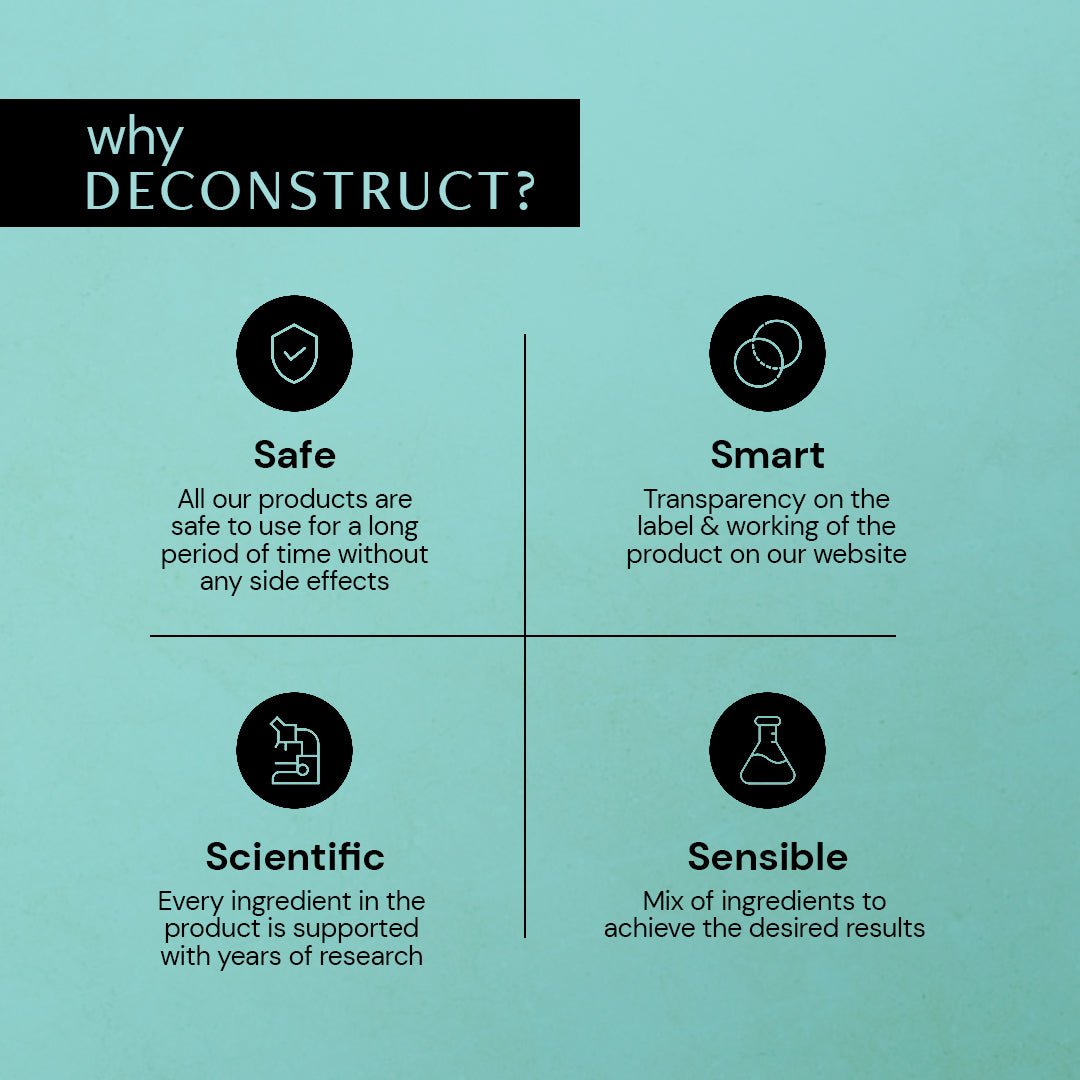 DETAILS

Why is this different?

Deconstruct's hyaluronic acid face serum with niacinamide is a unique hydrating serum formulation. Hyaluronic acid is a combination of 3 types of hyaluronic acid molecular weights/ sizes that helps it penetrate into various layers of the skin to provide hydration from deep within. This combined with niacinamide reduces oil/sebum production and soothes skin to reveal oil-free moisturized skin, making this niacinamide and hyaluronic acid serum suitable for dry skin, oily skin, dehydrated skin amongst other skin types.

How Does it Work on the Skin?

2% Hyaluronic acid in this serum attracts moisture to the skin, making it plump and hydrated without the skin feeling oily. Hyaluronic acid is a great humectant made by our skin cells that is known to hold up to 1000 times its weight in water, making it a key active ingredient to resolve concerns related to dehydrated skin as it increases the water content of the skin. Our hyaluronic acid serum is a combination of three different types of hyaluronic acid molecular weights.
High Molecular Weight: 35000 Dalton (moisturizes the skin superficially and regulates skin's water concentration to keep it smooth).
Medium Molecular Weight: 12000 Dalton (stored in the connective tissues of the skin and has long-term effects on skin hydration).
Low Molecular Weight: 1200 Dalton (works in the deeper layers of the skin with cell-regenerative properties and works on skin ageing).
All in all Hyaluronic acid is a key ingredient that effectively work on reducing the appearance of wrinkles, improving skin barrier and providing long lasting hydration.
1% Niacinamide in this skin hydrating serum soothes skin and improves overall skin texture

How to use?

Apply 2-3 drops onto damp skin after cleansing
Gently massage until the product is absorbed into the skin
Follow up with a moisturiser and sunscreen for best results.
Can be used in the morning and evening.
DECONSTRUCTING 2% Hyaluronic Acid Serum with 1% Niacinamide | Oil Free Hydrating Face serum

Hyaluronic Acid: Water-soluble super ingredient that keeps the skin moisturised for long and improves skin texture overtime by working on signs of ageing on the skin
ACS Biomater Sci Eng. 2015 Jul 13;1(7):481-493
The Journal of clinical and aesthetic dermatology, 7(3), 27–29

Niacinamide: Water-soluble antioxidant sourced from Vitamin B3, when used at lower concentrations inhibits sebum production & soothes skin.
Journal of Cosmetic and Laser Therapy, 2006 Jun;8(2):96-101

Butylene Glycol: A conditioning and moisturising ingredient that helps repair and protect skin's barrier and also provide surface hydration.
Journal of the American college of toxicology, Volume 4, Number 5, 1985

Xylitylglucoside, Anhydroxylitol and Xylitol: Reinforces the barrier function by stimulating ceramide synthesis and optimised water reserves by boosting natural moisturising factor and hyaluronic acid
Journal of Cosmetic Dermatology, 8(1), 32-39

Magnesium Aspartate, Zinc Gluconate, Copper Gluconate, Sodium Gluconate: A combination that is an active ingredient booster and has a radical scavenging effect to inhibit cellular free radical formation
Dermatology Research and Practice, volume 2014

Piper Nigrum (black pepper) Seed Extract: Naturally derived anti-oxidant with various multi-fold benefits. It also increases the bioavailability of the product to the skin.
Nutrition Research, Volume 19, Issue 3, 1999, Pages 381-388

Phenoxyethanol, Ethylhexylglycerin: A combination of skin-softening, antimicrobial and a preservative required to keep the serum fresh and free from any microbial growth
Contact Dermatitis. 2016 May;74(5):281-8
PRODUCT INGREDIENTS

Aqua, Xylitylglucoside, Anhydroxylitol, Xylitol, Hyaluronic Acid, Piper nigrum (black pepper) Seed extract, Butylene Glycol, Niacinamide, Xanthan Gum, Phenoxyethanol, Ethylhexylglycerin, Magnesium Aspartate (and) Zinc Gluconate (and) Copper Gluconate, Sodium Gluconate
WHICH INGREDIENTS CAN I MIX?
THINGS TO KEEP IN MIND

Patch testing prior to use is advised
Best suited for individuals above 18 years of age
Safe to be used during pregnancy
DECONSTRUCT'S -  RECOMMENDED SKIN CONCERNS & SKIN TYPES

This face serum best suits people with

Dry skin

Oily skin

Normal skin

Sensitive skin

Combination skin

Use this face serum, if your concerns are

Dullness

Dryness

Fine lines
SHIPPING & RETURNS

Shipping

Where do we ship to?

We ship to almost every city in India. We do not offer an international shipping option currently, but we hope to offer it in the future.

How long does an order take to process?

We try to process the orders within 24 working hours, in most cases we try to fulfil the order within 3 working days, but please allow us 7 working days to fulfil the order. Order delivery time may vary during peak periods(after/during product launches, holidays and special promotions)

How long does it take to ship?

We ship all confirmed orders within 24 working hours. You will receive an email once your order is shipped with your tracking number. We work as hard as we can to try to meet your expectations, but sometimes there may be delays – e.g. because of postal/carrier delays, logistics, bad weather, or things out of our control.

How can you track your order?

Once your order has been dispatched from our warehouse, you will receive an email with your tracking information.

Cancellations

You can cancel your orders by writing to us on our Email ID – wecare@thedeconstruct.in or please call us on 080-471-05772 (Monday to Friday, 10AM to 7PM & Saturday 10AM to 4PM)and we will help you in cancelling the order.

How will I receive the refund for my cancelled order?

For prepaid orders, money will be returned to the bank account/credit/debit card or where the payment was made within 7 business working days.We will be able to credit to the original method of payment,we cannot refund to another alternative card.

Please Note: Orders can only be cancelled before they are shipped.

Returns and Refund

Thank you for shopping at The Deconstruct. We have made all our products with utmost care and deep scientific knowledge with an understanding of most skin types. If you are still not completely satisfied with a purchase, please reach out to us and we will put all our efforts to help you.

We offer refund / replacement only in following cases:

Wrong product delivered
Expired product delivered
Damaged product delivered – Physical damage/ tampered product or packaging.
Missing product

Step 1 – Raise a request within 2 days from the date of delivery through Email –
wecare@thedeconstruct.in or on Whatsapp at +919398249040 with the pictures of the issue
you are facing and your order ID.

Step 2 – Allow us 48 working hours to review your request.

Step 3 – On reviewing your request, we will send our courier partner to collect the product delivered to you.

Step 4 – After your product(s) is received, we will verify it and initiate the replacement or refund accordingly.

Under what conditions return/ replacement requests will not be accepted?

Opened/used/altered products.
Original packaging (mono cartons, labels, etc.) missing.
The return/replacement request is generated after 2 days from the date of delivery.
The damaged/ missing product is reported after 2 days from the date of delivery.
Update received as product delivered but product not received and if reported after 24 hours from the time of delivery.
FAQS

Is Hyaluronic Acid Serum good for Oily Skin type?


Yes, hyaluronic acid being a very light weight ingredient does a wonderful job especially for those with sensitive skin & dehydrated oily skin as it hydrates the skin without making it oily.

Can I use Vitamin C & Hyaluronic Acid Serum together?
Yes, you can use Vitamin C & Hyaluronic Acid serum together. In fact, our Vitamin C+ Ferulic Acid Serum also has Hyaluronic acid in it to make the skincare routine effective, gentle & easier all at the same time.

How often should I use hydrating hyaluronic acid serum?


Hyaluronic acid serum can be used twice in a day in the morning and evening routine for plump, hydrated skin.

Can I use hyaluronic acid with Niacinamide?


Yes, definitely you can. Hyaluronic acid and niacinamide both are a powerful combo together, as hyaluronic acid hydrates the skin and niacinamide helps improve skin texture and regulates sebum secretion.

Is It ok to use Hyaluronic Acid every day?


Yes, hyaluronic acid can be used on a daily basis for plump, hydrated skin & also to reduce the appearance of fine lines.



How Do You Know if You're Using Too Much Hyaluronic Acid?


When your skin feels tight and a little stretched after using hyaluronic acid, just know that you have used it more. Also a pro tip would be using hyaluronic acid on damp skin so that it holds the moisture well and gives maximum benefits.

Do you need to wet your face with hyaluronic acid?


You should apply hyaluronic acid on damp skin to lock in the moisture and resolve concerns such as flaky skin and irritated skin.



Is hyaluronic acid moisturizing or hydrating?


Hyaluronic acid is a humectant that seals the moisture and keeps the skin hydrated and provides supple and plump skin throughout the day.



Does hyaluronic acid remove dark spots or does it make the face glow?


Hyaluronic acid improves skin texture and enhances skin firmness and elasticity by boosting collagen production thereby making the skin glow.



How long does it take to see results with hyaluronic acid?


It keeps the skin hydrated, not just that, it experiences soft, supple and radiant skin immediately upon application whereas in terms of reducing fine lines and smoothing the skin, it should take almost 8 weeks to see the results.



Can I use hydrating serum in the place of moisturizer for oily skin?


You can apply hydrating serum on damp skin, but we always recommend to lock it with a moisturizer.

Is hydrating serum safe to use for a teenager?


Hydrating serum with hyaluronic acid and niacinamide is best suited for individuals above 18 years of age.

Is hydrating serum safe to use for a pregnant and/ or a lactating/ nursing mother?


It is recommended to consult a doctor before using any product during pregnancy or lactation period.

Should hyaluronic acid be avoided under the eyes?


Since hyaluronic acid is very gentle, it is not required to avoid them from under the eyes.
Manufacturer Details

Intigree Biomed Private Limited, Plot no 62, Genesis Industrial Complex, Kolgaon, Tal. Dist. Palghar 401404, Maharashtra, India

Country of Origin: India
2% Hyaluronic Acid Serum with 1% Niacinamide | Oil Free Hydrating Face serum
2% Hyaluronic Acid Serum with 1% Niacinamide | Oil Free Hydrating Face serum
Too sticky
I did not like it's consistency and it did nothing for me