Hyaluronic Acid Hydrating Face Wash - 0.5% Amino Acids + 0.1% Hyaluronic acid
Daily use pH balanced hyaluronic acid face wash, enriched with Amino acids, Hyaluronic acid, Panthenol, Sodium PCA & Glycerin, that gently washes away impurities leaving skin nourished and hydrated. The amino acid with hyaluronic acid blend envelopes skin in a unique non-stripping soothing gel formula for calm and balanced skin.
MRP (Inclusive of all taxes)
Active Offers
Free Gift With Every Order
BIGGEST SALE OF THE YEAR IS LIVE
₹1 FLASH DEAL @11AM DAILY: ADD PRODUCT @₹1 ON ₹999+
5 Lucky Winners Win Cwc 2023 Tickets
Money Back Guarantee On All Products | 100% Refund If You Face Any Irritation
pH: 5.1 - 5.8

Paraben Free

Silicone Free

SLS Free

Fragrance Free

Vegan

Phthalate free

Cruelty Free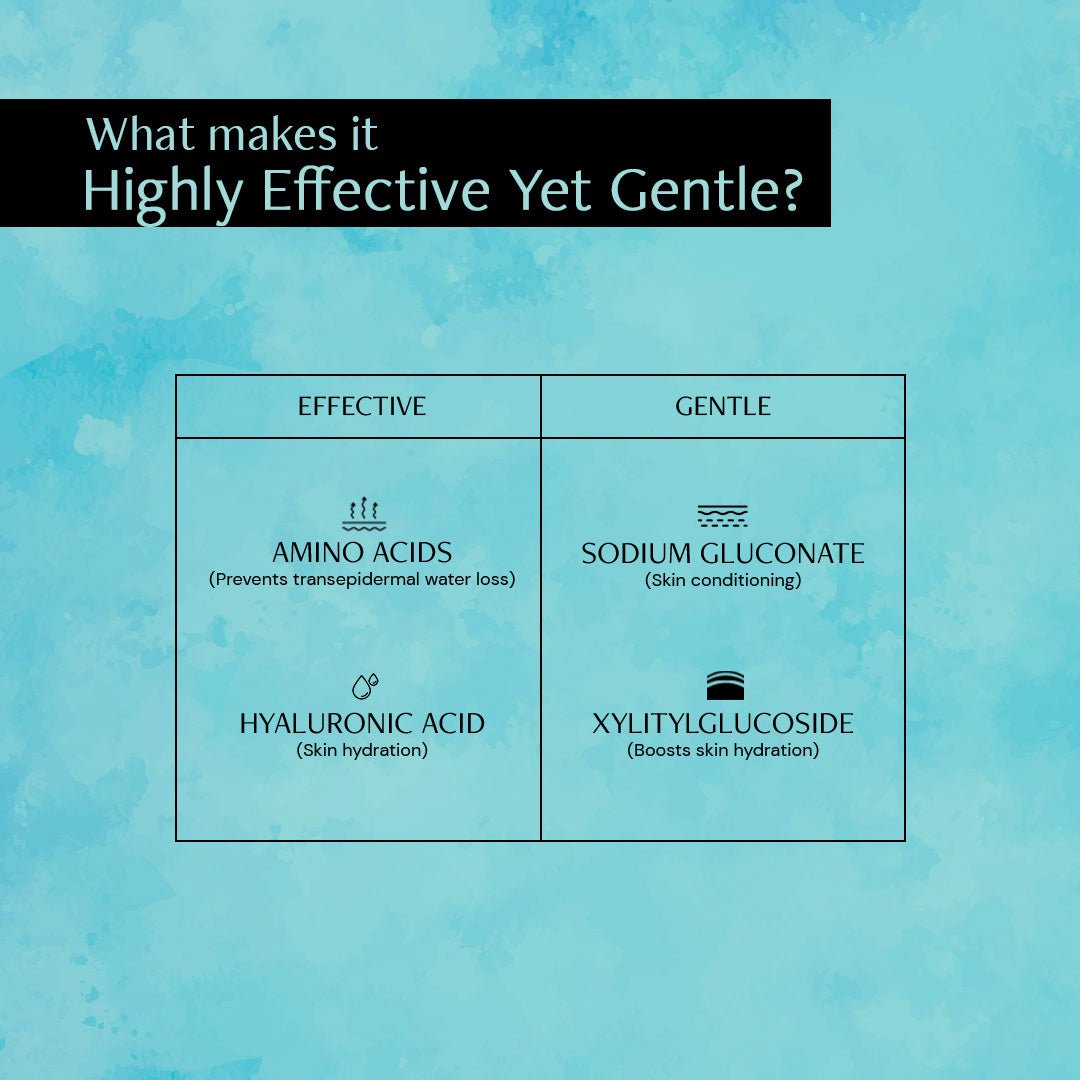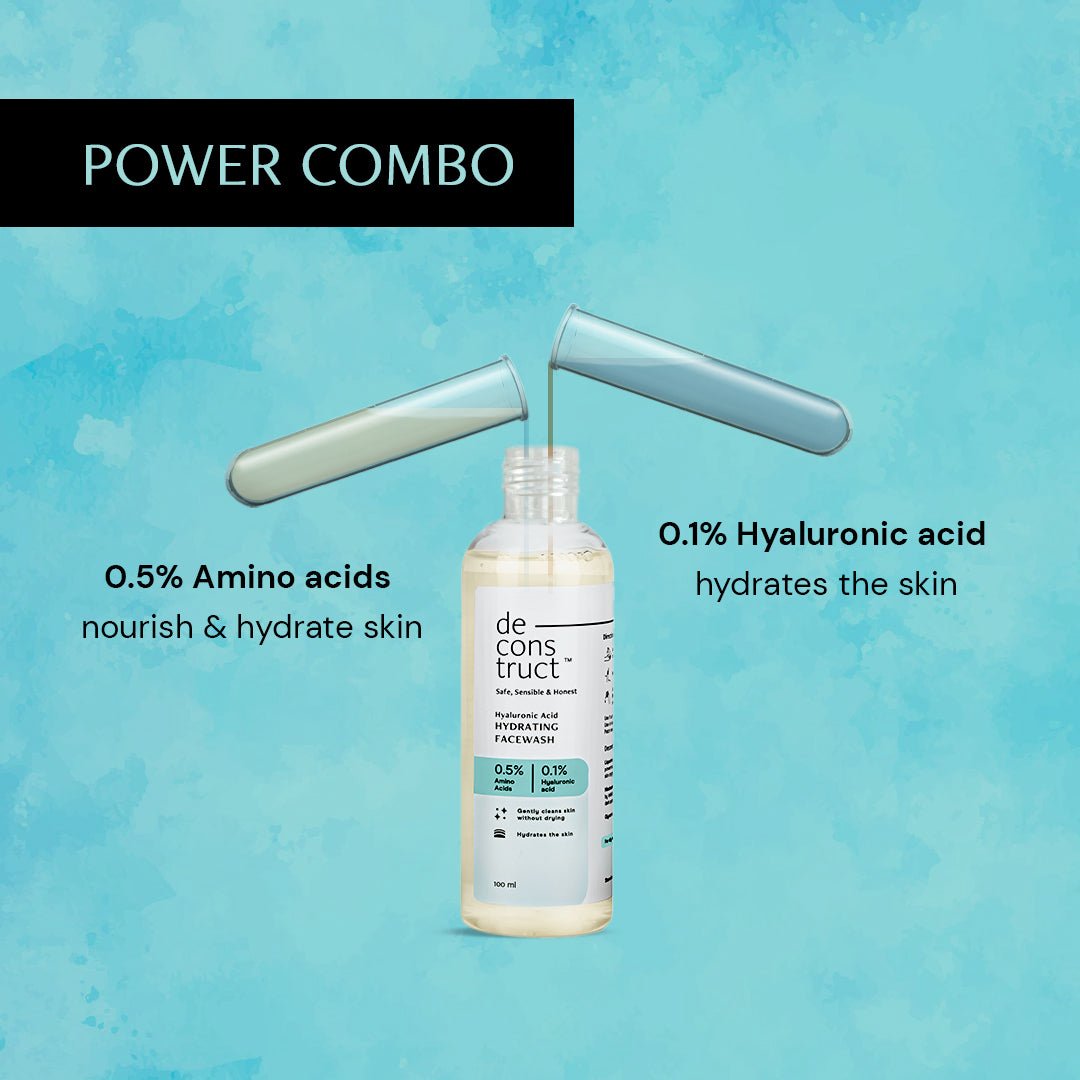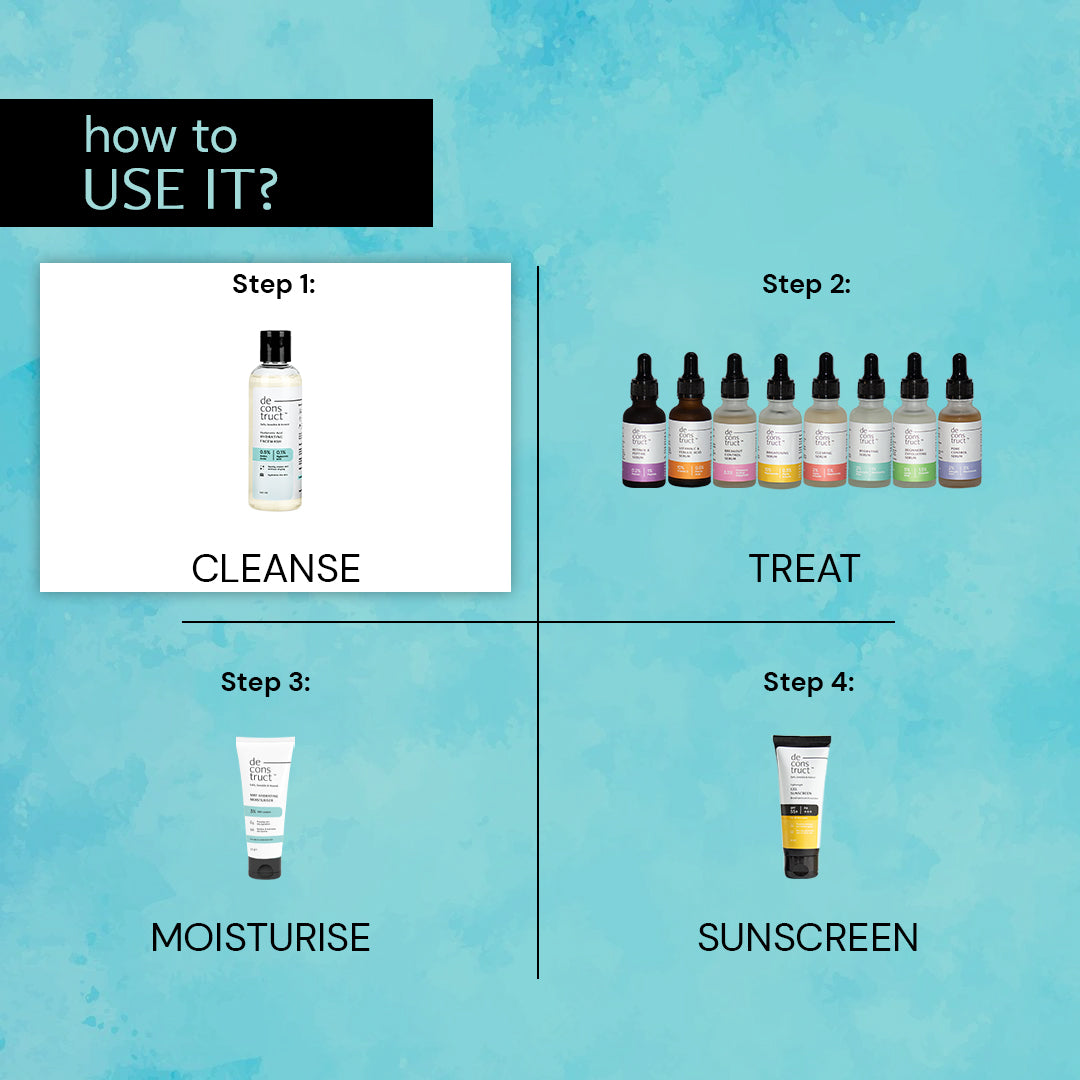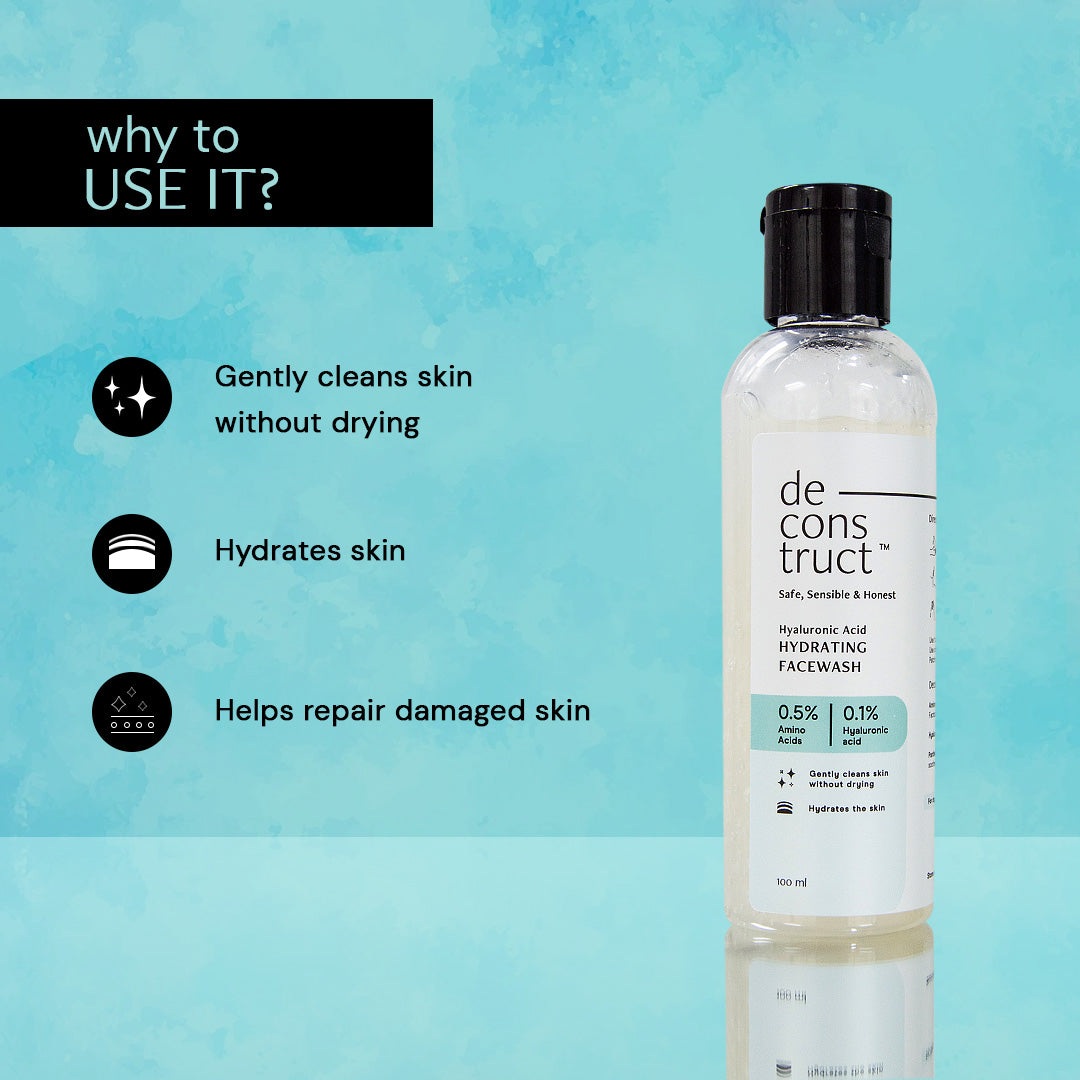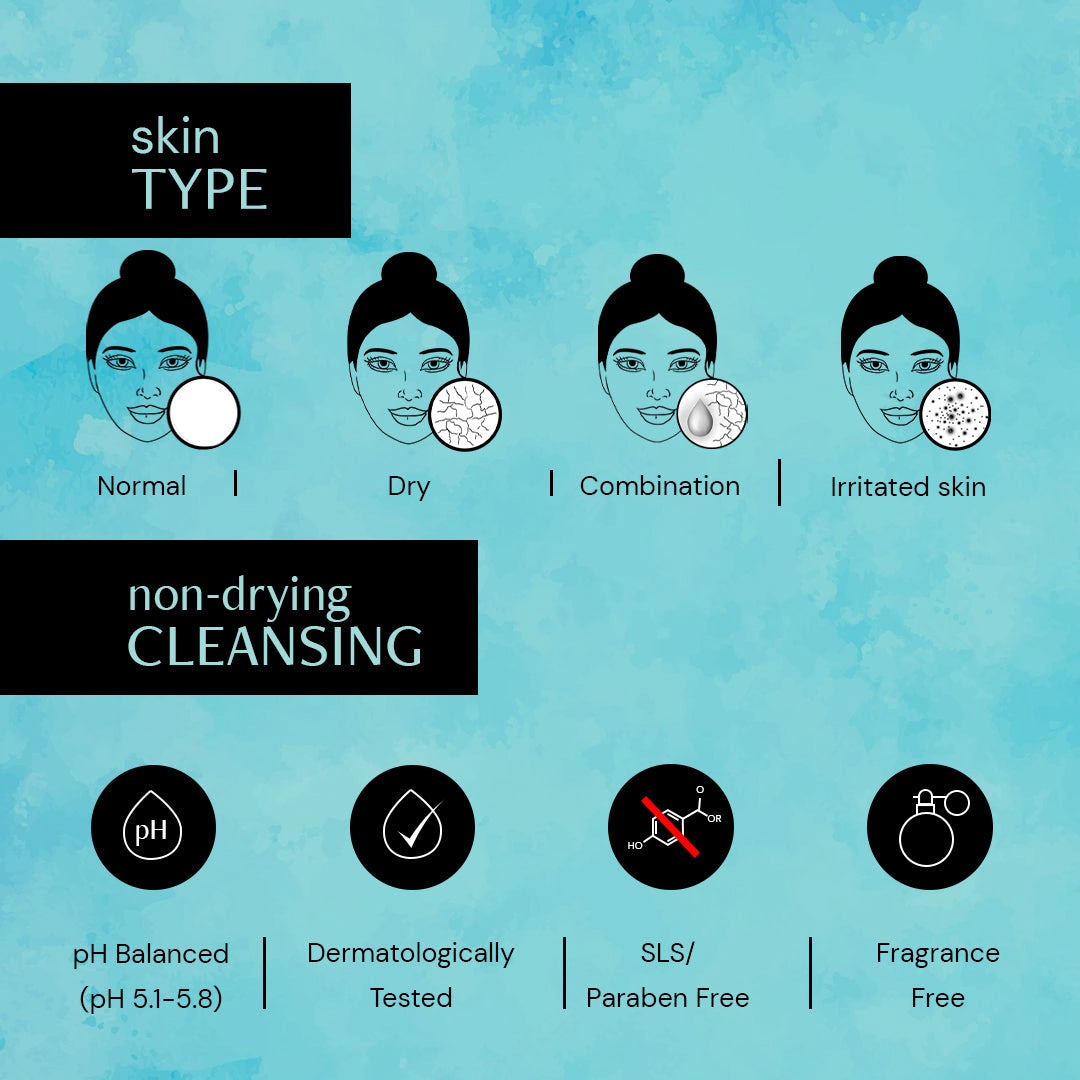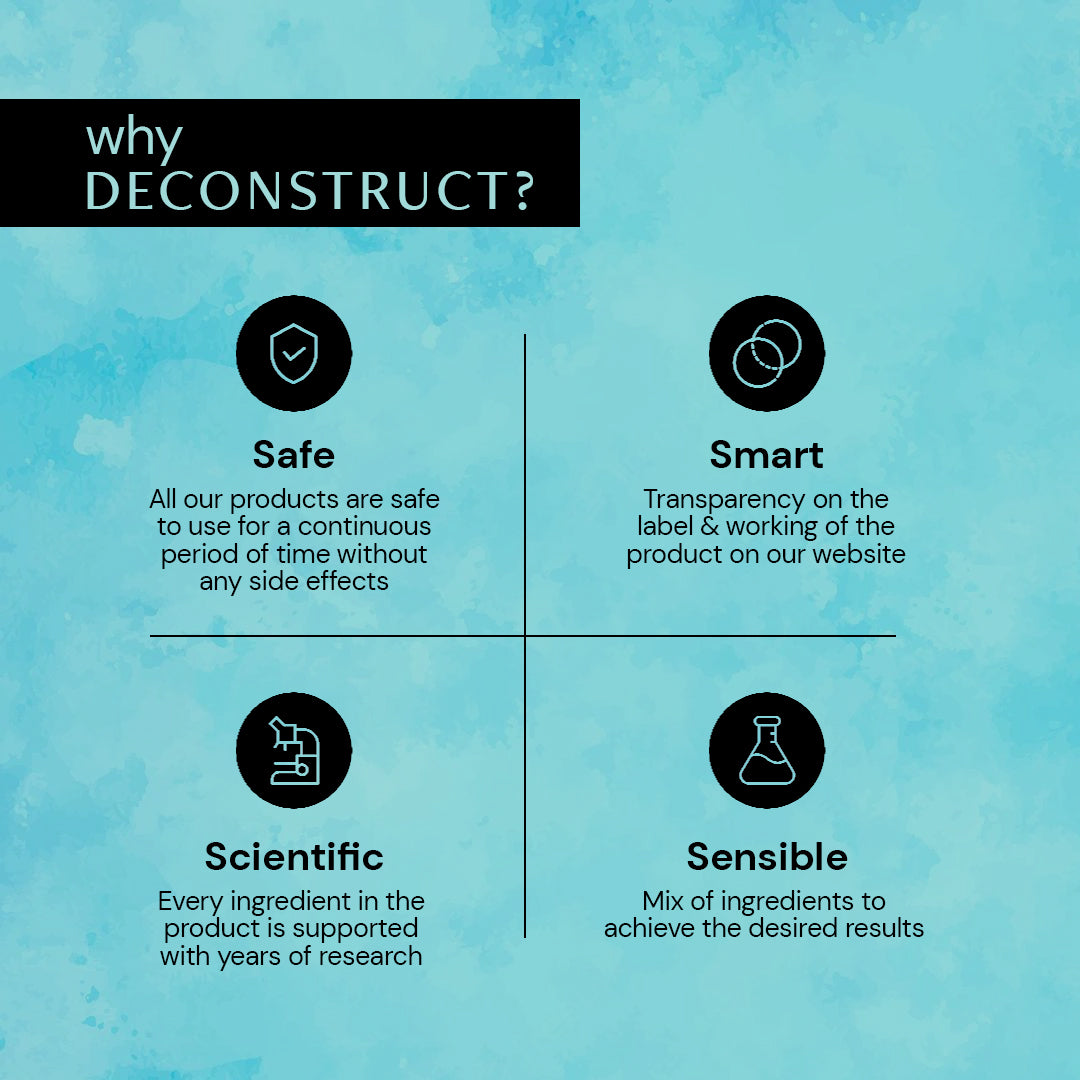 DETAILS

Why is this different?

A hydration boosting blend of amino acids and hyaluronic acid adds non-oily moisture, while thoroughly cleansing and balancing pH of the skin. This one of a kind cleanser is suitable for all skin types and will be universally loved because of its gentle cleansing action. Panthenol and Glycerin help to soothe and further nourish the skin. 

How Does it Work on the Skin?

0.5% Amino acids like proline and hydroxyproline help to nourish and firm the skin. They promote overall skin health and help to repair damaged skin.
Amino acids are naturally present in the skin and are building blocks of proteins. They help in healing of the skin, maintain the acid base balance and hold on to water in the stratum corneum providing a healthy appearance to skin.
0.1% Hyaluronic acid attracts and binds water to the skin. This helps to keep skin plump and healthy.
Panthenol and Sodium PCA are natural humectants found in our skin that traps water and increases hydration.

How to use?

Dampen your face.

Take a small amount of hyaluronic acid face wash and massage onto your skin for 30-60 seconds.

Rinse with water and pat dry. 

Use daily, morning and evening.
DECONSTRUCTING Hyaluronic Acid Hydrating Face Wash - 0.5% Amino Acids + 0.1% Hyaluronic acid

Proline, Hydroxyproline: Proline, hydroxyproline are amino acids that have been proven to improve skin health and promote collagen thereby helping to repair skin damage and prevent formation of lines.
Solano F. Metabolism and Functions of Amino Acids in the Skin. Adv Exp Med Biol. 2020;1265:187-199. doi: 10.1007/978-3-030-45328-2_11. PMID: 32761577.

Sodium PCA: Polycarboxylic acid can be naturally found in our skin and functions as a humectant. 
Andersen, F. A. (1999). Final Safety Assessment for PCA and Sodium PCA. International Journal of Toxicology, 18(2 Suppl), 25–34.

Panthenol: Panthenol soothes, moisturises and helps to maintain integrity of the skin barrier by preventing transepidermal water loss (TEWL).
Camargo FB Jr, Gaspar LR, Maia Campos PM. Skin moisturizing effects of panthenol-based formulations. J Cosmet Sci. 2011 Jul-Aug;62(4):361-70. PMID: 21982351.

Sodium Hyaluronate: A humectant and a skin conditioning agent that provides  hydration to the skin . Final Report of the Safety Assessment of Hyaluronic Acid, Potassium Hyaluronate, and Sodium Hyaluronate.
International Journal of Toxicology, 28(4_suppl), 5–67. doi:10.1177/1091581809337738 

Glycerine: Glycerine is a humectant that holds water and strengthens the skin's barrier. It also helps in the penetration of other ingredients and works in combination with other emollients present.
Fluhr JW, Darlenski R, Surber C. Glycerol and the skin: holistic approach to its origin and functions. Br J Dermatol. 2008 Jul;159(1):23-34. doi: 10.1111/j.1365-2133.2008.08643.x. Epub 2008 Jul 1. PMID: 18510666.

Xylitylglucoside, Anhydroxylitol, Xylitol :  Reinforces the barrier function  by stimulating ceramide synthesis and optimised water reserves by boosting natural moisturising factor and hyaluronic acid.
Journal of Cosmetic Dermatology, 8(1), 32-39

Betaine:  A plant-derived gentle hydrating ingredient that soothes skin.
Chem. Phys. 142, 212438 (2015)

Sodium Gluconate: An active ingredient booster that has a radical scavenging effect to inhibit cellular free radical formation.
https://www.cosmeticsinfo.org/ingredients/sodium-gluconate/

Hyaluronic Acid: Water-soluble super ingredient that keeps the skin moisturised for long and improves skin texture overtime by working on signs of ageing on the skin.
Draelos, Z.D., Diaz, I., Namkoong, J. et al.(2021) Efficacy Evaluation of a Topical Hyaluronic Acid Serum in Facial Photoaging. Dermatol Ther (Heidelb) 11, 1385–1394. The Journal of clinical and aesthetic dermatology, 7(3), 27–29.

Maltooligosyl Glucoside : A polysaccharide that has multiple functions in skincare- texture enhancer, soothing and binding agent.
https://www.cir-safety.org/sites/default/files/saccharides.pdf

Cocamidopropyl Betaine: Secondary surfactants. These compounds, in conjunction with other anionic (negatively charged) surfactants, have low skin and eye irritation properties, are effective foam boosters and thickeners/viscosity builders for many anionic surfactants.
Surfactant Action on Skin and Hair: Cleansing and Skin Reactivity Mechanisms, L. Rhein, in Handbook for Cleaning/Decontamination of Surfaces (2007), part 2.2.2.2

Sodium Methyl Cocoyl Taurate, Sodium Methyl 2-Sulfolaurate, Disodium 2-Sulfolaurate : Blend of mild non- drying anionic surfactants that work together to gently yet thoroughly clean skin.
PETTER, P.J. (1984), Fatty acid sulfo-alkyl amides and esters as cosmetic surfactants. International Journal of Cosmetic Science, 6: 249-260. https://doi.org/10.1111/j.1467-2494.1984.tb00382.x 

Hydrogenated Starch Hydrolysate: Humectant, texture enhancer and film former to maintain skin barrier.
https://www.cir-safety.org/sites/default/files/plpogu092015final.pdf

Caprylic Capric Triglyceride: Capric caprylic triglyceride acts as an emollient, dispersing agent, and solvent. It moisturises and replenishes skin.
https://www.cir-safety.org/sites/default/files/trygly122017FAR.pdf

Acrylates/C10-30 Alkyl Acrylate Crosspolymer: A polymer that provides sensory benefits such as  texture, touch and feel to the product. It also acts as a stabilizer and thickener.
https://www.cir-safety.org/sites/default/files/acryco092018TAR.pdf

Triethanolamine: Triethanolamine helps to adjust the pH, improve texture and stabilize the product.
Int J Toxicol. 2013 May-Jun;32(3 Suppl):59S-83S

Ethylhexylglycerin, Phenoxyethanol: Broad spectrum preservative system that is effective against bacteria, yeasts and mould fungi.
Contact Dermatitis. 2016 May;74(5):281-8

Silica: Hydrated Silica acts as an absorbent and helps to maintain the gel texture of the cleanser.
Silica and Silicates Data Profile –December 2018 – Writer, Christina Burnett
PRODUCT INGREDIENTS

Aqua, Cocamidopropyl betaine, Sodium Methyl Cocoyl Taurate, Sodium Methyl 2-Sulfolaurate, Disodium 2-Sulfolaurate, Glycerine, Xylitylglucoside, Anhydroxylitol, Xylitol, Maltooligosyl Glucoside, Hydrogenated Starch Hydrolysate, Sodium PCA, Panthenol, Sodium Hyaluronate, Proline, Hydroxyproline, Caprylic Capric Triglyceride, Acrylates/C10-30 Alkyl Acrylate Crosspolymer, Triethanolamine, Ethylhexylglycerin, Phenoxyethanol, Silica, Betaine, Sodium Gluconate, Hyaluronic Acid
WHICH INGREDIENTS CAN I MIX?

Amino acids and Hyaluronic acid are compatible with most other actives and can be used for all skin types. It's a great daily cleanser that cleans the face and prepares it for the next steps in the skincare routine. 

For extra hydrating results

Use with Deconstruct's Hydrating Serum- 2% Hyaluronic Acid + 1% Niacinamide for hydrated and dewy skin. Take small amounts of the Deconstruct's Hydrating Cleanser and gently massage for 30 seconds on damp face. Rinse well with water. Pat face slightly dry. Over a damp face, apply 2-3 drops of the Deconstruct's Hydrating serum. Follow up with moisturiser.
THINGS TO KEEP IN MIND

Patch testing prior to use is advised

All products are gender-neutral

Best suited for individuals above 18 years of age. 
DECONSTRUCT'S -  RECOMMENDED SKIN CONCERNS & SKIN TYPES

This hyaluronic acid face wash best suits people with

Dry/ Dehydrated skin

Sensitive skin

Combination skin

Normal skin

Use this hyaluronic acid face wash, if your concerns are

Drynes

Flakiness

Wrinkles

Finelines

Dehydrated skin
SHIPPING & RETURNS

Shipping

Where do we ship to?

We ship to almost every city in India. We do not offer an international shipping option currently, but we hope to offer it in the future.

How long does an order take to process?

We try to process the orders within 24 working hours, in most cases we try to fulfil the order within 3 working days, but please allow us 7 working days to fulfil the order. Order delivery time may vary during peak periods(after/during product launches, holidays and special promotions)

How long does it take to ship?

We ship all confirmed orders within 24 working hours. You will receive an email once your order is shipped with your tracking number. We work as hard as we can to try to meet your expectations, but sometimes there may be delays – e.g. because of postal/carrier delays, logistics, bad weather, or things out of our control.

How can you track your order?

Once your order has been dispatched from our warehouse, you will receive an email with your tracking information.

Cancellations

You can cancel your orders by writing to us on our Email ID – wecare@thedeconstruct.in or please call us on 080-471-05772 (Monday to Friday, 10AM to 7PM & Saturday 10AM to 4PM)and we will help you in cancelling the order.

How will I receive the refund for my cancelled order?

For prepaid orders, money will be returned to the bank account/credit/debit card or where the payment was made within 7 business working days.We will be able to credit to the original method of payment,we cannot refund to another alternative card.

Please Note: Orders can only be cancelled before they are shipped.

Returns and Refund

Thank you for shopping at The Deconstruct. We have made all our products with utmost care and deep scientific knowledge with an understanding of most skin types. If you are still not completely satisfied with a purchase, please reach out to us and we will put all our efforts to help you.

We offer refund / replacement only in following cases:

Wrong product delivered
Expired product delivered
Damaged product delivered – Physical damage/ tampered product or packaging.
Missing product

Step 1 – Raise a request within 2 days from the date of delivery through Email –
wecare@thedeconstruct.in or on Whatsapp at +919398249040 with the pictures of the issue
you are facing and your order ID.

Step 2 – Allow us 48 working hours to review your request.

Step 3 – On reviewing your request, we will send our courier partner to collect the product delivered to you.

Step 4 – After your product(s) is received, we will verify it and initiate the replacement or refund accordingly.

Under what conditions return/ replacement requests will not be accepted?

Opened/used/altered products.
Original packaging (mono cartons, labels, etc.) missing.
The return/replacement request is generated after 2 days from the date of delivery.
The damaged/ missing product is reported after 2 days from the date of delivery.
Update received as product delivered but product not received and if reported after 24 hours from the time of delivery.
FAQS

Can I use it with Hydrating serum?
Yes, you can use Hydrating cleanser and Hydrating serum together for best results, as it will work in the same pathway, and make the skin hydrated without making it feel oily.

Is Hyaluronic acid face wash non-comedogenic?


Yes, the Hydrating face wash is non - comedogenic, it will not clog your pores. It will cleanse your face and will also hydrate the skin.

What should I apply after using Hyaluronic Acid face wash?


You can use our Hydrating serum to retain hydration on the skin. Follow up with a moisturiser. 

Can I use the Hydrating face wash everyday?


Yes, Hydrating Face wash can be used 2-3 times everyday.

At what age can I use this face wash?


This face wash can be used by everyone, including teenagers. Always advise to do a patch test before uses

Can Hyaluronic Acid face wash be used by pregnant and lactating women?


This face wash is safe to be used by pregnant and lactating women 
Manufacturer Details

Intigree Biomed Private Limited, Plot no 62, Genesis Industrial Complex, Kolgaon, Tal. Dist. Palghar 401404, Maharashtra, India

Country of Origin: India
I have not received my parcel. Tracking page is not showing any status after July 12.
Best product so far.
It does prevent my skin from dryness.
Nice
The facewash is gentle and non stripping. Cleans the face well too.
Hydrating face wash
Trust me its the best face wash if your skin feels dry and irritated. This face wash gives the best hydration.
Very refreshing and soft on skin