Exfoliating Body Wash - 11% AHA + 2% Salicylic Acid Body Wash for women & men
A daily gentle exfoliating, acne-fighting AHA & Salicylic acid body wash in India for women & men that treat body acne, deep cleanses, unclogs pores & reduces sebum production without drying out, and smoothes rough & bumpy skin.
MRP (Inclusive of all taxes)
Active Offers
Free Gift With Every Order
BIGGEST SALE OF THE YEAR IS LIVE
₹1 FLASH DEAL @11AM DAILY: ADD PRODUCT @₹1 ON ₹999+
5 Lucky Winners Win Cwc 2023 Tickets
Money Back Guarantee On All Products | 100% Refund If You Face Any Irritation
pH: 4 - 5

Paraben Free

Silicone Free

SLS Free

Fragrance Free

Vegan

Phthalate free

Cruelty Free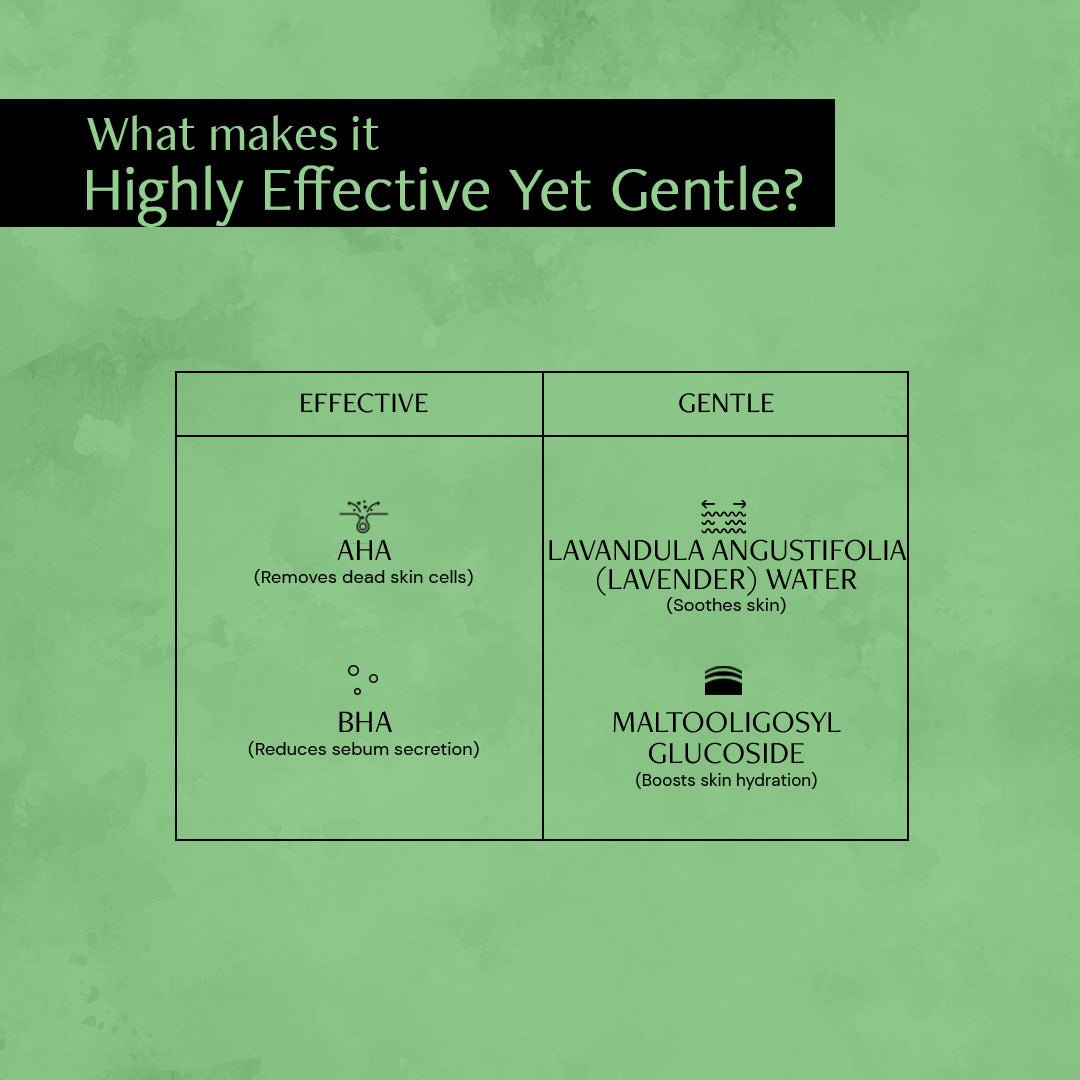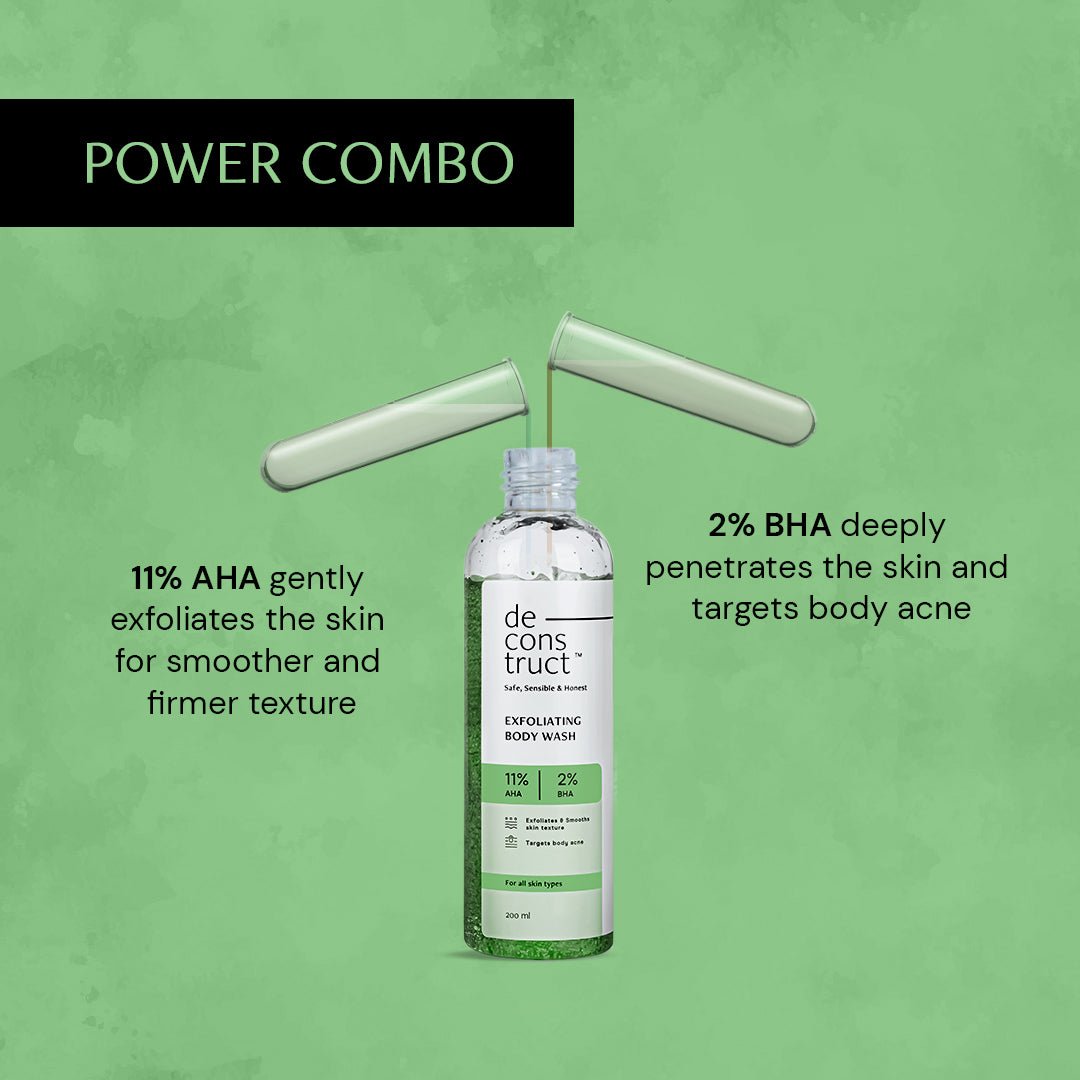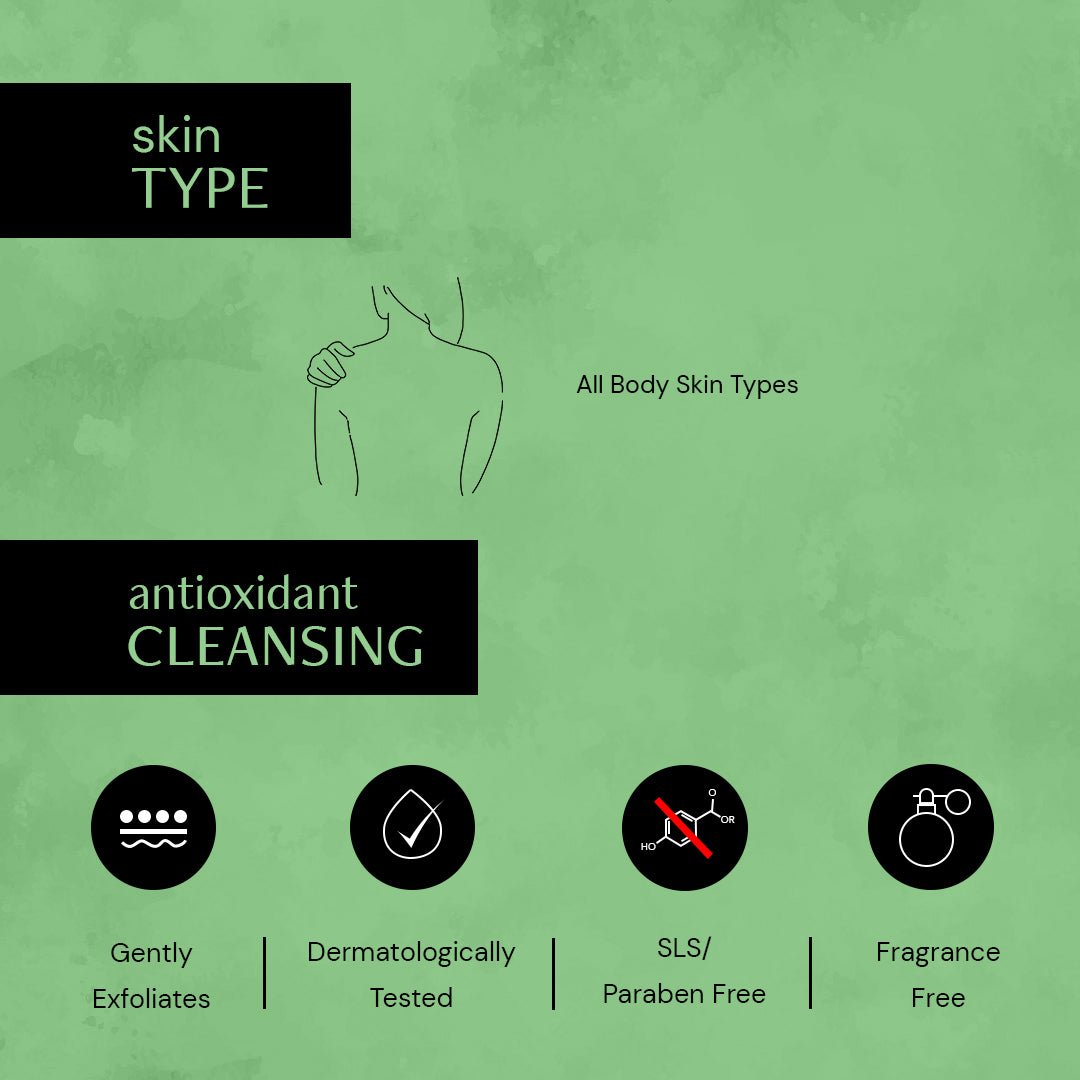 DETAILS

Why is this different?

A daily gentle antibacterial body wash for women & men that deeply cleanses the skin leaving it smoother and firmer. Formulated with 11% AHA and 2% Salicylic acid, this derma safe exfoliating body wash helps in reducing body acne and also prevents further breakouts. Presented cellulose beads help in gently exfoliating the skin and dispersing quickly while rubbing on the skin.

Recommended for the following body concerns:

How Does it Work on the Skin?

11% AHA

which gently exfoliates the skin to give a smoother and firmer texture

2% BHA i.e. Salicylic acid

deeply exfoliates the skin and targets body acne

How to use?

Pour a small amount of

AHA BHA body wash

on your palm or loofah.

Massage all over the wet skin using a circular motion to form a gentle lather just as we apply using the bar soap. 

Rinse off with water to experience fresh skin underneath.

Note: It is recommended to use a rich body cream after using Exfoliating Body wash for best results.

Note: If you are a first time user to the actives in the product, it is recommended to incorporate it slowly into your routine and gradually increase the frequency to everyday usage. For more details check the FAQs.
DECONSTRUCTING Exfoliating Body Wash - 11% AHA + 2% Salicylic Acid Body Wash for women & men

Salicylic acid: This is a Beta Hydroxy Acid (BHA) that exfoliates the deeper pores to clean bacteria, dirt, oil, and dead skin cells and works on body acne/bacne or body breakouts.
https://www.tandfonline.com/doi/abs/10.3109/09546639609089537

Lactic acid: Lactic Acid is an alpha hydroxy acid that helps in superficial exfoliation of the epidermal skin layers and also acts as an excellent moisturizer by the virtue of it being naturally present in the skin's natural moisturizing factor.
https://pubmed.ncbi.nlm.nih.gov/15762205/

Glycolic acid: Glycolic Acid is the  smallest and simplest AHA in terms of the chemical structure and penetrates into the dermis to exfoliate the deeper layers of the skin and gives smoother skin
https://pubmed.ncbi.nlm.nih.gov/24399880/ 

Decyl Glucoside: It is a mild secondary surfactant that works by gently cleansing the skin and is suitable for sensitive skin types as well.
https://pubmed.ncbi.nlm.nih.gov/24174472/  

Cocamidopropyl betaine: This is a primary surfactant that due to its lathering action helps clear up dirt and impurities from the skin surface
https://journals.sagepub.com/doi/10.3109/10915819109078621 

Triethanolamine: Triethanolamine helps to adjust the pH, improve texture and stabilize the product.
https://www.researchgate.net/publication/236934391_Safety_Assessment_of_Triethanolamine_and_Triethanolamine-Containing_Ingredients_as_Used_in_Cosmetics

Lavandula angustifolia (Lavender) water: Lavender water has antiseptic, soothing, hydrating, and antibacterial properties which give you the feeling of nourished, plump and fresh skin.
https://www.researchgate.net/publication/8349334_Lavender_Lavandula_angustifolia_Miller

Glycerine: Glycerine is a humectant that holds water and strengthens the skin's barrier. It also helps in the penetration of other ingredients and works in combination with other emollients present.
https://pubmed.ncbi.nlm.nih.gov/18510666/

Maltooligosyl Glucoside (and) Hydrogenated Starch Hydrolysate: Both of them are humectants that work synergistically to keep the skin hydrated, thereby keeping the skin barrier intact and maintaining skin health.
http://apgr.wssp.edu.pl/wp-content/uploads/2021/02/APGR-24-2-1.pdf
https://www.sciencedirect.com/science/article/abs/pii/S0273230083710470?via%3Dihub

Cellulose beads: These are sustainable, biocompatible microbeads that help in exfoliating the skin deeply and disperse on the skin easily when rubbed.
https://www.researchgate.net/publication/317266054_Continuous_Production_of_Cellulose_Microbeads_via_Membrane_Emulsification 

Xanthan Gum: Moisturising and thickening agent, and a texture enhancer
Int J Toxicol. 2016, Vol. 35(Supplement 1) 5S-49S

Phenoxyethanol, Ethylhexyl glycerin:  A combination of skin-softening, preservatives with antibacterial properties required to keep the serum fresh and free from any microbial growth
Contact Dermatitis. 2016 May;74(5):281-8

PEG 150 distearate: This works as an emulsifier and thickening agent.
http://gov.personalcarecouncil.org/ctfa-static/online/lists/cir-pdfs/pr263.pdf  

Sodium Gluconate: Functions as a chelating agent and humectant.
PubChem Compound Summary for CID 517056, Gluconate sodium
PRODUCT INGREDIENTS

Aqua, Decyl Glucoside, Cocamidopropyl betaine, Triethanolamine, Lactic acid, Lavandula angustifolia (Lavender) Water, Glycerin, Glycolic acid, Maltooligosyl Glucoside, Hydrogenated Starch Hydrolysate, Salicylic acid, Cellulose beads , Xanthan Gum, Phenoxyethanol, Ethylhexylglycerin, PEG 150 distearate, Sodium Gluconate
WHICH INGREDIENTS CAN I MIX?

This exfoliating acne body wash with non irritating salicylic acid should be followed by moisturizing and soothing ingredients such as ceramides, squalane, body cream, and hyaluronic acid which will help lock in the moisture and keep the skin barrier intact to assure a healthy skincare routine
THINGS TO KEEP IN MIND

Patch testing prior to use is advised

All products are gender-neutral

Best suited for individuals above 18 years of age
DECONSTRUCT'S -  RECOMMENDED SKIN CONCERNS & SKIN TYPES

Use exfoliating body wash containing salicylic acid & AHA, if your concerns are

Dry skin

Combination skin

Oily skin

Normal skin

Use exfoliating body wash containing salicylic acid & AHA, if your concerns are

Body acne

Rough and textured skin

Keratosis Pilaris or chicken skin
SHIPPING & RETURNS

Shipping

Where do we ship to?

We ship to almost every city in India. We do not offer an international shipping option currently, but we hope to offer it in the future.

How long does an order take to process?

We try to process the orders within 24 working hours, in most cases we try to fulfil the order within 3 working days, but please allow us 7 working days to fulfil the order. Order delivery time may vary during peak periods(after/during product launches, holidays and special promotions)

How long does it take to ship?

We ship all confirmed orders within 24 working hours. You will receive an email once your order is shipped with your tracking number. We work as hard as we can to try to meet your expectations, but sometimes there may be delays – e.g. because of postal/carrier delays, logistics, bad weather, or things out of our control.

How can you track your order?

Once your order has been dispatched from our warehouse, you will receive an email with your tracking information.

Cancellations

You can cancel your orders by writing to us on our Email ID – wecare@thedeconstruct.in or please call us on 080-471-05772 (Monday to Friday, 10AM to 7PM & Saturday 10AM to 4PM)and we will help you in cancelling the order.

How will I receive the refund for my cancelled order?

For prepaid orders, money will be returned to the bank account/credit/debit card or where the payment was made within 7 business working days.We will be able to credit to the original method of payment,we cannot refund to another alternative card.

Please Note: Orders can only be cancelled before they are shipped.

Returns and Refund

Thank you for shopping at The Deconstruct. We have made all our products with utmost care and deep scientific knowledge with an understanding of most skin types. If you are still not completely satisfied with a purchase, please reach out to us and we will put all our efforts to help you.

We offer refund / replacement only in following cases:

Wrong product delivered
Expired product delivered
Damaged product delivered – Physical damage/ tampered product or packaging.
Missing product

Step 1 – Raise a request within 2 days from the date of delivery through Email –
wecare@thedeconstruct.in or on Whatsapp at +919398249040 with the pictures of the issue
you are facing and your order ID.

Step 2 – Allow us 48 working hours to review your request.

Step 3 – On reviewing your request, we will send our courier partner to collect the product delivered to you.

Step 4 – After your product(s) is received, we will verify it and initiate the replacement or refund accordingly.

Under what conditions return/ replacement requests will not be accepted?

Opened/used/altered products.
Original packaging (mono cartons, labels, etc.) missing.
The return/replacement request is generated after 2 days from the date of delivery.
The damaged/ missing product is reported after 2 days from the date of delivery.
Update received as product delivered but product not received and if reported after 24 hours from the time of delivery.
FAQS

Can I use AHA & Salicylic Acid body wash on my face? 


No, body wash is meant to be specifically used for the body. We have a range of facial care products targeting different skin concerns and skin types that we would advise you to use.

How to use this product if I am a beginner / first time user?


For people with sensitive skin type/ who have never used any actives before, start by using it alternate days for the first few weeks and if everything seems fine move on to using it everyday. It is recommended to use a soft rich body cream after body exfoliation. Follow up with a body sunscreen.

How will AHA & Salicylic Acid body wash help me?


Exfoliating body wash will help clear the dead skin cells, hydrate your skin and it also acts as a solution for body acne and body breakouts spread due to acne-causing bacteria hence resulting in supple & healthy skin.

Should I use a body sunscreen after using this body wash?


Yes, you can layer up your body with body sunscreen for added protection from the sun's ultraviolet radiations.

Is this product safe for daily/everyday use?


Yes, this

sulfate-free body wash

is safe for everyday use and can be used in your daily routine.

It acts as a chemical exfoliant, that is less harsh as compared to physical exfoliating body scrubs.

However, if you have a sensitive skin type or any skin condition we would recommend you to please consult a dermatologist before using our exfoliating body wash.

Will this product cause my body's skin to purge in the beginning?
Our exfoliating body wash cleanses the skin gently without causing irritation. It contains glycerin and lavender water which keep the skin's moisture level intact and hydrated revealing nourished skin underneath.
Can I use AHA & Salicylic Acid body wash for treating my strawberry legs?


Yes, consistent use of exfoliating body wash can help with Keratosis Pilaris/ strawberry legs as it contains

active ingredients

like non-irritating salicylic acid, lactic acid, and glycolic acid that help in exfoliation which will make the skin smoother. Also, the lavender water and glycerin will keep the skin hydrated enough so as to prevent the occurrence of strawberry legs.



What to look for in a body wash?


Look for

treatment-based active ingredients

for any concern such as for body acne look for salicylic acid and lactic acid.

Salicylic acid body wash acts as an antibacterial agent here &

look for nourishing and hydrating ingredients such as glycerin and lavender water that help in calming the inflamed skin & keep it hydrated.

How to use body wash gel properly?
Wet your skin and the loofah. Pour body wash on the loofah and massage it in circular motion all over your body to lather well. Rinse off with water.
What is the difference between shower cream, shower gel and body wash?
The difference between these products is that of the base and consistency. Shower creams are basically creamy in texturer and do not lather but cleanse the skin. Shower gels are the products that basically have gel like texture and are not runny. Body washes usually have a liquidy runny consistency.
How much body wash to use?


The quantity of body wash to be used depends on the way you want to clean your skin. If you are to use loofah, a dime size quantity should be sufficient

for hydrated & clean skin

. Whereas if you are using your hand you will need more quantity.

How long does it take for Exfoliating Body wash to work?


For any salicylic acid based body wash it takes about 6 or even more weeks of consistent use to work on acne whereas for keratosis pilaris or chicken skin it takes even longer about 3 months of consistent use.

How frequently should I use exfoliating Body wash for best results?


As Exfoliating body wash contains potent actives like salicylic acid it should be used twice or thrice a week initially until one's skin gets adapted to the active and then the frequency can be increased to everyday use.
Manufacturer Details

Intigree Biomed Private Limited, Plot no 62, Genesis Industrial Complex, Kolgaon, Tal. Dist. Palghar 401404, Maharashtra, India

Country of Origin: India
Disappointed
I have looked up the ingredients and there is lavender water high up the ingredients list .It sensitises in some .Hope u create a body wash which is nafe safe
Still testing it, usually skin products take a month time to show some visible results
Glad :D
I came here via https://cashk.app.link/r29XLllDzAb a cashback and coupons app.
Packaging -
The packaging was done pretty well, with a plastic over the box. I have shared photos for reference. There was no damage when I received the product.
Smell , consistency and look -
It has a mild fragrance, a little on the fresh side. Looks pretty good and cute. It's consistency is different from regular body washes. Sort of like slime after some use but not in a bad way. Tried some on the skin, will be good if used with a moisturizer in case you have dry skin.
Ingredients -
I had looked up the ingredients and they all seem to be good and trustworthy. Good for the skin and recommended. The same thing is pricier at other places.
Price -
Pretty glad to get it at this price.
Quantity and pricing -
200ml priced at 449INR. I got it at 110.5INR :D
Got this at an offer value, one was for logging in as a new user and another was cashback from the app. Overall I bought 3 products, two of this and one other body cream. Overall, after the cashback in the app this costed me 661 Indian rupees of billing amount - 331.5rs refund in the app = 331.50rs.
Love this for sweaty summers!
I am someone who sweats a lot, has strawberry skin and body acne.
I love how refreshing this is especially before or after a sweaty day out. And it has no crazy fragrance for my sensitive skin. I feel like my BO is much much lower if I shower with this even after working out. And I've seen some reduction in body acne. I've only been using it for a week now. And since I'm someone who sweats a lot and is prone to fungal infections I feel this is such a saviour for summers. Best of all it doesn't dry my skin. Though I am curious if I can use this everyday?
And I'm wondering if the green beads in it is really necessary considering it's not great for the planet. I mean if it works do you really need the aesthetics?