Breakout Control Serum - 3.3% Potassium Azeloyl Diglycinate (Azelaic Acid Derivative)
Potassium azeloyl diglycinate is a water based and a superior derivative of azelaic acid, which works on the skin even at low concentrations due to the increased bio-availability of the ingredient. Added probiotic, Lactococcus ferment lysate helps maintain skin barrier that gets effected due to acne. Being water based, this serum is super friendly for both oily & dry skin, and can be used everyday.
MRP (Inclusive of all taxes)
Active Offers
FLAT 250 OFF ON WINTER SPECIAL RANGE orders above ₹699+ (Use code: WINTER250)
FREE BODY CREAM ON ₹999+
FLAT 15% OFF ON SERUMS
FIRST TIME? GET FLAT 150 OFF (Use code: WELCOME150)
pH: 4.7-6

Paraben Free

Silicone Free

SLS Free

Fragrance Free

Vegan

Phthalate free

Cruelty Free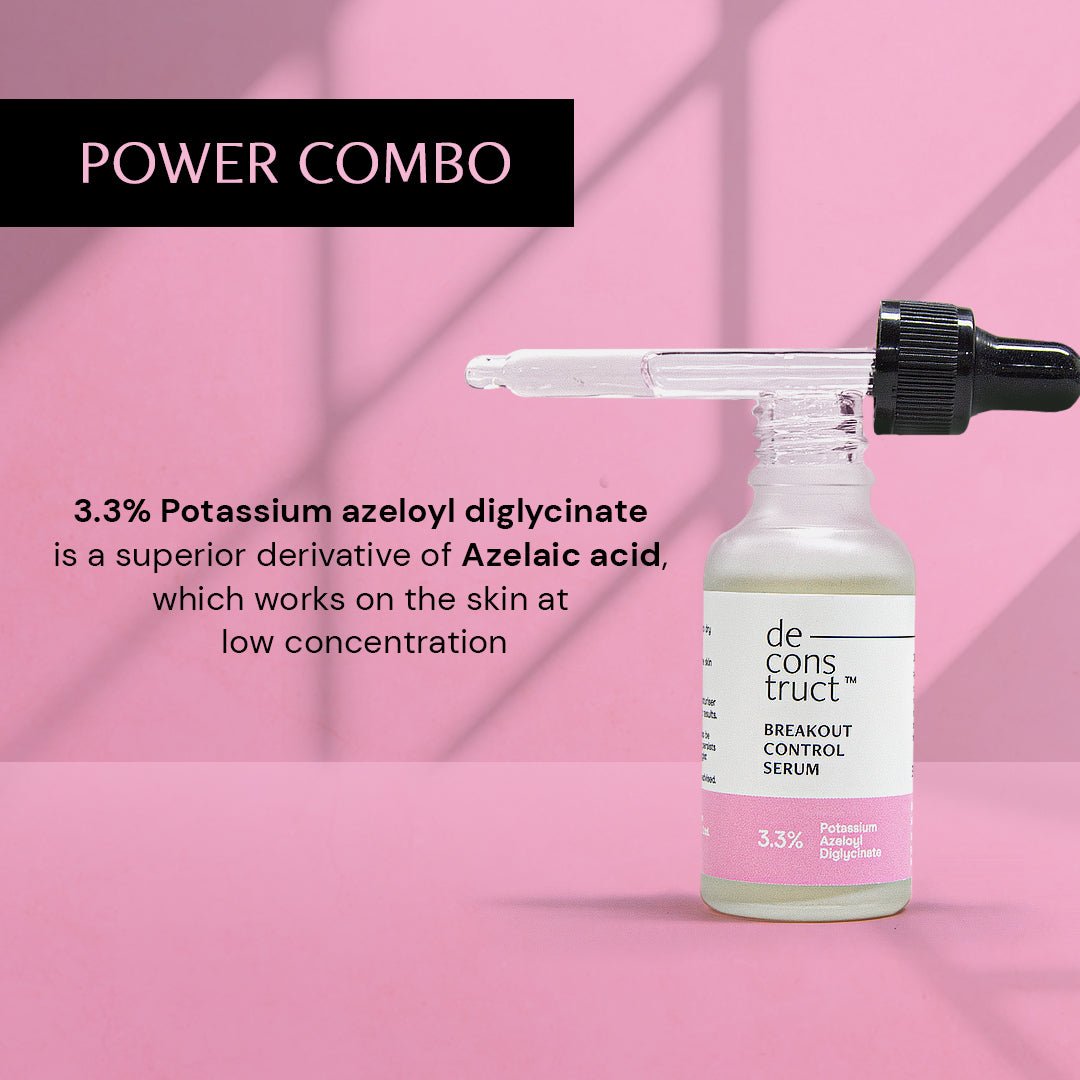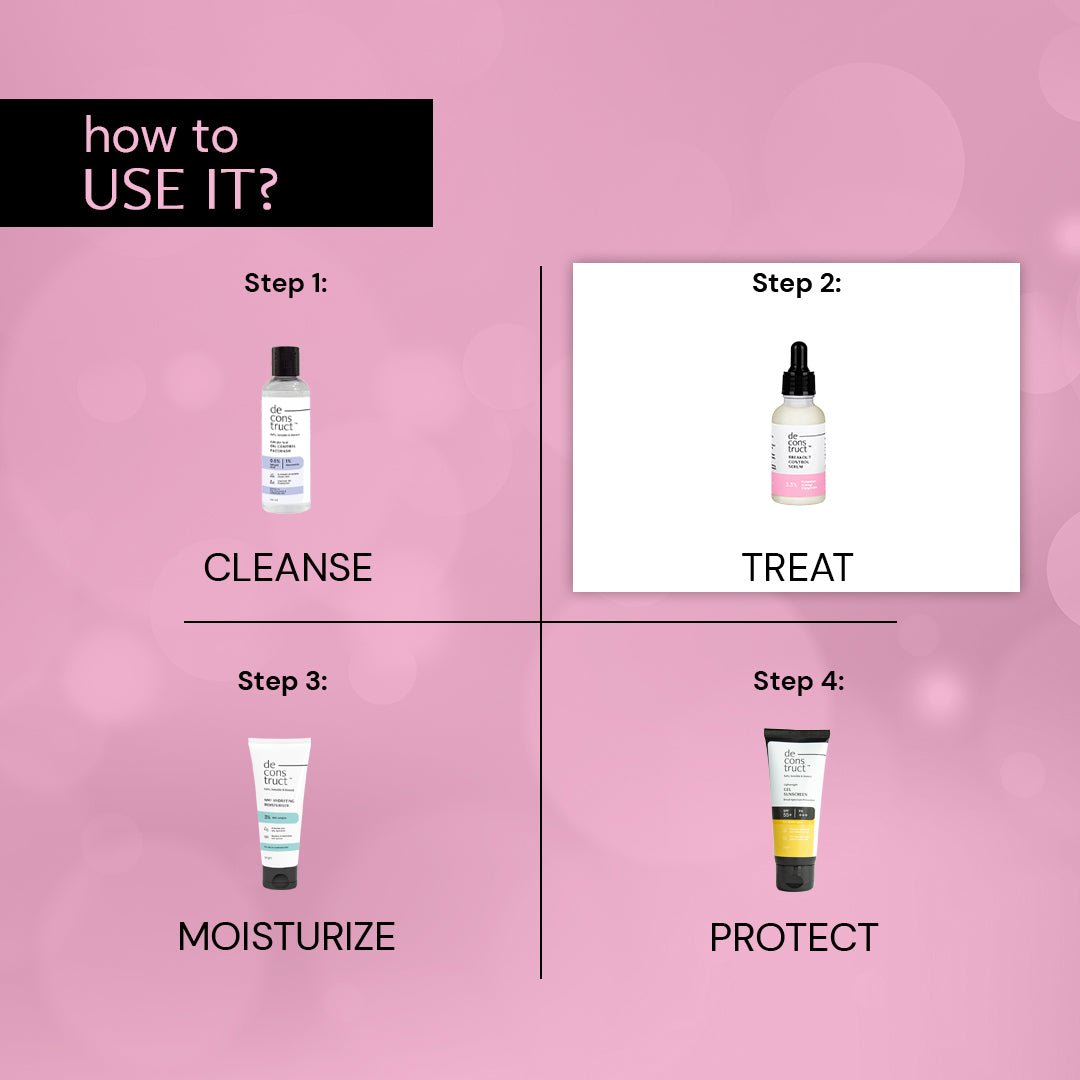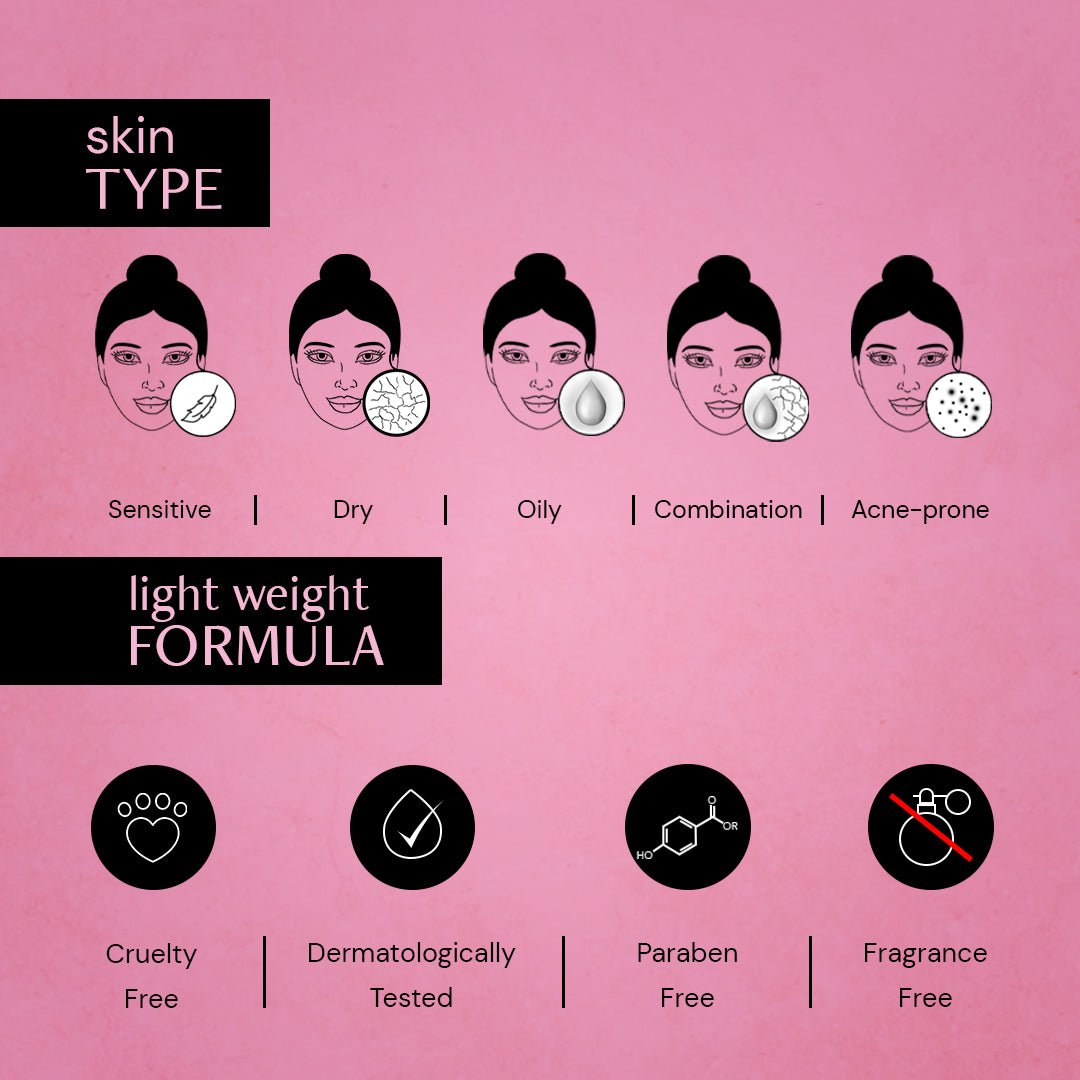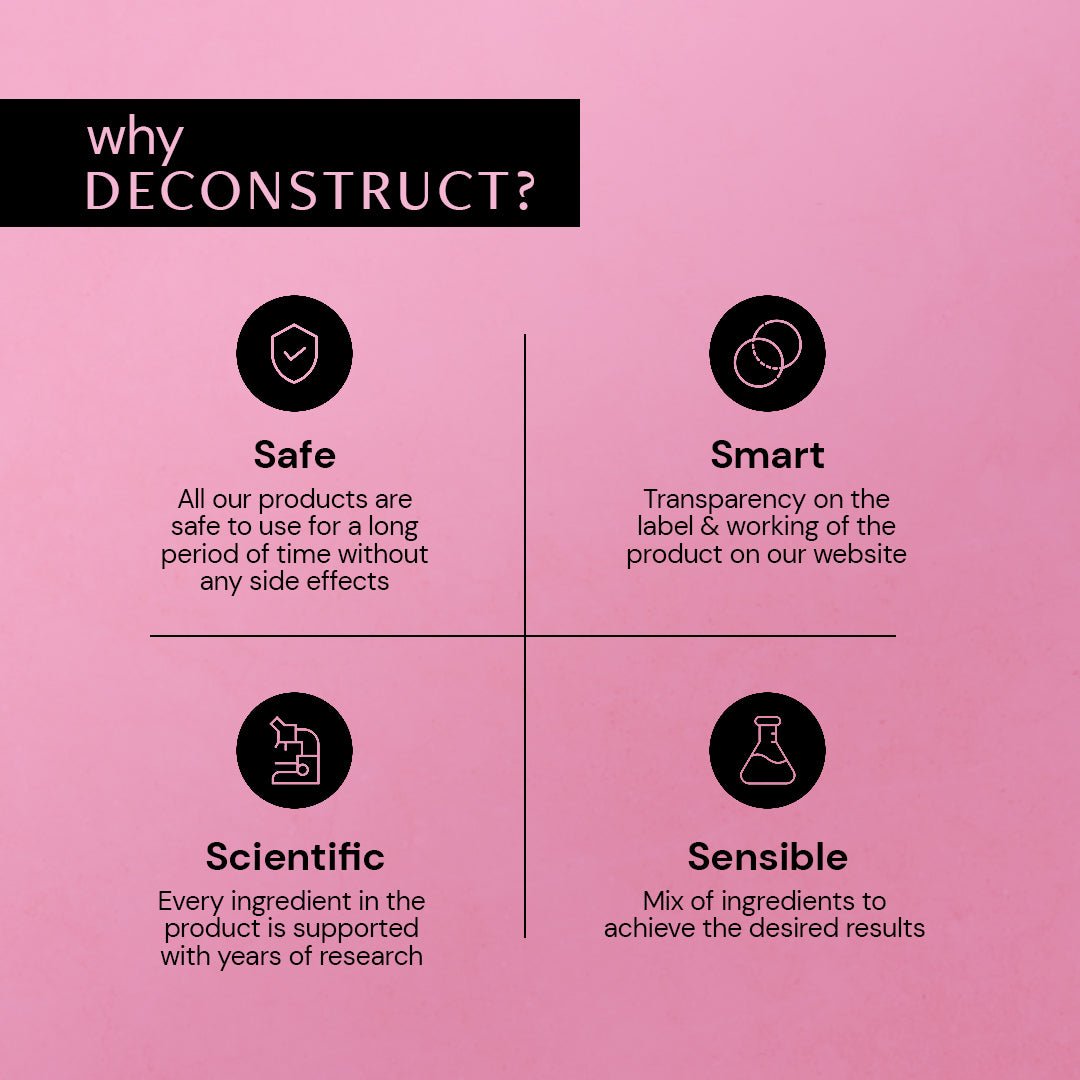 DETAILS

Why is this different?

This acne control serum is a new age everyday use formula to reduce acne/breakouts on skin and reduce acne marks and spots. By utilizing potassium azeloyl diglycinate, a superior derivative of azelaic acid , this breakout control serum works better than pure azelaic acid & azelaic acid cream and even at lower concentrations, due to increased bioavailability of the ingredient. The added probiotic – lactococcus Ferment Lysate helps to maintain the normal skin microbial flora and thus, the skin barrier system.  Being a water based formulation, it is friendly for all skin types – oily skin & even dry skin with acne!

How Does it Work on the Skin?

3.3% potassium azeloyl diglycinate is a mixture of azelaic acid and glycine, this combination inhibits sebum without drying the skin

The azelaic acid in the combination works on active acne, as well as avoids acne occurrence

This acne control serum competitively inhibits the activity of tyrosinase and thus clears acne marks to an extent

How to use?

Apply 2-3 drops onto dry skin after cleansing

Gently pat it onto the skin until absorbed

Follow up with a

moisturiser and sunscreen

for best results.

Use daily to prevent acne. Can also be used as spot treatment.

Note: If you are a first time user to the actives in the product, it is recommended to incorporate it slowly into your routine and gradually increase the frequency to everyday usage. For more details check the FAQs.
DECONSTRUCTING Breakout Control Serum - 3.3% Potassium Azeloyl Diglycinate (Azelaic Acid Derivative)

Potassium Azeloyl Diglycinate: Water-soluble active that works on acne, while regulating the skin's sebum production level to control acne without drying the skin
The Malaysian Journal of Analytical Sciences Vol 17 No 1 (2013): 193 – 199


Lactococcus Ferment Lysate: This probiotic helps to maintain the normal skin microbial flora and thus, the skin barrier system
Exp Dermatol. 2010 Aug;19(8):e1-8

Camellia Sinensis Leaf (Green Tea) Extract: An excellent anti oxidant and also an excellent astringent. It has soothing & moisturising properties that calm skin irritation and reduce redness
Dermatol Ther. 2013 May-Jun;26(3):267-71

Sophorolipid: Sophorolipid inhibits the growth of a variety of clinically relevant organisms and works as an excellent antimicrobial
Frontiers in Microbiology, 6 (2015), 1324

Azardica Indica (Neem) extract: Neem, scientifically known as azadaricta Indica is known for its antimicrobial, anti-inflammatory, antioxidant and anti-aging properties
Evidence-based complementary and alternative medicine : eCAM vol. 2016 (2016): 7382506

Glycerin: A humectant that attracts moisture from the environment to lock it in the skin, providing hours of hydration and facilitating the repair of skin's barrier
Glycerol And The_skin_holistic_approach_20160817-5518-61mq0a.pdf

Betaine: A plant-derived gentle hydrating ingredient that works on balancing skin's hydration
J. Chem. Phys. 142, 212438 (2015)

Chamomilla Recutita Flower Extract: It has soothing properties that works as an anti-inflammatory agent, calming skin irritation and reducing redness
Mol Med Report. 2010 November 1; 3(6): 895–901.

Xylitylglucoside, Anhydroxylitol and Xylitol:  Reinforces the barrier function  by stimulating ceramide synthesis and optimised water reserves by boosting natural moisturising factor and hyaluronic acid
Journal of Cosmetic Dermatology, 8(1), 32-39

Sodium Gluconate: An active ingredient booster and has a radical scavenging effect to inhibit cellular free radical formation
PubChem Compound Summary for CID 517056, Gluconate sodium

Phenoxyethanol and Ethylhexylglycerin: A combination of skin-softening, antimicrobial and a preservative required to keep the serum fresh and free from any microbial growth
Contact Dermatitis. 2016 May;74(5):281-8

Xanthan gum, Guar Gum:  Moisturising and thickening agents, and and also texture enhancers
Int J Toxicol. 2016, Vol. 35(Supplement 1) 5S-49S

Triethanolamine: A pH balancer and emulsion stabiliser and is completely safe to use
Int J Toxicol. 2013 May-Jun;32(3 Suppl):59S-83S
PRODUCT INGREDIENTS

Aqua, Potassium Azeloyl Diglycinate, Camellia Sinensis (Green Tea) Leaf extract, Glycerin, Chamomille Recutita (matricaria) flower extract, Xylitylglucoside, Anhydroxylitol, xylitol, Azardica Indica extract, Phenoxyethanol,  Ethylhexylglycerin, Guar gum, Xanthan gum, Betaine, Sophorolipid, Sodium Gluconate, Lactococcus Ferment Lysate, Triethanolamine
WHICH INGREDIENTS CAN I MIX?
THINGS TO KEEP IN MIND

If

acne

persists even after regular use, dermatologist consultation is recommended.

Patch testing prior to use is advised

Best suited for individuals above 18 years of age

Can be used during

pregnancy
DECONSTRUCT'S -  RECOMMENDED SKIN CONCERNS & SKIN TYPES

This acne control serum best suits people with

Oily skin

Dry Skin

Sensitive Skin

Acne prone skin

Combination skin

Use acne control serum, if your concerns are

Acne

Acne marks

Blemishes
SHIPPING & RETURNS

Shipping

Where do we ship to?

We ship to almost every city in India. We do not offer an international shipping option currently, but we hope to offer it in the future.

How long does an order take to process?

We try to process the orders within 24 working hours, in most cases we try to fulfil the order within 3 working days, but please allow us 7 working days to fulfil the order. Order delivery time may vary during peak periods(after/during product launches, holidays and special promotions)

How long does it take to ship?

We ship all confirmed orders within 24 working hours. You will receive an email once your order is shipped with your tracking number. We work as hard as we can to try to meet your expectations, but sometimes there may be delays – e.g. because of postal/carrier delays, logistics, bad weather, or things out of our control.

How can you track your order?

Once your order has been dispatched from our warehouse, you will receive an email with your tracking information.

Cancellations

You can cancel your orders by writing to us on our Email ID – wecare@thedeconstruct.in or please call us on 080-471-05772 (Monday to Friday, 10AM to 7PM & Saturday 10AM to 4PM)and we will help you in cancelling the order.

How will I receive the refund for my cancelled order?

For prepaid orders, money will be returned to the bank account/credit/debit card or where the payment was made within 7 business working days.We will be able to credit to the original method of payment,we cannot refund to another alternative card.

Please Note: Orders can only be cancelled before they are shipped.

Returns and Refund

Thank you for shopping at The Deconstruct. We have made all our products with utmost care and deep scientific knowledge with an understanding of most skin types. If you are still not completely satisfied with a purchase, please reach out to us and we will put all our efforts to help you.

We offer refund / replacement only in following cases:

Wrong product delivered
Expired product delivered
Damaged product delivered – Physical damage/ tampered product or packaging.
Missing product

Step 1 – Raise a request within 2 days from the date of delivery through Email –
wecare@thedeconstruct.in or on Whatsapp at +919398249040 with the pictures of the issue
you are facing and your order ID.

Step 2 – Allow us 48 working hours to review your request.

Step 3 – On reviewing your request, we will send our courier partner to collect the product delivered to you.

Step 4 – After your product(s) is received, we will verify it and initiate the replacement or refund accordingly.

Under what conditions return/ replacement requests will not be accepted?

Opened/used/altered products.
Original packaging (mono cartons, labels, etc.) missing.
The return/replacement request is generated after 2 days from the date of delivery.
The damaged/ missing product is reported after 2 days from the date of delivery.
Update received as product delivered but product not received and if reported after 24 hours from the time of delivery.
FAQS

How long do I need to use breakout control serum to see the results?


The breakout control serum should be used everyday for a minimum 4 to 6 weeks to see the best result.

How to use this product if I am a beginner / first time user?
If you are a first time user we recommend to follow ease-in-process as below:
Use 1 drop of serum mixed in moisturizer and use it every alternate day the first week, if everything is fine slowly increase to using it everyday mixed in the moisturizer. Gradually go on to using 1-2 drops directly on the face for 2/3 days per week and slowly increase the frequency of usage to everyday.
I have never used actives, can I use your breakout control serum?


For the person who has never used any actives on the skin, using breakout control serum may result in purging. Always start with a patch test.

Is breakout control serum safe to use for a teenager?


The breakout control serum is best suited for individuals above 18 years of age.

Is breakout control serum safe to use for a pregnant and/ or a lactating/ nursing mother?


It is recommended to consult a doctor before using any product during pregnancy or lactation period.



Does it protect you from UV rays?


PAD is a special derivative of azelaic acid which protects you from harmful UV rays.

Can I use breakout control serum as a spot treatment?


Yes, the breakout control serum can be used as a spot treatment.
Manufacturer Details

Intigree Biomed Private Limited, Plot no 62, Genesis Industrial Complex, Kolgaon, Tal. Dist. Palghar 401404, Maharashtra, India

Country of Origin: India
It works.
My acne got flat after single use. New acne does pop up from time to time. But it drastically reduced them. I have never had acne outburst before but i was getting them simce few months. Now they are in control. Rarely one pops up.
Fantastic spot corrector
I've tried a few acne spot correctors and this is by far the best. I get pus filled painful hormonal acne which also leaves scars, on the smaller acne this serum worked in just a day and the stubborn ones about a week. It had also prevented bug breakouts in the spots I usually get acne
Best acne protection serum in the market
I must say it's the best serum I have used so far to fight acne/breakouts. I have dry skin, yet I'm troubled by occasional breakouts. This serum works wonder overnight. I have achieved results. Earlier acne spots are also fading away after the use of this serum. Thank you, deconstruct!
Works great
It does not cause any irritation and has been working great on my skin.
Works
Reduced occurrence of new ones and hopefully working on the existing ones too. Using since 5 days. No irritation. No side effects.